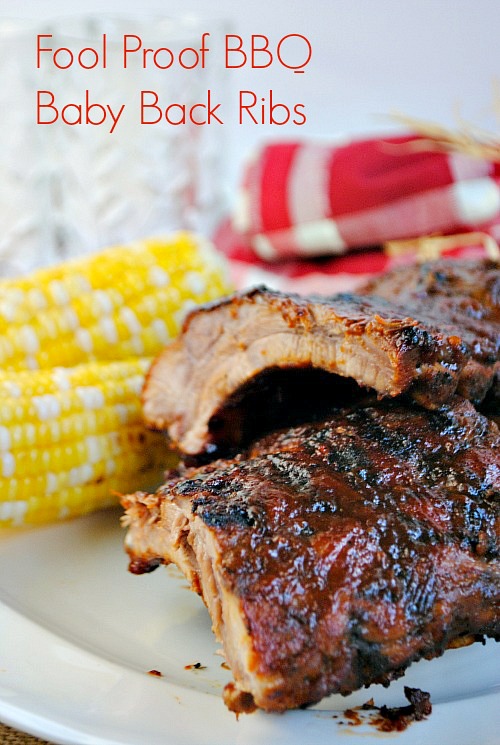 Eating BBQ ribs is a sticky, messy, got to have the wet wipes handy kind of thing and these ribs are no exception to the rule. Summertime is the time to light up that grill or smoker, shuck some corn, eat homemade pie and ice-cream ahh…gotta love Summer.   We have made ribs in the past and never been happy with the results, either they were too dry or not flavorful enough so I kind of gave up on ribs until  this recipe from Ina Garten's cookbook Foolproof: Recipes You Can Trust.  If you don't know who Ina is that's okay I won't tell, but you really need to check out her recipes because they are down to earth good recipes.   I made these ribs for my husband who like most men love their meat :).  Good ribs have to have a good BBQ sauce and this sauce is really good.  Making the sauce from scratch must be the secret to these incredible ribs.   The sauce is really tasty and it makes enough to save for another rack later or maybe some grilled chicken too.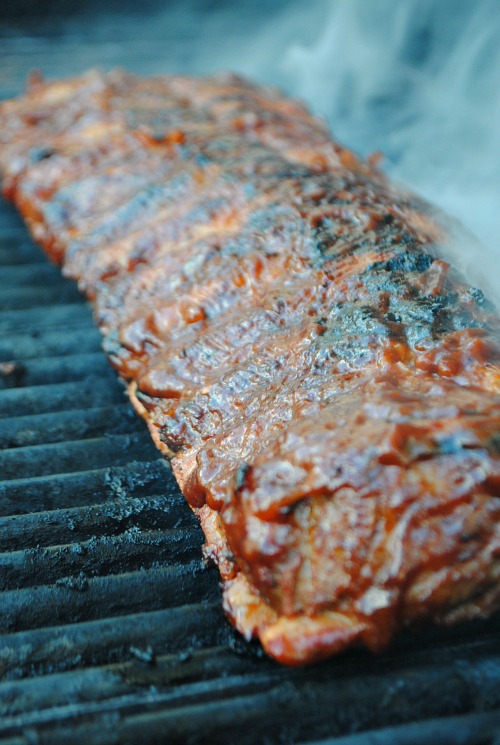 I think my husband must have been really hungry or he was really trying to make me feel good because he said these ribs were the best ribs he has ever had! They were moist not dry, and had great flavor, yay! I consider that a success! I feel like I conquered the "rib" problem and now think I could actually do this again and maybe for company :), thanks to Ina Garten and her Foolproof recipes.
Foolproof Baby Back Ribs
Ingredients:
5 lbs. baby back ribs (I only used 3 lbs.)
kosher salt & ground black pepper
1 recipe of the BBQ sauce (recipe follows)
Ingredients for BBQ Sauce:
1/2 cup vegetable oil
1 1/2 cup chopped yellow onion
1 tablespoon minced garlic about 3 cloves
1 cup tomato paste or about 10 oz.
1 cup honey
1 cup apple cider vinegar
1 cup Dijon mustard
1 cup hoisin sauce
1/2 cup soy sauce
1/2 cup Worcestershire sauce
2 tablespoons chili powder
1 tablespoon ground cumin
1 1/2 teaspoon red pepper flakes
Directions for BBQ Sauce:
Step 1: In a medium size sauce pan heat oil up over medium and add the chopped onions, cook for about 5 minutes or until translucent by not browned. Add the garlic and cook a few more minutes.
Step 2: Add the remaining ingredients stir well and let come to boil, then simmer for 30 minutes.
Directions for cooking ribs:
Step 1: Preheat oven to 350 degrees F. Line a pan with foil. Place the ribs on the sheet pan meat side up and sprinkle with salt and pepper.
Step 2: Pour BBQ sauce generously on both side of the ribs and wrap lightly in foil. Bake for 1 1/2 hours until meat is tender when poked with a fork. When the ribs come out of the oven rub generously with with BBQ sauce and grill immediately or let cool and refrigerate to grill later.