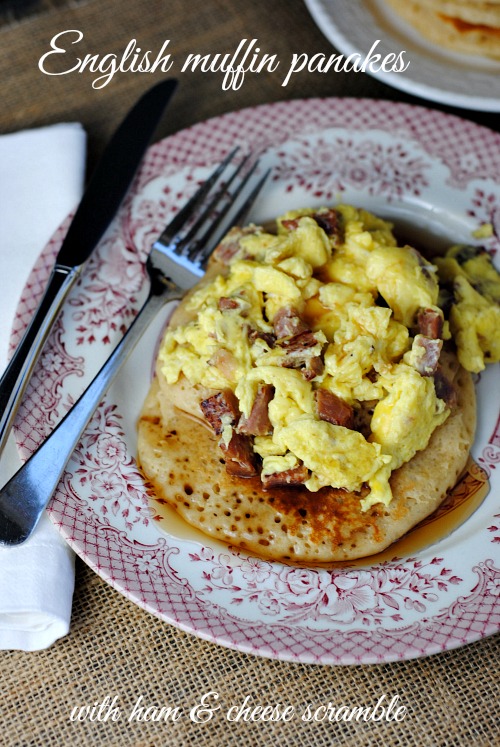 Hello, I'm sorry I have been away from my blog for so long, I have missed it. It has been a crazy 2015 for me so far and I'm trying to get back to a new normal. I will probably not be posting as many recipes this year because I will be going back to school very soon. I do love trying new recipes and posting old ones, writing about my successes and not so successful ones, the whole process is fun and a great creative outlet for me. If you are signed up to get emails from the blog then you won't be over loaded from YMT 🙂 (hint sign up) . I hope all my followers are doing well this new year and have a delicious 2015, now onto the recipe.
Have you ever wanted to make English Muffins, but things don't go right, and you end up with something completely different? Well, that's what happened with this recipe, yep, they were supposed to be muffins not pancakes 🙂 … oops. The recipe came from the famous Foodnetwork star Alton Brown, but there is no way they turned out like they were supposed too.  I  decided to just go with what the batter was doing and make pancakes. I thought I followed the directions but apparently the batter was way too thin.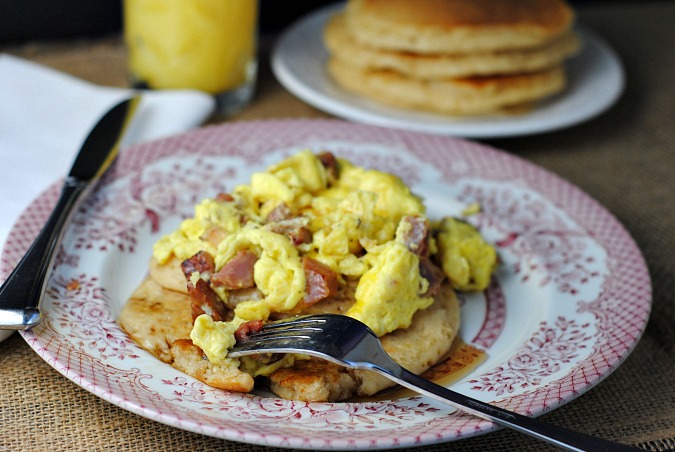 We usually eat our English muffins with egg, ham and cheese like a sandwich so I decided to make a little ham and cheese scramble and put it on top then drizzle with maple syrup. The pancakes were good they have yeast in them and taste different than your ordinary pancakes. The pancakes are not as fluffy as buttermilk pancakes, they were more flat but cooked up just like a regular pancake. I think that these English muffins pancakes are a nice change from the buttermilk variety and with the eggs, ham and cheese they were even better. What  appeared to be a mistake turned out to be a recipe worth sharing! Yum, I can taste it again as I write this post. What is the old saying when things don't go quite right? " When life hands you lemons, make lemonade".
English Muffin Pancakes with ham & cheese scramble
Ingredients:
1/2 cup non-fat powdered milk
1 tablespoon sugar
1 teaspoon salt
1 tablespoon shortening (I used veg. oil)
1 cup hot water
1 envelope dry yeast
1/8 teaspoon sugar
1/3 cup warm water
2 cups all-purpose flour, sifted
Non-stick vegetable spray
3-4 eggs
1/4 cup milk
1/4 to 1/2 cup cubed ham (depending on how much you prefer)
1/2 cup shredded cheddar cheese
1 T. butter
salt and pepper to taste
Directions:
Step 1: In a bowl combine the powdered milk, 1 tablespoon of sugar, 1/2 teaspoon of salt, shortening, and hot water, stir until the sugar and salt are dissolved. Let cool.
Step 2: In a separate bowl combine the yeast and 1/8 teaspoon of sugar in 1/3 cup of warm water and rest until yeast has dissolved.
Step 3: Add wet ingredients to the dry milk mixture. Add the sifted flour and beat thoroughly with wooden spoon. Cover the bowl and let it rest in a warm spot for 30 minutes. Add the remaining 1/2 teaspoon of salt to mixture and beat thoroughly.
Step 4: Preheat the griddle to 350 degrees F. Spray with cooking spray or use butter or oil on the griddle. Pour batter onto the griddle to the desired size pancakes you like. Cook until lightly browned, flip over and cook until done.
Step 5: I used a different pan than my pancake griddle, I did the eggs on the stove top, in a 10 inch skillet. First crack the eggs into a bowl and beat well with the 1/4 cup milk. Chopped ham and shred cheese to have ready to toss in.
Step 6: Turn heat to medium high, when pan is hot put butter into the skillet and swirl around. Add the egg mixture and swirl around. Take a spatula and move the egg mixture around so it doesn't stick or get browned. When the eggs are still a little runny toss the ham and cheese mixture in and fold the eggs and ham/cheese together making sure not to cook too long. I like to let the eggs be a little wet but it is your preference here. Season with salt and pepper.
Step 7: Serve hot with pancakes and syrup
Recipe adapted from Alton Brown