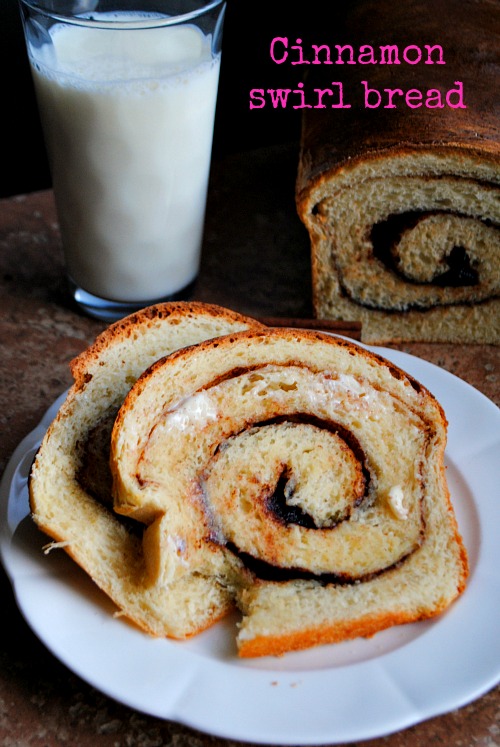 I just love homemade bread and rolls the house always smells so wonderful not to mention the taste of freshly baked bread, it's much better than any store bought. My family really likes cinnamon toast so what could be better to toast up than this cinnamon swirl bread. I've wanted to make cinnamon swirl bread for a while now, it's been on my bucket list of things to make. I have made many types of bread and many cinnamon rolls but not cinnamon swirl bread, until now.  If you are already making bread  turning it into cinnamon swirl bread is as simple as adding some butter, cinnamon and sugar,  then rolling the dough up.  If it wasn't for the added pounds I would put on,  I think I would make this  bread more often.  Our loaf of cinnamon swirl bread disappeared pretty quickly, as I'm sure it would if you tried out this recipe too, so go on get baking!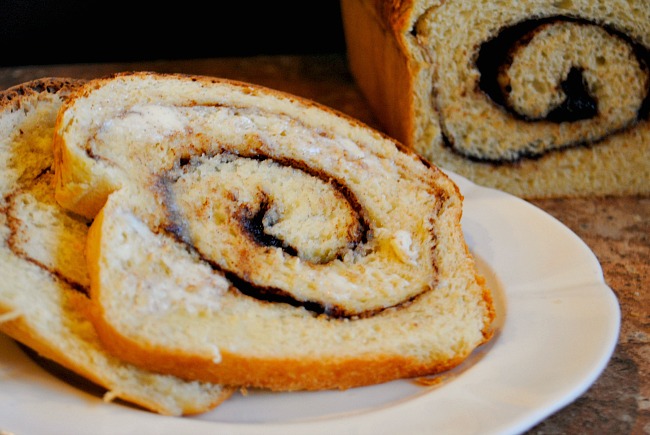 Cinnamon Swirl Bread
Ingredients:
1 cup milk
1/3 c. butter
2 packages of dry yeast or 2 1/4 tsp.
2 eggs
1/3 cup sugar
3 1/2 – 4 1/2 cups of all purpose flour
2 T. softened butter
2 T. ground cinnamon
1/3 cup granulated sugar
1 egg
1 T. milk
Directions:
Step 1: In a microwave safe bowl microwave 1/3 cup butter and 1 cup milk for about 2 minutes stirring well to make sure the butter melts. Set aside to cool down a few minutes.
Step 2: In a large mixing bowl whisk the 2 eggs and 1/3 cup sugar together.
Step 3: When the milk mixture is cooled to warm to the touch add 2 1/2 tsp of yeast to the milk mixture and let it sit for 10 minutes.
Step 4: When the yeast has proofed and foamed up add it the egg mixture and whisk lightly.
Step 5: Add 3 1/2 cups of flour to the egg/milk mixture and mix well. I use a stand mixer for this with a dough hook and turn it to stir until the mixture forms a dough ball on the hook. If the dough is too sticky add more flour by 1/4 cup increments.
Step 6: Grease a large mixing bowl with butter, oil or cooking spray and then oil your hands then put the dough int the bowl cover with plastic wrap or tea towel. Let rise about 2 hours or until double in bulk.
Step 7: After the dough has risen long enough punch down the dough then dump the dough out onto a floured surface, then roll out the with width of your pan and to about 18-24 inches long.
Step 8: Mix the cinnamon and sugar together. Spread the butter out on the dough then sprinkle the cinnamon sugar all over the dough.
Step 9: Grease the bread pan and put the dough into the pan then cover with a tea towel and let rise for about 1-2 hours.
Step 10: After the dough has risen, whisk the egg and milk together and brush over the top of the dough. Bake at 350F for about 30-40 minutes.
Recipe adapted from: Closet Cooking originally from The Pioneer Woman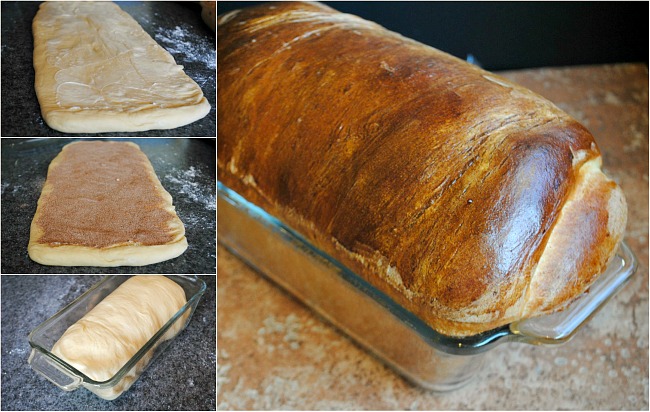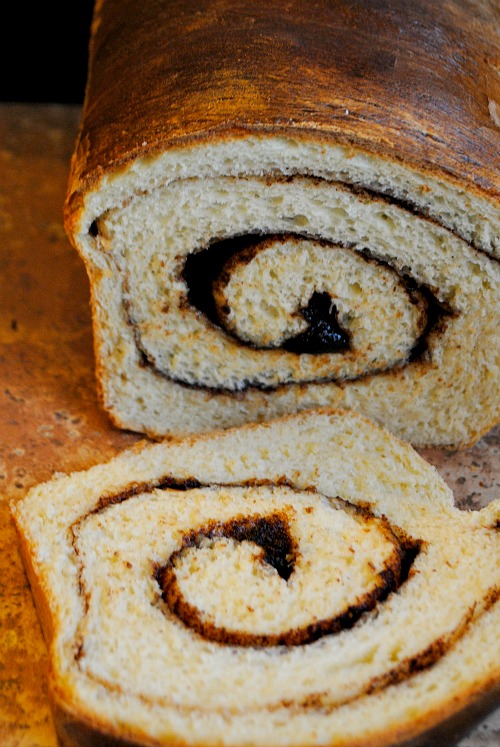 I'm sharing this recipe at Bake Your Own Bread link up.