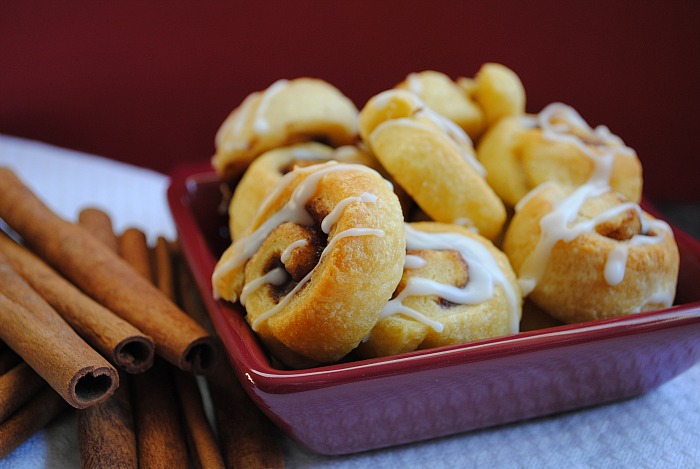 One bite is all it takes to get hooked on these little cinnamon roll ups.  If you are doing holiday baking these will be a hit for the recipient and you because by the time you get the oven warmed up you'll be ready to bake them. Ready to bake crescent rolls make it so simple, but shhhh….you can tell people you slaved over these because they taste like it.
Cinna-bites
Ingredients:
1 package Pillsbury crescent rolls
4 T. brown sugar
1 tsp. cinnamon
1 T. butter
1 T. flour
Directions:
Use one package at a time so the dough stays cold.
In a small bowl mix together a tablespoon of soft butter, 1 tsp. cinnamon, 4 T. brown sugar, 1 T. flour
open crescent rolls, take half of dough and press seams of dough together so that the dough is a long
spoon half of the cinnamon mixture onto dough, roll short side up then continue with the remainder dough
cut 2 inch slices with dental floss
place all the rolls on cookie sheet
bake at 350 degrees for 10 to 12 minutes.
when rolls have cooled mix 1 cup powdered sugar with 1 T. of water, if too dry then add a teaspoon more until it is drizzling consistency. Drizzle the sugar over the rolls then let dry.