Pin It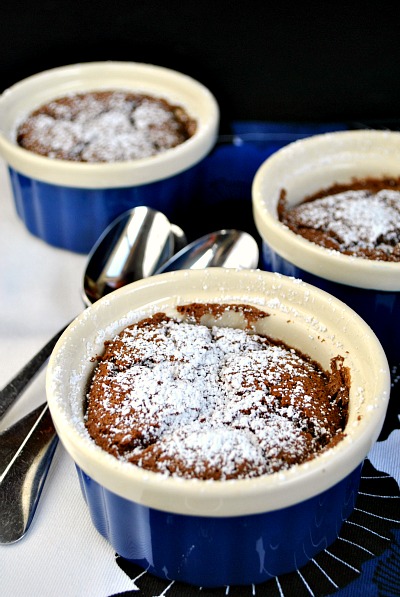 Oh how I love chocolate souffles, or pretty much anything chocolate.  If  by chance  you haven't had a chocolate souffle then you really must try this recipe out because it is very simple and good too, an easy starter recipe for the beginner.  Souffle or the whipped egg whites makes everything rise high and adds a light and fluffy feel to the chocolate so when you put it in your mouth it melts away.  If you are in a chocolate mood and don't want to make a batch of cookies or brownies in fear that you might be tempted to eat the whole batch

then I suggest you make these individual chocolate souffles that only make 4 servings.  The original recipe comes from Ghirardelli Chocolate Cookbook which by the way is fabulous. I made a miner change to the recipe by adding an extra yolk  and vanilla to the recipe, but you can use just one egg yolk and still have a lovely souffle.  In addition to being a single serving these little babies are also gluten free as there are so many people these days finding out that they are allergic to gluten. There is very little sugar in this recipe so its perfect for dieting people who don't really want to binge big on their diet but would like to eat dessert occasionally. Now, if your like me then ice cream goes with most cake like desserts so I  broke the bank on making this diet friendly

.
Chocolate Souffles
Ingredients:
1 T. melted butter
2 T. plus 2 tsp. fine granulated white sugar
2 ounces of Ghirardelli 60% Cacao bittersweet chocolate chips
2 T. plus 1 tsp. milk
1 tsp. vanilla extract
2 egg whites
2 egg yolk
Directions:
Step 1: Pre-heat oven to 350 degrees. Melt butter and brush in the 3-4 ramekins then dust the bottom and sides with 1 T. sugar.
Step 2: In a microwave safe bowl put chocolate chips, milk, vanilla and 1 T. of sugar in the microwave and cook on high for 1 to 2 minutes stirring every 30 seconds to stir until melted.
Step 3: While chocolate cools separate the eggs and beat egg whites until soft peaks form. Add 2 tsp. sugar beat until egg whites are stiff but not dried out.
Step 4: Whisk the egg yolks into the chocolate.
Step 5: With a rubber spatula fold one fourth of the egg whites into the chocolate mixture, then fold in the remaining egg whites into the chocolate. Divide equally into the ramekins. Bake for 15 minutes. Remove from the oven, then dust the tops with of souffles with confectioners sugar and serve immediately.
I like to serve these with ice cream but whip cream would be equally as good.