Since I'm doing a book review that has the word "chocolate" in the title I thought it appropriate to make something rich and chocolaty for you to drool over in hopes you'll give the recipe a try 🙂 and want to read the book.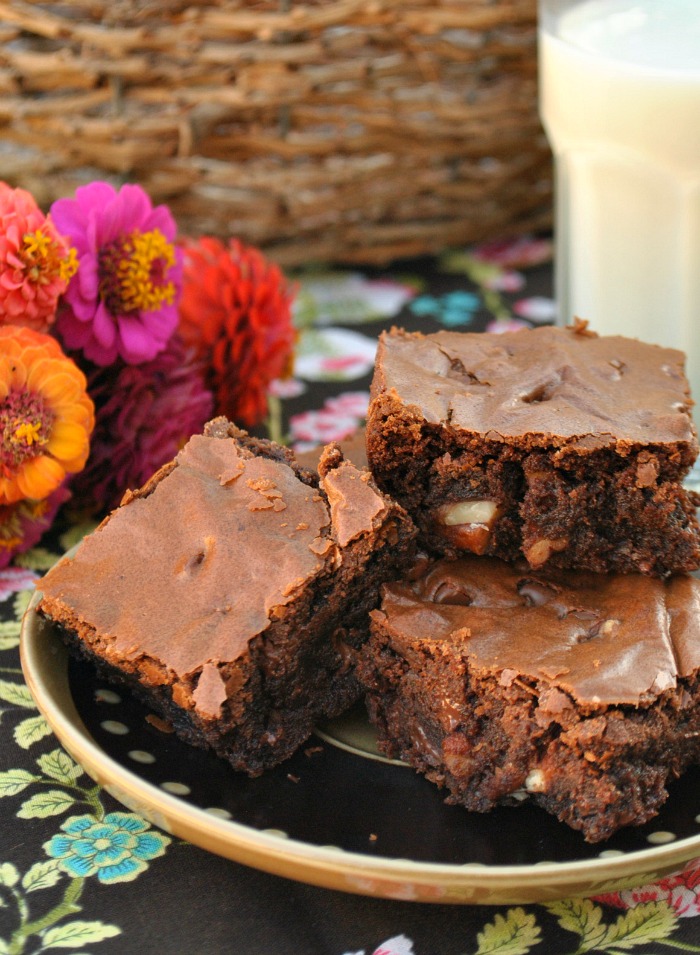 I love chocolate and brownies are probably on the top of my list of favorite things to eat. I have to admit I like the way boxed brownies have that little crust on the top but the inside is moist and fudgey.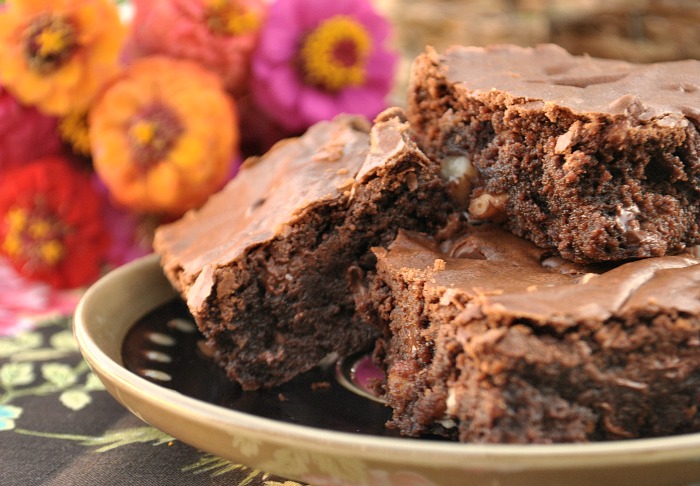 I found this recipe for the perfect brownie that has that light crust on top but is chocolaty and fudgey. They are from a blog called Goddess of Scrumptiousness, don't you just love that name?  Well, I followed her recipe exactly so I'm directing you to her blog. Watch out she takes fabulous photos, so don't be hungry when you visit her site, but do make these brownies!  Her photo of the brownies got me, they look so luscious, mine do not look near as good but they taste fabulous.
I know your wondering about a book titled "Theft By Chocolate" and what it's all about.  Author Luba Lesychyn contacted me about reviewing her debut book Theft By Chocolate" and being a food blogger and self-professed choclate lover she got my attention.  I gladly agreed to review a book about chocolate and a mystery weaved together.  What I didn't know was how fun the book would be, I found myself laughing out loud and relating to the main character Kalena on a chocolate level.  I chuckled even more that the author knew (me) and understands true chocolate lovers.
Kalena Boyok is a single 40 something museum administrator in Tornonto, Canada looking for love and the best chocolate but finds herself caught up in uncovering a plot to possibly steal some artifacts from The Treasures of the Maya exhibit coming on loan to the museum.  Normally Kalena isn't over such exhibits but her former boss Richard has made her the girl in charge. She discovers later that part of the reason Richard put her in charge of the exhibit was because he see's her as inexperienced and not smart enough to figure out that he may be involved in a plot to steal from the museum.
Kalena has two men vying for her attention, she's attracted to both but one is much younger and merely a security guard for the museum while the other man is rich, handsome and lives the life she could only dream of.  Kalena's obsession with chocolate tests her focus but she is determined to figure out what the plot is, who is involved and how she can ultimately save The Treasures of the Maya artifacts and the  museums reputation from ruin.
I enjoy mysteries with twists and turns and some romance (what girl doesn't like a little romance?) I also love to read a book that take my mind off my everyday challenges and let's me be somewhere else.  I am one of those readers that doesn't want a book to be too technical or drag on, in other words I'm not reading "War and Peace" for entertainment value. "Theft by Chocolate" is my kind of read since it was light hearted and funny. A warning though I found myself craving more chocolate 🙂 and I found a few four-letter words that I could do without, I'm not a fan of foul language in books, TV or movies.  Over all "Theft By Chocolate" is a great relaxing Summer read that will keep you snickering through out, while looking for your next chocolate fix.
1. First Giveaway-Theft By Chocolate Giveaway at Every Blog Stop
Please leave a comment below and your be entered to win an e-book copy of

"Theft By Chocolate"

, the new release by Luba Lesychyn. In five days, ending on 7-14-2012 a winner will be chosen at random and notified via email. Available in any e-book format.
for additional entries, just go to the rafflecopter link and unlock them 🙂
a Rafflecopter giveaway
2. Second Giveaway-$150 Gift Certificate Giveaway of Grand Prize on July 31st
Do you love chocolate as much as Kalena, the heroine in Theft By Chocolate? Here's your chance to indulge in $150 US worth! The Giveaway Grand Prize is a gift certificate to a delectable chocolate online retailer.
 Winner chooses from one of three sites: http://www.chocosphere.com/, http://www.hotelchocolat.co.uk/ , or http://www.dlea.com.au/ .
To be eligible for the Grand Prize, enter the Rafflecopter below.
Remember to sign up for Luba's email announcements (worth five entries). On occasion she'll send out exclusive announcements for special events, blog posts, giveaways and free swag!
On July 31st, the winner will be chosen at random and notified via email.
Rafflecopter link: $150 Grand Prize Entry Form Here are some additional links for Luba Lesychyn: Site and Blog Facebook Twitter Amazon Attica Books (Publisher) a Rafflecopter giveaway CONGRATULATIONS JEAN ON WINNING THE E-BOOK "THEFT BY CHOCOLATE"