Oh my goodness, who doesn't love frozen chocolate dipped bananas?  I know,who wouldn't right.  I remember getting them at amusement parks from one of those little vending carts.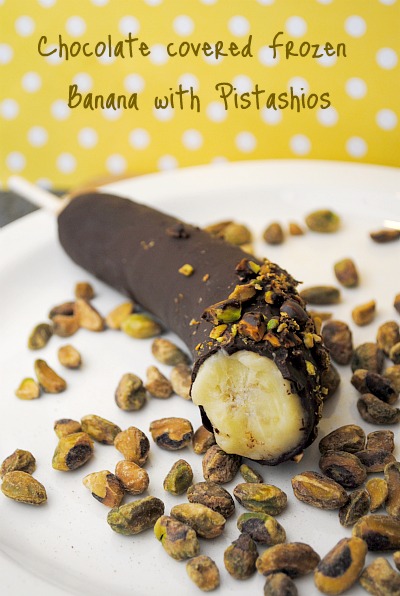 The ones I remember either were plain or had chopped peanuts on them,  I thought of something better…roasted salted chopped pistachios (sigh).  The whole sweet,salty crunchy thing going on is seriously good 🙂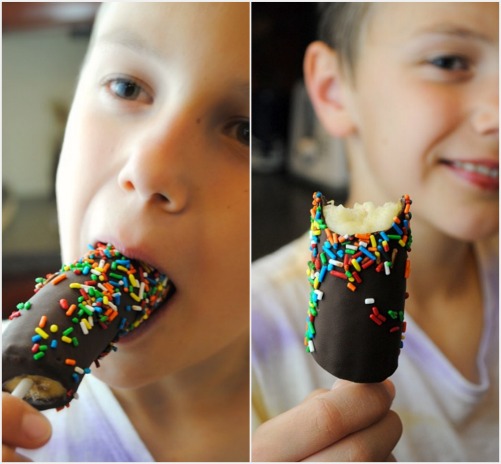 Then, of course I had to try out the sprinkles for my kids and plain chocolate dipped too, just because I was testing (someone has to do it).  I found out a few things by making these little treats too; 1/2 a banana works better for dipping purposes,chocolate dries fast  so you have to hurry in sprinkling whatever it is you plan on putting on your banana.  Rolling the chocolate dipped banana in the topping sounds like a  good idea but sprinkling actually worked better :).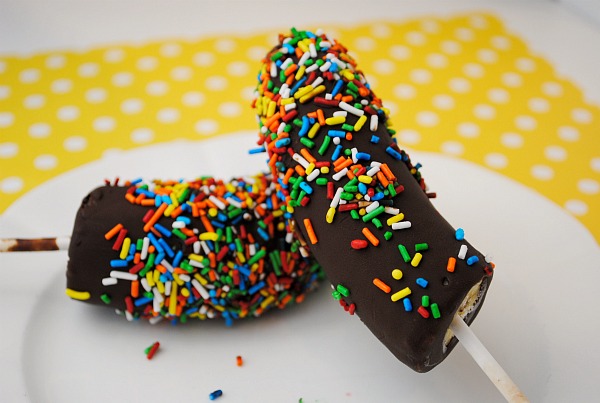 I also learned there isn't as much guilt attached to eating this frozen treat, as opposed to say a piece chocolate cake…and you can eat it for breakfast too!  If your thinking these babies are a pain in the neck to make, think again, not even close, they very easy.  The thin chocolate coating has 2 ingredients in it and for health sake I used dark chocolate (all about anti-oxidants) plus, I love dark chocolate anyway.
The supplies and  ingredients are pretty much seen in the pictures but here's list for you list people-
Chocolate Dipped Frozen Bananas
Ingredients and supplies:
lollipop sticks
gallon size plastic zip-loc bags
wax paper
ripe but firm bananas
12 oz. bag of chocolate chips
1/2 cup coconut oil (found at health food stores)
chopped nuts any type you like
sprinkles

Directions:
Step 1: Cut bananas in half and peel, then gently put the lollipop stick up into the cut half of the banana.  Leave enough of the stick sticking out so when dipped and eaten you can hold onto the stick comfortably.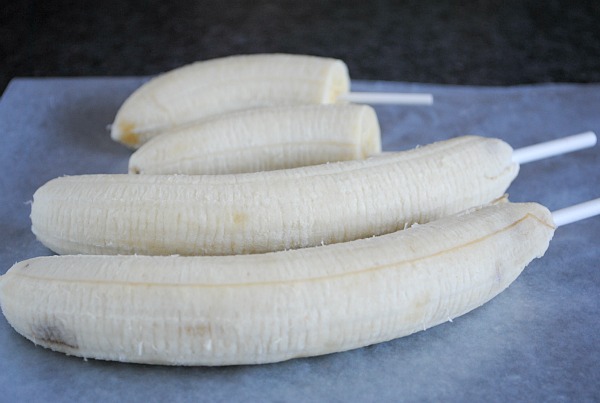 Step 2: Put the bananas carefully into a gallon size zip-loc bag (DO NOT GRAB THEM BY THE STICK), close bag and put into the freezer until frozen solid 6-8 hours or over night.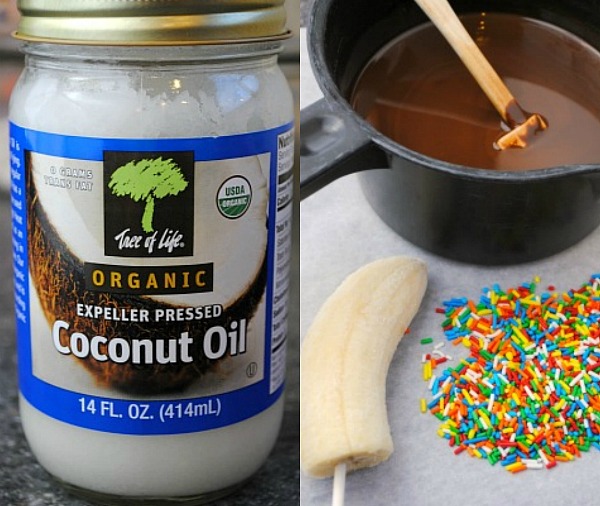 Step 3: Melt chocolate chips and coconut oil together in the microwave oven on half power for 2 minutes stirring every 30 seconds until melted and there are no lumps. The chocolate mixture will be runny.
Step 4: Chop nuts, get sprinkles ready, put a piece of wax paper down for each topping.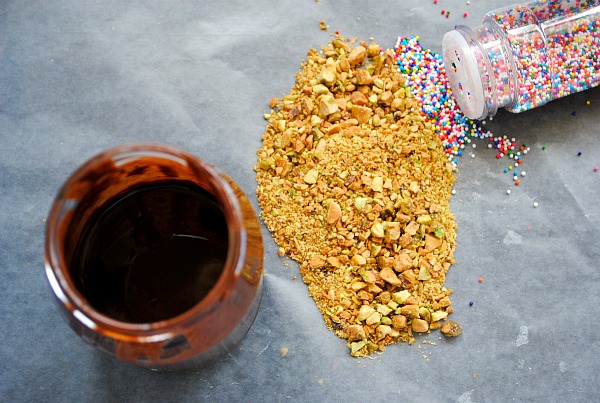 Step 5: Pour chocolate into a jar or tall drinking glass to dip the bananas.  I measured my banana halves to see how tall I needed my glass to be.  I originally tried to dip the bananas in the bowl I used to melt the ingredients together but it really didn't work out to well.  Using a jar is perfect because you just put your banana in and swirl it around.
Step 6: Take banana directly from freezer zip-lock bag by the stick, put into jar with chocolate mixture, swirl in the chocolate so its evenly coated.  Take out of jar and hold low to counter top over wax paper and quickly sprinkle desired toppings on, turning to coat evenly.
Step 7: If planning on eating immediately then enjoy!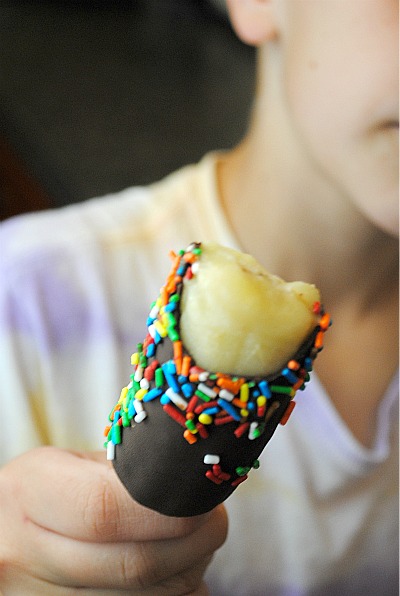 But if not eating right away then put the chocolate covered bananas back into a gallon size zip-loc bag and put into the freezer for enjoying later 😉 if you can wait very long.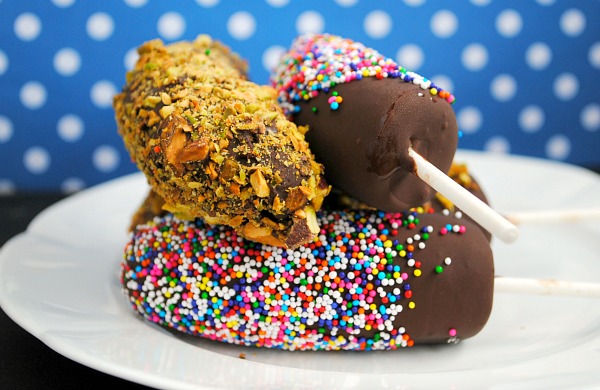 Notes: The left over chocolate can stand at room temperature until ready to use again, just melt and stir to use.