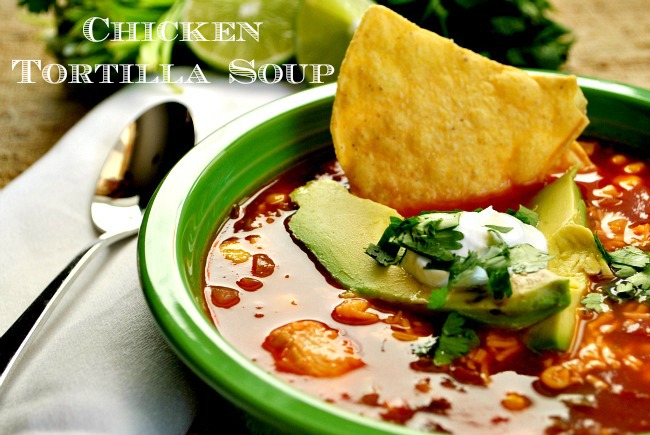 One of my favorite soups is chicken tortilla soup, I fell in love with it a few years ago. Some people don't like the red version or tomato base and prefer the white cream base but I like both. The tomato base version is healthier so I choose to make it more often. The ingredients in this soup are favorites of mine as well, I always seem to have onions, bell peppers, and chicken around. This soup is perfect for a cold winter day and with the heat from the jalapenos and spices it opens up your sinuses well. Pair this soup with a nice green salad and you will have a healthy meal that satisfies.

Chicken Tortilla Soup
Ingredients:
2 T. olive oil
1 onion chopped
1/2 green pepper chopped
1 jalapeno chopped (optional)
1 garlic gloved pressed
40 ounces of chicken broth
1 3 ounce of tomato paste(optional if you like more tomato flavor)
1 28 ounce can of crushed tomatoes
1 4 ounce can green chilies chopped
1 14 oz. can black beans drained and rinsed
1 11 oz. can of whole kernal corn drained and rinsed (optional)
2 tsp. cumin
2 tsp. chili powder
4 cups chopped cooked chicken
cilantro
lime
tortilla chips
cheese
avocado slices
Directions:
Step 1: In a large stock pot put oil in and saute onions, peppers and celery on medium high heat until translucent.
Step 2: Add garlic, and jalapeño, saute for a minute then add the remainder of ingredients up to the chicken. Stir well and let cook until it boils then turn heat down and simmer for 30 min.
Step 3: Serve with fresh chopped cilantro, lime slices, tortilla chips crushed, cheese and sliced avocado slices.