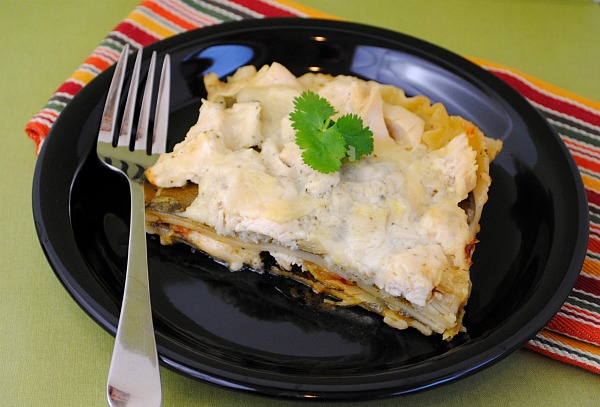 If you are a food person like I am you remember events and people you spent time with by the food you ate or cooked with them.  I made this lasagna several years ago for my husbands birthday, and everyone really enjoyed it but somehow it got forgotten and I hadn't made it but once or twice since.  The other day when I was making this easy chicken alfredo pesto lasagna for us, I reminded my husband of having made it before for his birthday and he couldn't remember it.  Then I thought "oh… that's because it wasn't grilled steak and potatoes", he would have remembered that.  Unlike my husband, I always seem to associate food with people and places.  While living in the small beach community of Avila Beach, Ca. about 18 years ago, I remember this restaurant called "Old Custom House".  The red snapper skillet was a favorite of mine, it was cooked with red peppers and onions in a cream sauce, served in a skillet mmmm… and the huge omelets on Saturday morning, love  those memories!  It was in that area that I learned to like cilantro because of a tiny Mexican cafe that we frequented, they made these 
gargantuan
burritos with handfuls of cilantro in them. I learned to speak fast while the guys made the burritos in front of you and say" just a little cilantro", and to them that was one handful!
Well, enough of food memory lane, and back to the reality that I don't live in that small beach community anymore:(.   Anywho this lasagna is a nice change from the traditional tomato base red meat sauce type.  I have changed this recipe up several ways and like it every time. One of the nice things about this lasagna is using the prepared alfredo  and pesto sauce which can usually be found in the deli section of most grocery store now.  Most people I know either don't have the time to make the sauce or aren't proficient enough to do so.  Then why not use an almost like homemade variety.  The  four cheese shredded blend I found really gave the tangy-ness to the dish and added a rich flavor.  It is one of those "company is coming" dishes for us, partly because we have a small family and also because it can be made ahead of time.  Make some garlic French bread and salad and you have a fuss free meal that's just a little different than the norm. Happy Eating 🙂
Easy Chicken Alfredo Pesto Lasagna
Ingredients:
4 cups cooked chicken cubed
8 dried lasagna noodles cooked
1 14 oz.can of artichoke hearts in water drained
2 cups fresh spinach
1/2 cup red bell pepper chopped small
1 garlic clove pressed
1 16 oz. your favorite prepared alfredo sauce
2-3 T. your favorite pesto sauce
1 pkg. of McCormicks garlic creamy dry mix plus ingredients needed
4 cups shredded Italian cheese blend (I used Mario Batali's)
1/2 cup milk

Directions:
Step 1: Prepare the package of McCormick's creamy pesto sauce and let cool.
Step 2: Boil 3 large chicken boneless skinless breast cooked and cubed into bite size pieces.
Step 3: Boil noodles according to package directions, when done set out on wax paper to cool so you can handle.
Step 4: Drain artichokes and chop. Wash bell pepper and chop fine.
Step 5:
In a medium bowl pour the alfredo sauce in and mix with the pesto sauce, if sauce is too thick I add milk to thin it out.  Add  pressed garlic and stir well.
Step 6: In large bowl mix cheese with the artichokes and peppers.
Step 7: Spray a 9 X13 pan with cooking spray then add about 1 cup of sauce to the bottom of pan and spread around.
Step 8:
Assemble lasagna: Put 4 noodles down overlapping each other. Lay half spinach leaves down, then half chicken, half the cheese mixture then half the sauce.  Repeat, there will be no noodles on top just cheese mixture on top of chicken and the remainder sauce on top of that.
Step 9: Bake at 350 degrees for 45 min. covered with foil.  Then cook 15 more minutes without foil to brown cheese. When done baking let rest 10 minutes before cutting.
Serves 8-10
Tips:
can use  10 oz. frozen chopped spinach thawed and drained
if you can not find the package mix of creamy pesto you can use 4 cups of alfredo sauce and add 2-3 T. of prepared pesto to the sauce.
if can't find a mixture of Italian cheese then use 4 oz. feta cheese with mozzarella for the tangy-ness
if you don't like the pest sauce leave out, its still delicious
if making ahead of time make sure sauce is completely cool and  when ready to bake take out of fridge for about an hour before then cook.