This was my first attempt at making cherry jam, I have made several other types of jam like strawberry, blackberry and blueberry but for some reason I had never made cherry. I couldn't just make plain cherry jam so I added a little lime zest and apple juice. I didn't tell my husband about the addition of lime and apple juice, just that I made cherry jam, so I cut him some bread and spread the jam on and handed it to him. I waited eagerly to hear what he thought, I was surprised  he said it had a "deep rich flavor", he liked it.  I then told him that I added lime zest and apple juice, he sad he could now taste the lime zest, I think the lime zest did add unique freshness to the jam.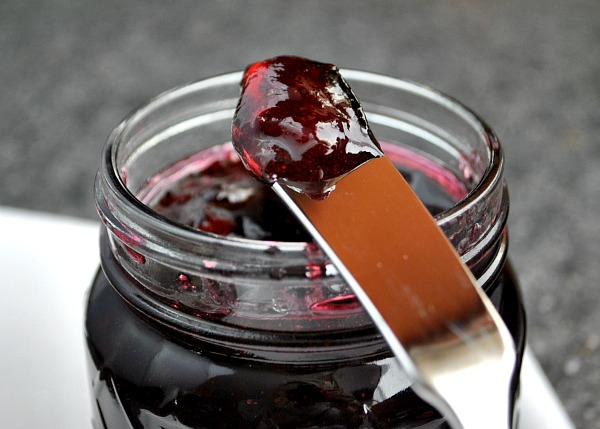 I didn't follow a recipe because I couldn't find one I liked, I've made enough jam and jelly to figure out the ratio of sugar to fruit, plus the use of Sure-Jell helps the jam to set. One of the reasons I like using the pectin verses the method of heating the jam to the soft ball stage is the jam or jelly doesn't have to cook so long and loose its texture and flavor and color. If you can get cherries this late in the season like I did then you have to try this jam. Homemade jam or jelly are such wonderful treats in those winter months because they remind us of the glorious summer fruits we are missing.
Cherry Jam
Ingredients:
3 1/2 cups chopped sweet cherries
1/2 cup apple juice
1 box 1.75 oz. of Sure-Jell pectin
3 cups sugar
zest of 1/2 a lime
Directions:
Step 1: Have 4 half pint jars washed and cleaned. Get all the necessary supplies ready: canner, lids and screws, jar lifter, funnel and chop stick to get air bubbles out, zester
Step 2: Measure about 4 cups of whole fruit, then wash, pit the fruit and chop. Measure again to make sure you have 3 1/2 cups of fruit.
Step 3: In a large stock pot put fruit, apple juice and pectin in and stir well. Turn the heat on high and cook stirring constantly until the fruit until comes to a rolling boil (when you stir, it should keep boiling).
Step 4: Add the sugar and lime zest all at once and stir well. Cook on high stirring constantly until it comes to a rolling boil then time it for 1 minute.
Step 5: When the timer goes off, take the jam off heat and immediately ladle into jars, being careful not to burn your self.
Step 6: Clean the rims and thread of the glass jars with wet hot paper towel.
Step 7: Lids should be softening in hot boiling water, take out and put on each jar, screw on the bands and put the jars into the steam canner for 15 minutes. Take out jars when time is up with canning tongs or hot pads, set on kitchen towel in draft free spot for 24 hours until the jam is completely set.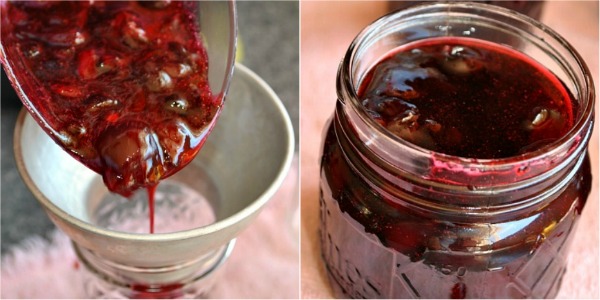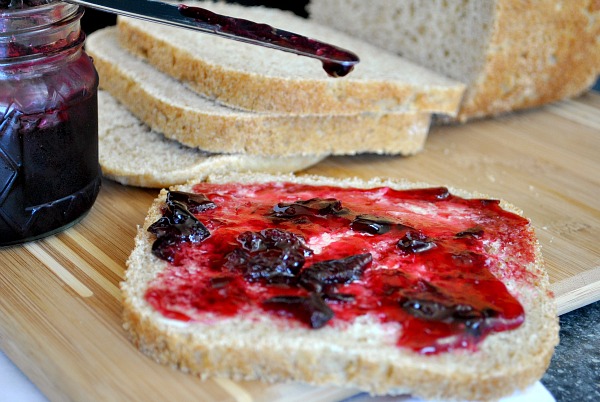 Not sure if cherries are your thing, well, have you seen my other recipes on nectarines like  pie and ice cream? Did you know I made some nectarine jam too? Then you might want to check out this
nectarine jam recipe here
because it's equally good.