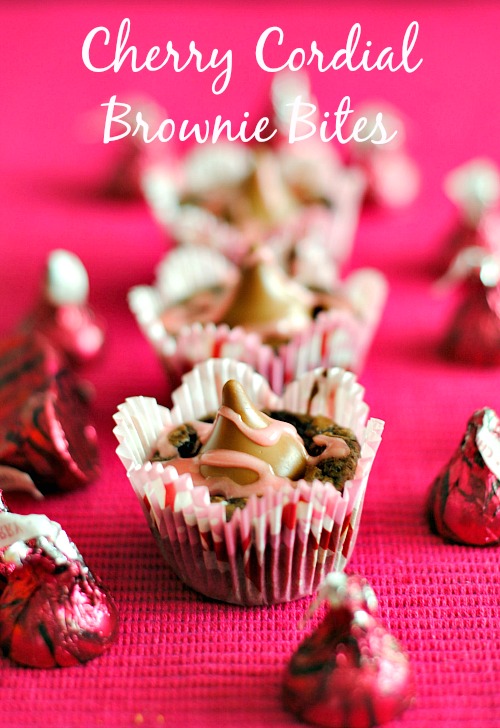 Hershey's kisses used to be just plain chocolate but now they have all kinds of flavors like mint truffle, candy cane, peanut butter and cherry cordial. I like to try them all and I have a couple of favorites, the mint truffle is a favorite and a few years ago I made mint truffle brownie bites, they are pretty addicting. Since those mint brownie bites turned out so good I decided to try out the cherry cordial kisses in the brownies and they were yummy too.  During the month December I make a lot of sweets to giveaway and these little cherry cordial brownie bites were one of the treats.

Cherry Cordial Brownie Bites
Ingredients & supplies:
1 18.3 ounce box brownie mix and ingredients to make them or your  favorite homemade recipe
1 bag of Hershey's Kisses Cordial Cherry Chocolate kisses
1/3 cup powdered sugar
1 tablespoon maraschino cherry juice or milk (if using milk then use pink or red food coloring to tint frosting)
48 Mini paper or foil cups liners
Mini muffin pan
Directions:
Step 1: Pre-heat oven to 350 degrees Fahrenheit. Mix the brownies according to package directions and add the chocolate chips to the batter.
Step 2: Put paper cups into the mini muffin pan and fill half way up with the brownie batter using a mini-scooper or small spoon.
Step 3: Bake brownies for 10-12 minutes. While the brownies are baking unwrap 48 candy kisses.
Step 4: When the brownies come out of the oven let cool in the pan for 5 minutes, then press a candy kiss into the middle of each brownie. Gently lift out each brownie with a small butter knife and let cool on a cooling rack.
Step 5: When the brownies are completely cooled mix together the powdered sugar and cherry juice, then drizzle over the top of the brownies and let dry.
Step 6: Repeat above steps until the brownie batter is all used. My mini-muffin pan has twenty-four mini cups, so one brownie mix made 48 brownie bites.