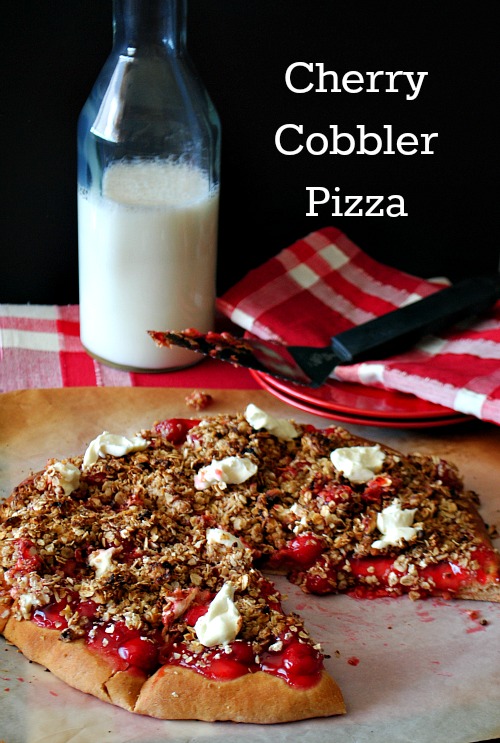 Today I'm sharing with you a Cherry cobbler pizza adapted from Guy Fieri's and our second recipe from the Pass the Cookbook Club. I mean seriously who doesn't love pizza? Change that to "dessert pizza" and you really have my attention now. I am infatuated with this idea of dessert pizza, I can think of tons of ways to make them, in fact I made a S'mores dessert pizza on the grill a couple of Summers ago. When I saw this recipe from Guy Fieri's cookbook, I decided right away I wanted to give this recipe a try. I had to make some changes to the original recipe because I didn't have a couple of ingredients but I think the pizza turned out pretty darn good.
If you are like many us and have tons of cookbooks that you love to look at but seem to leave the recipes in the book then you should join us and begin cooking those recipes. Kita from Pass the Sushi got us all together on facebook, she chooses 3 recipes that we may try from a popular cookbook, then we make it and post our recipes or if you are not a blogger you can still share your recipe and photo on the facebook page. It's great fun to see all the recipes and photos so please join us.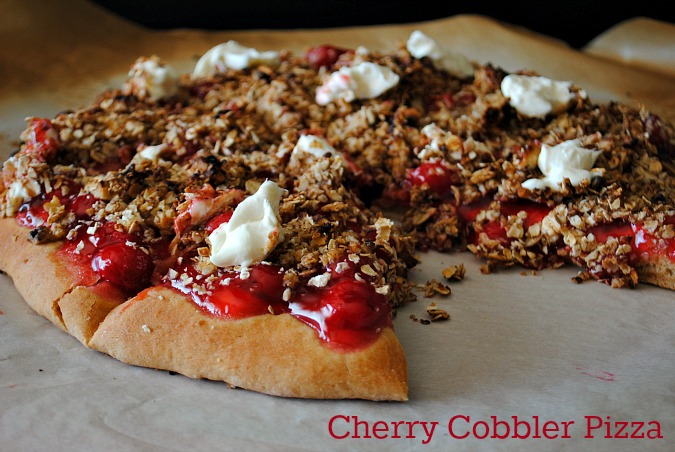 Cherry Cobbler Dessert Pizza
Ingredients:
pizza dough
1/4 cup milk
1/4 cup water
1 egg
1 cup white whole wheat flour
1 cup all-purpose flour
1/2 tsp. salt
3 tablespoons butter
3 tablespoons packed brown sugar
1 1/2 active dry yeast
Topping Ingredients:
1 cup quick oats
2 T. brown sugar
2 T. butter
fine sea salt
1/4 tsp. cinnamon
1/4 cup sliced almonds (I used pecans didn't have almonds)
1 can cherry pie filling 21 oz.
1/2 cup mascarpone cheese (I used cream cheese)
Directions:
Step 1: Put all the dough ingredients into a bread maker and turn to dough setting and let it do it's job. You may buy pizza dough in the refrigerator section or freezer section at the grocery store if you like.
Step 2: When the dough is ready to use roll it out into a 11 inch circle on a floured surface. I then put my dough on parchment paper while I heated my pizza baking stone in the oven. It isn't necessary to use parchment paper if you don't want to.
Step 3: Pre-heat oven to 500 degrees and put pizza stone inside. If you don't have a pizza stone just pre-heat oven.
Step 4: Prepare oatmeal topping by mixing together the oats, butter, cinnamon, brown sugar and nuts. (I really think it was too much oatmeal and you could half the ingredients here)
Step 5: When pizza dough is rolled out and on your parchment paper take a fork and prick the dough all over so it won't bubble up when baking. Now put the canned cherry pie filling on top of the dough, then the oatmeal topping.
Step 6: Bake for 7-8 minutes on at 500 degrees F on the middle rack of your oven. I found that 500 degrees to be a little hot for the topping and mine burnt a little so I think you could put it in the oven and then turn the heat down to 450 F but you may have to cook it a little longer.
Step 7: When the pizza is done take it out of the oven and drop dollop of mascarpone cheese on top or use cream cheese, I really enjoyed this creamy cheese on top of the sweet pizza.