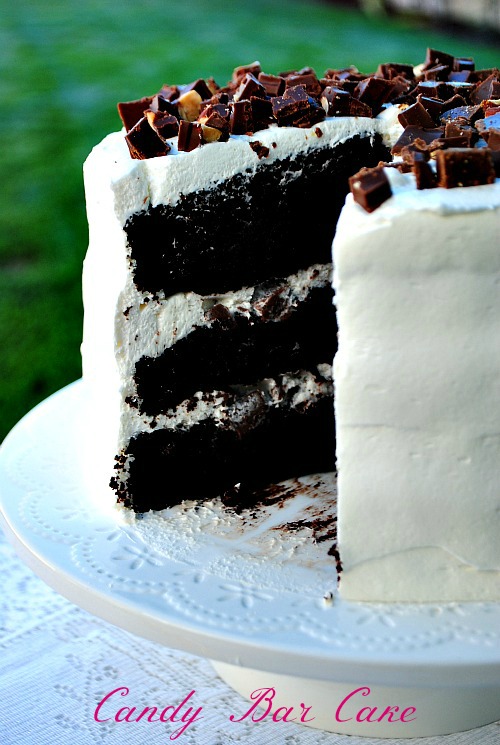 If your in the mood for chocolate cake you have come to right recipe! This cake is fantastically chocolate and the frosting is light and airy, plus a special treat of candy bars surprises you in the middle. The recipe is one of my baker friend's favorite and famous cake, I know her kids request it for birthdays, she can probably whip this out in her sleep. The cake is very moist and rich and soooo delicious. I have changed a few things like using extra dark Hershey's cocoa and not as much candy bar in the frosting, but that's all. I hope you enjoy this cake as much as we do and everyone who tries this cake.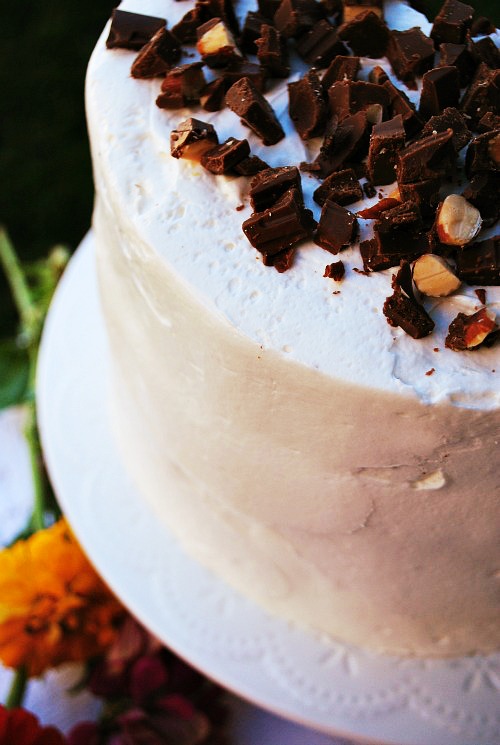 Candy Bar Chocolate Cake
Ingredients:
2 cups sugar
1 3/4 cup all purpose flour
3/4 cup Hershey's "Especially Dark" cocoa powder
1 1/2 tsp. baking powder
1 1/2 tsp. baking soda
1 tsp. salt
2 eggs
1 cup buttermilk
1/2 cup vegetable oil
2 tsp. vanilla extract
1 cup boiling water
Frosting:
1 8 oz. cream cheese, softened
1 cup powdered sugar
1/2 cup sugar
10 Hershey bars with almonds, divided
1 12 oz. Cool Whip
Directions:
Step 1: Heat oven to 350 degrees. Prepare two 9 inch pans or three 8 inch pans by greasing with cooking spray and a circle of parchment paper on the bottom of each pan will insure that the cake will come out.
Step 2: Combine the dry ingredients into one large mixing bowl.
Step 3: In a medium mixing bowl mix together the eggs, buttermilk, oil and vanilla. Add this mixture to the dry ingredients and beat for about 2 minutes. After two minutes slowly pour the boiling hot water into the batter. Stir well until mixture is combined. Batter will be thin.
Step 4: Pour the batter evenly into the pans. For two 9 in. pans bake for 30-35 min. or when cake tester inserted comes out clean. If baking 3 8 in. pans bake 25-30 min. When cakes are done let cool in pan for 10 minutes then flip the cake pans onto a wire cake rack to cool completely.
Frosting Directions:
Step 1: Beat cream cheese and sugars at medium speed with electric mixer until creamy. Chop 8 candy bars finely. Add to cream cheese. Fold in Cool Whip. Chop remaining candy bars, and sprinkle on top.
For 2 or 3 layer cake (I recommend using 3- 8 in. pans): Spread between layers, sides, and top.
For 9×13 pan size: Cut recipe in half. Spread on top of cake. I use 4 candy cars in the frosting, and 2 on top.
Keep leftover cake in fridge.