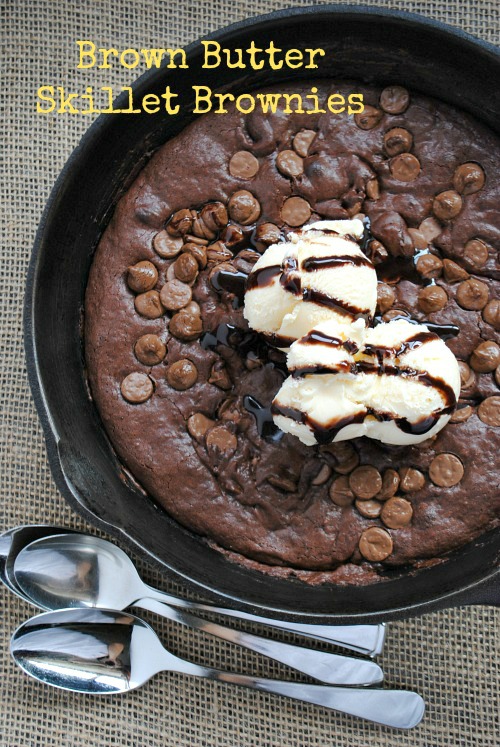 Dont you just want to dive into this pan of brownies? Well, I hate to rub it in but that's just what we did after this photo was taken :). These brownies are RICH, CHOCOLATY and delicious so make sure you have some vanilla ice cream or a large glass of milk, maybe both! If you aren't familiar with using brown butter in your baked goods, then you really need to try it. The butter takes on this nutty richness that adds depth and wonderful flavor to all the things you love. The brownies in this skillet are mixed right in the pan then popped into the oven for baking. Brown butter skillet brownies are easy to make and you'll get rave reviews from the chocolate lovers in your house. Enjoy!
Brown Butter Skillet Brownies
Ingredients:
10 tablespoons butter
3/4 cup granulated sugar
1/2 cup brown sugar
1 teaspoons vanilla
2 large eggs
3/4 cup unsweetened cocoa powder
1/2 teaspoon salt
1/2 cup flour
1/2 cup chocolate chips
Directions:
Step 1:  Preheat oven to 325 F.
Step 2:  Melt butter in the 8 to 10 inch skillet on medium heat while stirring often to brown the butter. It will turn dark brown and the milk solids will turn into little dark specks. After butter is browned turn off the skillet and move to the counter on a hot pad while finishing the recipe.
Step 3: Stir in sugars and vanilla, then add slightly beaten egg and stir well.
Step 4: Gently stir in cocoa powder, salt and flour. Sprinkle chocolate chips over the top.
Step 5: Bake for 20-25 min. or until a few crumb cling to an inserted toothpick.
Recipe adapated from Chocolate with Grace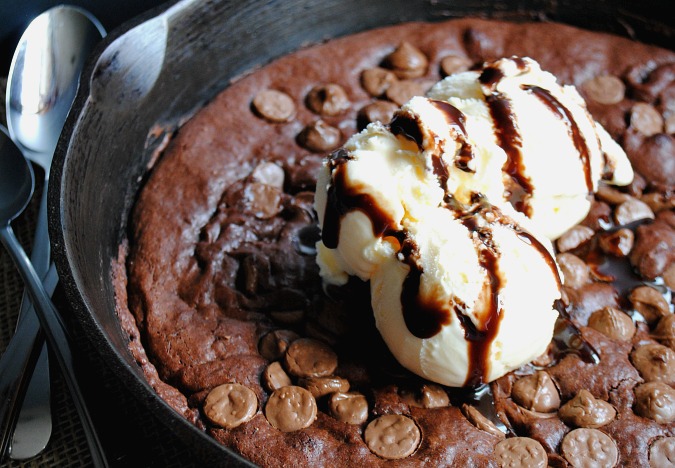 Bring your favorite chocolate dessert to Roxana's home baking #chocolateparty and win amazing prizes from Imperial Sugar®, Gold Medal Flour®, Safest Choice™ Pasteurized Eggs and KitchenAid®. 
I'm coming late to the party so you will only
one
day to enter your recipes, check out the rules on Roxana's recipe on 
Roxana's Home Baking Chocolate Party
.