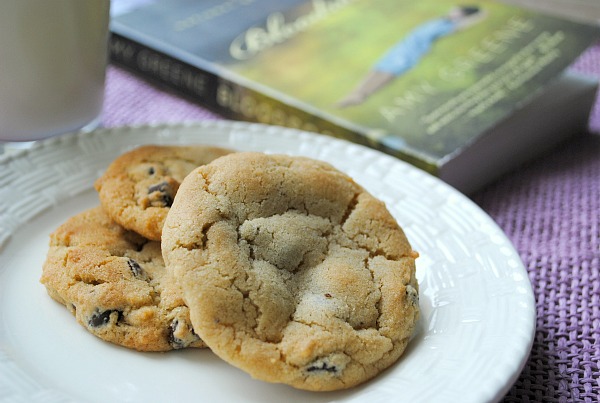 It's been a while since I did a book review so I thought I would share with you the latest read of mine, oh and these wonderful chocolate chip cookies too, because its nice to have a few good chocolate chip cookies and a glass of milk while you read a  good book.  If you're in need  of a good Summer read then Bloodroot might just be that book for you.
Bloodroot by Amy Greene is a novel that my book club chose to read.  At first glance of the title you might be tempted to think this book is a murder mystery of sorts, on the contrary. Bloodroot is not a murder mystery but it is mysterious on its own.  There are secrets, mystery, love and magic to allure you into thinking you may have the story figured out but just as you believe what you've read the truth unfolds.
First time novelist Amy Greene is good at story telling through six people, and three generations.  Bloodroot is a  mountain named for its wild bulbous flower that has healing and poisonous powers.  The mountain is sacred to the Lamb family, a place of refuge from the world below but also a mysterious place that keeps the family secrets throughout the generations. Like any good book you will love some characters and love to hate others, you will wish the best for the love-able ones and the worst for the others. The author seems to understand that even small decisions may not be our own, they weave into the lives of next generation.  Thought provoking and sometimes unbelievable the lives of the Lamb family left me wondering what decisions I have made or may make in the future and what effect they might have on my own posterity.
These chocolate chip cookies are no secret, the recipe came from my Kitchen Aid mixer years ago, but every-time I share them with someone they ask for the recipe.  It's simple and versatile, you can change the chocolate chips to any type you like, add nuts or dried fruit and it's still a wonderful cookie recipe.
Book Review, Chocolate Chip Cookies & Blog Awards
Perfectly Delicious Chocolate Chip Cookies
Ingredients:
1 cup sugar
1 cup brown sugar
1 cup softened butter
2 eggs
1 1/2 tsp. vanilla
1 tsp. baking soda
1 tsp. salt
3 cups all-purpose flour
1 12 oz. bag of good quality chocolate chips
Directions:
Step 1: In a mixing bowl beat the softened butter and sugars together.  Then add the eggs and vanilla and mix well.
Step 2: Add 2 cups of flour and the baking soda and salt and mix together well then add your final cup of flour and mix well.  Pour a 12 0z. bag of chocolate chips into the dough and stir until all are incorporated.
Step 3: Using a medium size ice-cream scooper put 12 rounded cookies onto a baking sheet and bake at 375 degrees for 10 min. Continue until all the cookies have all been baked. Cool on cooling rack and enjoy 🙂
Now for a word about the wonderful bloggers out there who give you the pats on the back that make your day.  I was lucky enough to receive two blog awards from my fellow bloggers, thank you so much!
Please go on over and say hi to Joy over at Joy of Desserts and see what she has cooking up and don't forget to check out Tricia over at Cook with No Books she has this lovely recipe for a strawberry galette that I would like to take a bite out of.