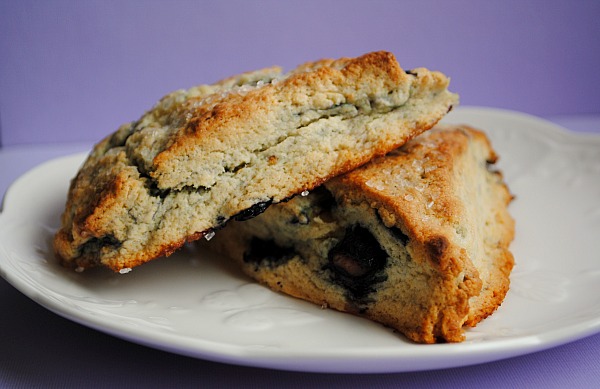 I made my first scones and I'm in love with them! These scones melt in your mouth they are so soft and delicious. Some scones are dry and so people get turned off by them. When I told my husband I was making these he was thinking of the cardboard tasteless ones he's had in the past. When the scones came out of the oven I popped a piece in my mouth and I was taken back to where I first had scones in Myrtle Beach, when I could have eaten the whole basket they were so dang good. Anyway, I took a piece of the scone to my husband and I got that mmmm…sound and knew I had won him over to scones! I can't take credit for this recipe I adapted it from another lovely blog "Relatively Unique" I just made minor changes to the recipe by adding lemon zest, it goes so well with blueberries, and few more blueberries. I think adding a pinch of grated nutmeg would be wonderful too, I usually put a little nutmeg in my blueberry pie, it seems to bring out the flavor of the blueberries more. If you like scones you will fall in love with this recipe so give it a try.

Blueberry Scones
Blueberry Scones
1 Tablespoon fresh lemon juice
zest of 1 lemon
1 cup whipping cream
3 1/2 cups all-purpose flour
1/2 cup sugar
1/2 tsp salt
4 tsp baking powder
1/2 tsp baking soda
3/4 cup unsalted butter cold, cut into chunks
1 large egg
2 tsp vanilla extract
1 cup frozen blueberries
1 T.melted butter
large sugar crystals (optional)
Directions:
Put lemon juice in 1-cup measuring cup, pour in whipping cream to 1-cup mark, and let stand a few minutes to make soured cream.
Pre-heat oven to 425 degrees, line a cookie sheet with parchment paper or silicone mat
In a food processor put cold butter cut into chunks, then flour, sugar, salt, baking powder, baking soda and turn on until the butter is in small beads.
Add egg and vanilla and turn on food processor then add soured milk until the dough forms into a ball.
Turn dough out onto a floured surface and knead in the blueberries and lemon zest.
Roll dough out into a circle and cut with a pizza cutter like a pie.
Brush top with melted butter or egg wash and sprinkle sugar on top
Bake for 14 to 16 min., if higher elevation cook 16-19 min.
Cool on rack and enjoy!