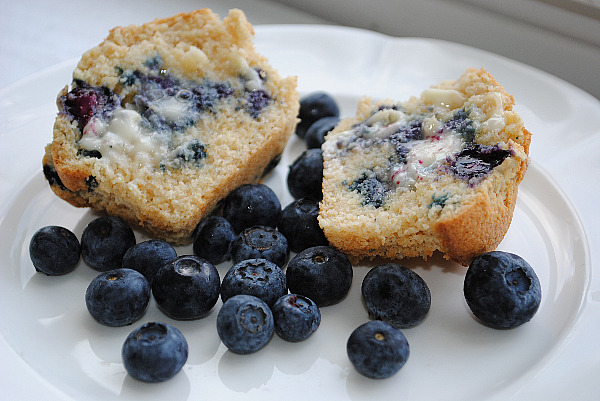 Simple blueberry muffins with a hint of lemon makes me happy.  Muffins are one of my favorite treats I think it's the cakey texture plus the sweetness.  Muffins can be tricky to make if you over mix them they will become tough.  To achieve the light and fluffy texture we all love just mix the dry and wet ingredients until they just come together.  Muffins aren't usually on the healthy list of things to eat because of the butter, or oil,  and sugar in them so I feel guilty eating them. To make myself feel better I try different variations like adding flax meal,wheat flour, wheat bran or taking out some of the oil or butter and replacing it with applesauce.  Don't feel too bad about this recipe because half the flour is whole wheat pastry flour which is great for baking and it adds more fiber.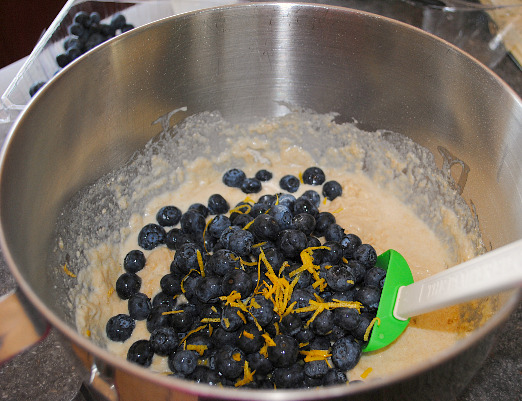 Blueberry Muffins with a hint of lemon
Ingredients:
1 1/2 cup whole wheat pastry flour
1 cup white flour
1 T. baking powder
1/2 tsp. baking soda
1/2 tsp. salt
1 cup sugar
2 eggs
1/2 cup melted butter
1 1/4 cup whole milk or half and half
1 T. lemon zest
2 cups blueberries fresh or frozen (if frozen rinse well first)
Directions:
Step 1: In a large mixing bowl sift all the dry ingredients.
Step 2: Put all the wet ingredients except blueberries and lemon zest into a mixing bowl and mix well.  
Step 3: Add the wet ingredients all at once to the dry ingredients and mix together until almost all incorporated.  
Step 4: Lastly add the blueberries and lemon zest and fold in by hand with a spatula or wooden spoon lightly so the blueberries don't break apart.  
Step 5: With a large scooper, scoop into muffin pan that has been sprayed with cooking spray or lined with cupcake papers until muffin pan is 2/3 to 3/4  full.   I like to use the papers since clean up is minimal.
Step 6: Bake at 375 degrees for 25 min. or until lightly browned and toothpick comes out clean.  Let cool in pan for 10 min. then turn out onto a wire rack.  
Makes: 18 muffins.