Pin It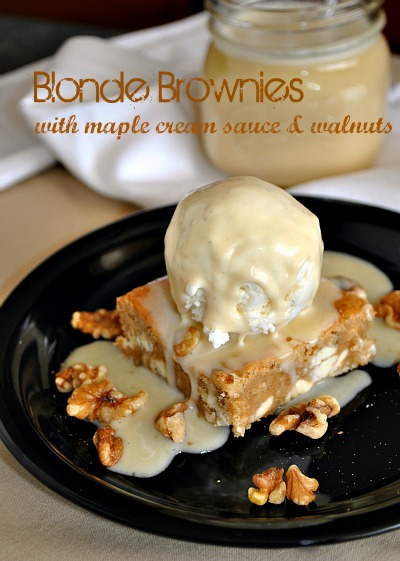 I made these blonde brownies because I thought they sounded really good, normally when given a choice I don't go for blondies, I usually like chocolate. These blondies are not your average blondies they are fantastic, and remember this is coming from a chocolate lover, dark chocolate lover. In this case blondes have more fun than the chocolate brownies.  It kind of reminds me of how my husband told me he wasn't really attracted to blondes, that he really preferred brunettes…. what?!  I thought everyone liked blondes, I guess that's like assuming everyone chooses to eat blondies. I asked him why he preferred brunettes, well he actually believed the stereotype that blondes were kind of well…dumb and brunettes were smart. I guess we all fall for stereotypes from time to time, like blondes have more fun, red heads are hot tempered, all brunettes are smart etc.  I forgave him, well I guess it was more like I won him over to blondes :). I hope this recipe will win you over too, be careful though because these are pretty addicting!

Blonde Brownies with Maple Cream Sauce & Walnuts
recipe adapted from 
The Country Cook
 and
Frieda Loves Bread
Ingredients:
1 cup butter melted
2 cups brown sugar
3 eggs
1 tsp. vanilla
1 1/2 cup wheat pastry flour
1 1/2 cup all-purpose flour
1 tsp. baking powder
1/4 tsp. salt
1 12 oz. pkg. white chocolate chips
1 cup chopped walnuts
Sauce Ingredients:
2 T. unsalted butter
1 1/2 cup heavy cream
6 T. pure maple syrup
3 T. corn syrup
Directions:
Step 1: Preheat oven to 350 degrees F. In a medium bowl, sift together flour, salt & baking powder. S
Step 2: In another large mixing bowl, mix melted butter with brown sugar until well-blended. Ad beaten eggs and vanilla, stir well.
Step 3: Add flour mixture to butter,sugar, egg mixture. Stir thoroughly but do not over mix the batter. Fold in nuts and white chocolate chips. Batter will be thick.
Step 4: Spray a 9 X 13 in. pan with nonstick cooking spray, then pour batter in. Bake for 25-30 minutes (until a toothpick inserted comes out clean).
For the sauce:
Step 1: Melt butter in a medium sauce pan over medium heat (do not allow butter to burn).
Step 2: Add heavy cream, maple syrup and corn syrup, allow this mixture to simmer over medium heat for about 20-30 minutes until its reduced by 1/3.
Serve: blondie warm or re-heated with a scoop of vanilla ice-cream and maple cream sauce, with sprinkling of nuts.
Cook's notes:
If using a glass pan, adjust heat to 325 degrees F.
You may have to bake slightly longer than given time.
I left the nuts out of batter and just sprinkled them on top since not all family members like nuts.