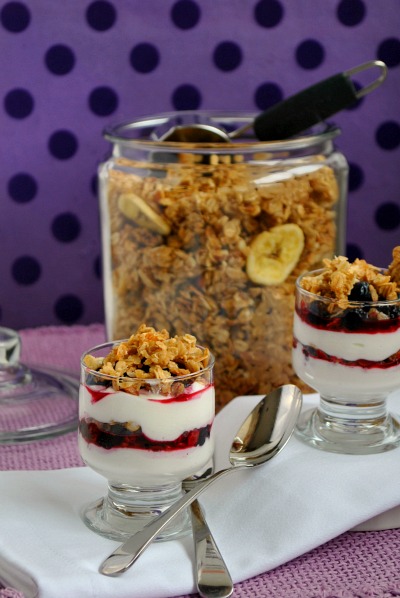 How to begin…easy, creamy, sweet & tart, crunchy, delicious, healthy. That pretty much sums up this snack, breakfast or dessert depending on what time of day you plan to eat it. I like to eat lite before a workout first thing in the morning and this works great for me.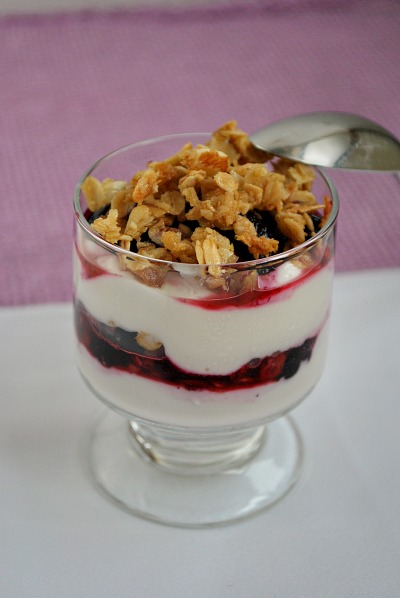 Use Greek yogurt or regular yogurt, fresh or frozen berries with some citrus zest and a bit of honey for sweetness. Homemade granola (mmm… I can't get enough) gives this snack it's crunch but store bought granola works just as well. Layer it up in a pretty glass for eye appeal and lay back relax and treat yourself:).

Berry Yogurt Parfaits with Granola
Ingredients:
2 cups Greek yogurt fat-free or your choice
1 T. honey
1 cup fresh mixed berries or frozen thawed
1 T. granulated sugar or less
1 tsp. finely chopped crystallized ginger (optional)
citrus zest- lemon, lime or orange to taste
1 1/2 cup
granola
Directions:
Step 1: Measure out 16 oz. of yogurt if using plain then stir in the honey and taste for sweetness, set a side.
Step 2: In small bowl put the berries, sugar, zest and ginger if using and stir together, set aside. If using fresh berries mash the berries a little with the back of spoon. If using frozen let the berry mixture sit until thawed partially about 15 min.
Step 3: Measure granola then begin to layer the parfait, starting first with yogurt, then berries then granola and repeat ending with granola.
Serves: 2
Note: Make ahead in half pint mason jars with lids to eat on the go, just leave out the granola and put in a baggie to have it stay crunchy,enjoy!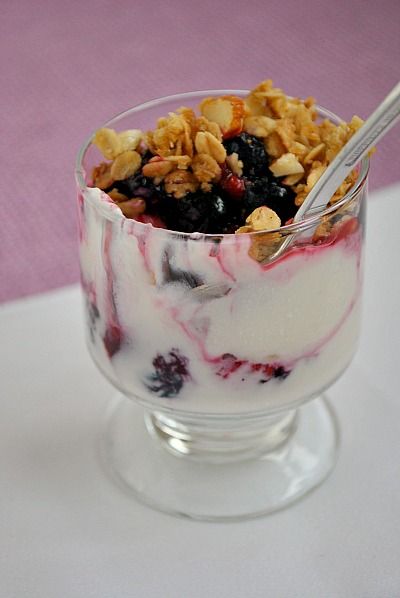 Check out the other Berry Delicious recipes below.
This is a bloghop!
Join the fun by linking up any berry recipe posted during the month of April below. You must link back to this post. The twitter hashtag is #berrylove. This bloghop is co-hosted by some amazing bloggers including:
A Little Bit of Everything ~ Roxana ~ @RoxanaGreenGirl
Baker Street ~ Anuradha ~ @bakerstreet29
Baking and Cooking, A Tale of Two Loves ~ Becky Higgins
BigFatBaker ~ Erin ~ @BigFatBaker 
Bon a croquer ~ Valerie ~ @Valouth
Easily Good Eats ~ Three CookiesElephant Eats ~ Amy
Georgiecakes ~ Georgie ~ @georgiecakes
Hobby And More ~ Richa ~ @betit19
Java Cupcake ~ Betsy ~ @JavaCupcake
Mis Pensamientos ~ Junia ~ @juniakk
No One Likes Crumbley Cookies ~ TR ~ @TRCrumbley
Oh Cake ~ Jessica ~ @jesshose
Queen's Notebook ~ Elizabeth ~ @Mango_Queen
Rico sin Azucar ~ Helena ~ @ricosinazucar
Simply Reem ~ Reem ~ @simplyreem
Soni's Food for Thought ~ Soni ~ @sonisfood
Teaspoon of Spice ~ Deanna ~ @tspbasil 
That Skinny Chick Can Bake ~ Liz ~ @Thatskinnychick
The Art of Cooking Real Food ~ Laura ~@TAofCRF
The Wimpy Vegetarian ~ Susan ~ @wimpyvegetarian 
Vegan Yack Attack! ~ Jackie ~ @veganyackattack
Vegetarian Mamma  ~ Cindy ~ @VegetarianMamma