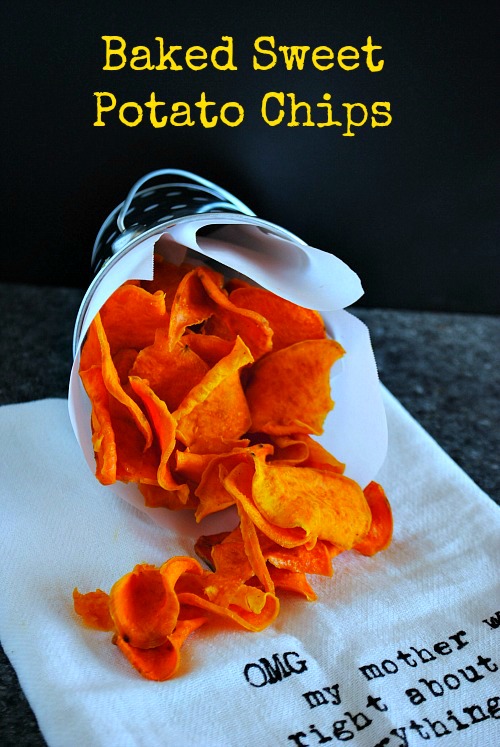 I have been wanting to try out sweet potato chips at the store but I just never have because I didn't really want to buy a bag and not like them.   Silly me, why would I think that,  since I love sweet potatoes.  In the past 2 months I've been dehydrating apples and pears, my mind keeps swirling with ideas of what to dehydrate, naturally thin sliced sweet potatoes came to mind.
Sweet potatoes are everywhere right now because of the upcoming holiday season so they are easy to get at the grocery store. I used just one sweet potato here and it filled a nice little baggy full. I tossed the thin slices of sweet potato with a tablespoon of olive oil because I wanted the seasoning to stick to them. After tossing the olive oil with the slices I added sea salt and cayenne pepper for some kick. The results were de-lish! The chips were crunchy, salty and spicy with a little natural sweetness from the potato themselves. You will need to have a mandolin slicer to cut very thin slices but you do not need a dehydrator. I used both dehydrator and my oven only because I was tired and needed to go to bed and didn't have time to babysit the chips in the oven.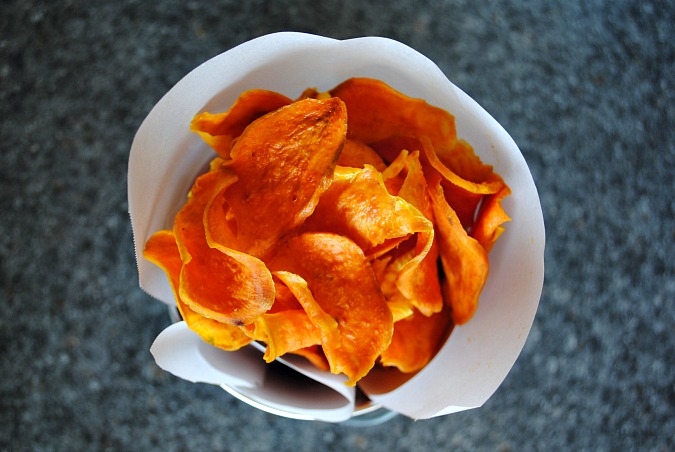 Another reason I wanted to make these chips is to have a healthy snack to munch on and share with you because I was asked to review a new book on exercise called "GET SERIOUS" by Dr. Brett Osborn. I gladly accepted the opportunity to review this book, I'm always interested in exercise, health, food, weight loss, beauty products and all those kinds of things.  I majored in physical education in college with emphasis in athletic training, so yes this interested me. The author Dr. Brett Osborn is a board-certified Neurological Surgeon with a secondary certification in Anti-Aging and Regenerative Medicine. 30+ years of exercise experience and a CSCS honorarium from the National Strength and Conditioning Association, in conjunction with his medical background, has given him the knowledge and expertise that he shares with the reader in Get Serious.
I began reading this while riding on the recumbent stationary bike at the gym.  I have to say that I really am not a stationary bike lover at all.   I have been having problems with my hips and knees and decided to give my body a break from the regular cardio equipment I was used to using. While reading this book I found myself being drawn back to the basics of weight lifting, something I hadn't been as interested in since early college days.  My regular routine definitely included weight training but more on the machine type of weight training.  Not that machines are bad because they aren't,  but they do take away some of the work that you would do if you are lifting free weights.  Overall before reading this book I  was more concerned about doing the cardio workout because of weight loss or maintenance than I was for my health or gaining strength.
I loved the first few chapters on:
Health: The Choice Is Yours
Spending more Money but Getting Sicker
Stop Blaming your Genes
Those chapters began to excite me about how important exercise is to our health and not just a weight loss tool that I believe we all seem to get caught up in.  Well, I know for me I look at magazines of women with great figures and read the articles thinking if I you do what they do, I will have the same figure as them…but really is that all exercise is cracked up to be?  I'm so glad Dr. Osborn helped realign my thinking to the health side of why I should exercise. Although,  the pictures of him and his spouse in the book do reveal a very serious regimen of health and fitness and it shows up on the outside with fabulous figures, I still didn't feel like he was selling the "body image".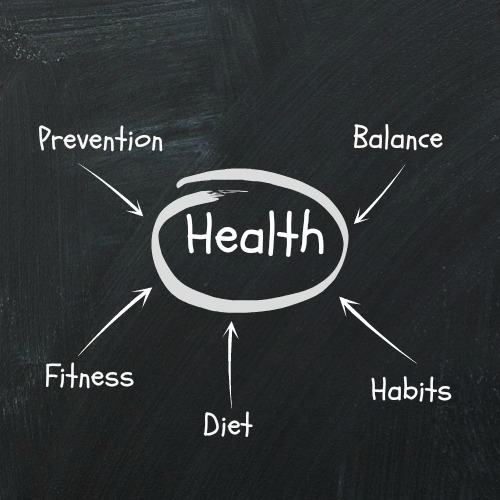 Dr. Osborn sets the foundation for us in the first few chapters and then shows a step by step guide to the proper way of weight lifting.  It sounded good but I worried about how my knees and hips would react to this type of training being more centered around weight training. Not to worry, my knees and hips both feel better from a more focused weight training routine. Women worry about becoming too muscular, but honestly, we are women and unless you are training to a be a bodybuilder you will not look like one. We do not have the body make up or the right hormones to look like a bodybuilding man because we start a weight training routine.   After getting more serious the muscles in my legs and hips are getting stronger and those are the muscles that surround that floating knee cap and keep that ball and socket together so naturally my knees and hips are feeling more support.
The following chapters on:
Fuel a Better Body
Don't Forget Your Brain
Supplements 101
Keeping track: At- Home Monitoring
Blood Test to Insist On
The Truth about Hormones
The Strength Training Protocol
Give us  information on food and how to fuel your body, what the role of food is. Prevention, prevention, prevention, love to hear this coming from a medical doctor who is taught to treat symptoms versus prevention.  What does the doctor recommend for supplements, another important chapter to read and implement.  What test we need  to push for, what hormones are good for us, what to stay away from.  Finally, his strength training protocol that the doctor himself uses. This book is a wealth of knowledge in an ever changing field.  There are no fast gimmicks here, don't think for a minute I'm pushing a book that is a quick fix because it's not.  Get Serious is just that, take your health serious enough to be able to do something about it and enjoy it to it's fullest by keeping our amazing bodies running as long and disease free as we can.
My opinions on this book are my own and I was not monetarily commensated for them. (although after that review I should be right? wink 🙂 )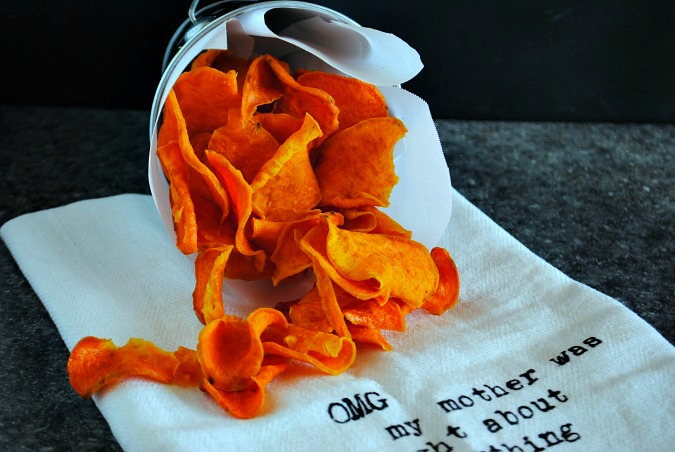 Now for those of you who want the simplest recipe ever here you are:
Baked Sweet Potato Chips and Book Review
Ingredients and Supplies:
1 sweet potato
1 tablespoon of olive oil
salt
cayenne pepper
Mandolin slicer
plastic zip-loc bag
cookie sheet ( I used 2)
silicone mat or parchment paper
dehydrator optional
Directions:
Step 1: Peel sweet potato, slice as thin as possible on the mandolin slicer.
Step 2: Put the slices into a zip-loc bag and add the oil to it. Shake well trying your best to distribute the oil on the potato slices.
Step 3: Arrange the slices on a cookie sheet lined with silicone mat or parchment paper, try not to overlap slices. Sprinkle salt and a little cayenne pepper over each slice then turn over and repeat with salt and pepper. If you don't like the heat just omit the cayenne or use regular black or white pepper.
Step 4: Bake in a 200 degree F oven for 2-3 hours or more depending on how crunchy you want the chips. Turning halfway through the cooking. That's all there is to these. Enjoy!