I recently made some purchases of some Asian condiments when we were on our trip in Florida that I've fallen in love with. One of my new beloved condiments that I love is Ponzu sauce, which is a Japanese soy sauce with citrus added to it. I have used soy sauce for years but I didn't realize there was a better sauce out there called Ponzu sauce. I used this Asian dressing that I adapted from the Pampered Chef and used it as a marinade for the shrimp, then grilled them. They were really flavorful and good. You really need to give this marinade a try even if you don't like shrimp try it on chicken.
I had to share more of our fun in Florida because it's really the reason for all the seafood recipes lately. The photo below was in Fort Pickens, a state park and island just outside of Pensacola. I love these kind of beach fences, wish I would have had a better camera with me but my iPhone did pretty good considering it's a point and shoot.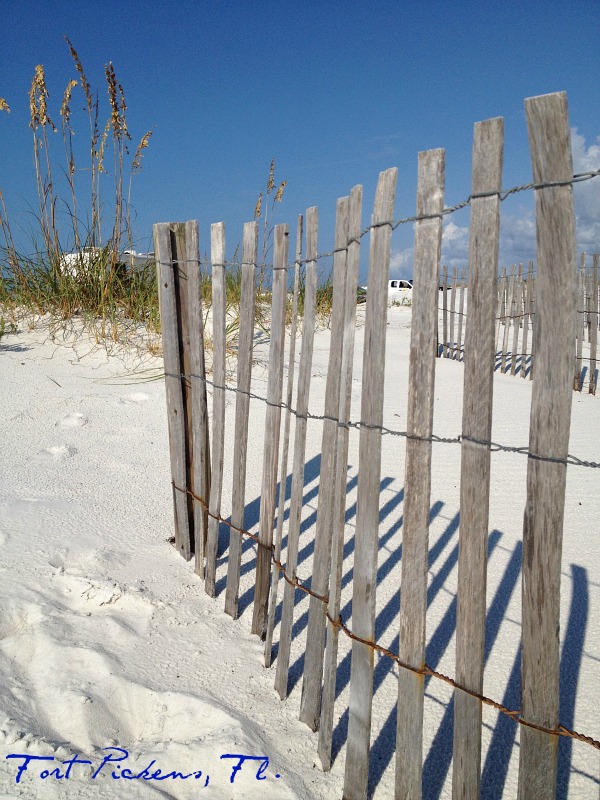 Dreamy isn't it? Lucky folks who call this beach home.

Asian Inspired Grilled Shrimp
Asian Dressing and or marinade:
3 oz. rice vinegar
2 oz. Ponzu sauce
2 tsp. sesame oil
1 Tb. chopped fresh ginger
1 glove garlic pressed
2 tsp. honey
4 oz. of vegetable oil
about a pound of shrimp already deveined
Directions:
Step 1: Pour all ingredients into glass jar and put lid on and shake well.
Step 2:  Pour about half the marinade over shrimp in a zip-loc bag or in a shallow dish and marinate for at least 30 minutes.
Step 3:  Get grill ready and put shrimp on skewers.  Cook shrimp on medium heat of grill for about 2 minutes on each side. If you leave on too long they will be  rubbery and tough.
Serve: with rice and vegetables or eat alone for garnish chop some fresh cilantro and toss on top and sweet chili sauce also found in the Asian section of groceries stores.

My daughter and her boyfriend chowing down eating crab and other seafood.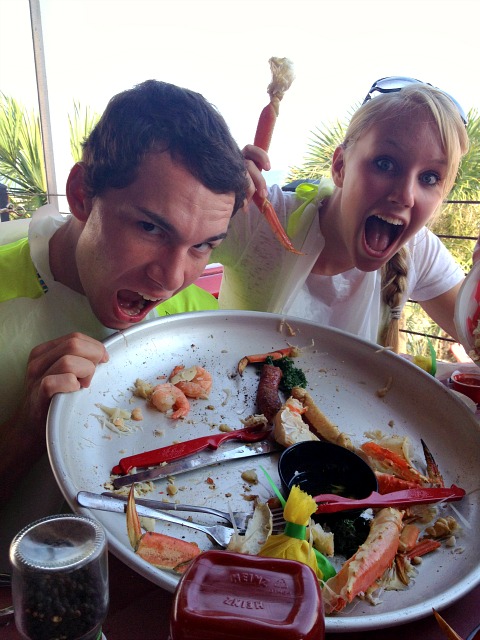 At the beach they had a Ferris wheel and I have to say I was not exactly excited about it. I've only been on one once at California Adventures at Disneyland  a few years ago and I was kind of scared then. This Ferris wheel was pretty darn neat, the little pods that you ride in were enclosed and air-conditioned(since we were in Florida). We got to go around 4 times and it was nice, but I didn't look around much since I didn't want to get sick or scream :).  The kids loved it and weren't afraid at all except my daughter's boyfriend and I. I had my husband take photos from the top.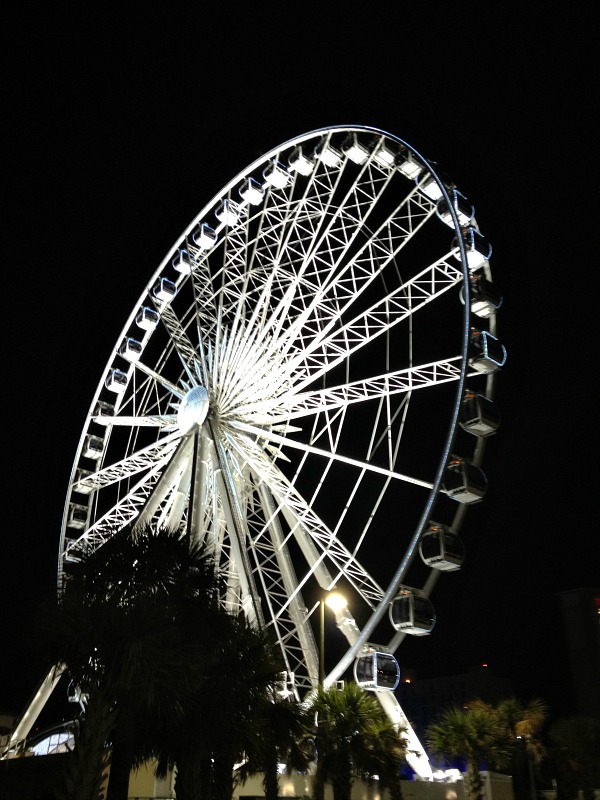 The sunset one night was absolutely breath taking.  As the sun sank deep it kept getting better and better. The view here to the west is of the bay. I could stare at this forever.