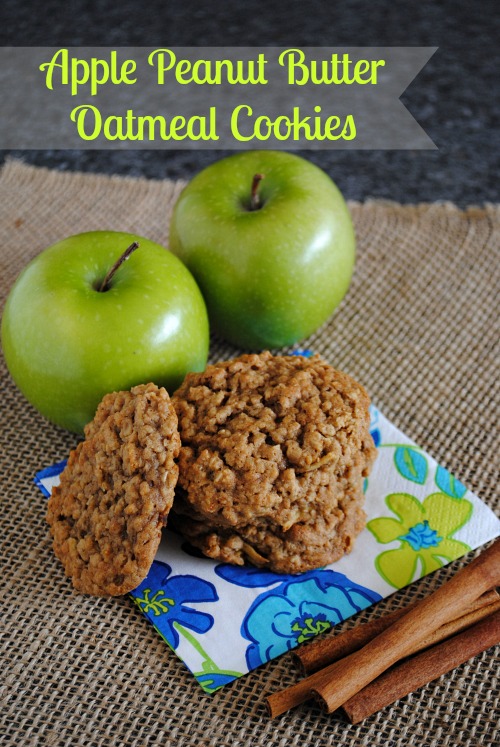 I'm so happy for Fall and all the yummy comfort food that seems to accompany it. Apple season is in the Fall and this year I have an apple tree that gave us plenty of good fruit to make things with so don't be surprised in the next month or so if you see a few apple recipes.
Have you ever tried apple slices spread with peanut butter on them? My roommate in college got me to try it years ago and I thought it sounded weird, but I tried it and I really liked it. Fast forward 25 years and I saved this cookie recipe from a fellow blogger friend Jessica at My Kitchen Addiction– she made these cookies a few years ago.  My taste buds again were a little hesitant about putting apples, peanut butter and oats together in a cookie,  then I  remembered that apples and peanut butter are so good together.  I recently made them, the results were so yummy, the apple makes these very moist and the peanut butter of course makes them taste delicious.   I added some cinnamon since it always goes well with apples. These cookies remind me of the wonderful Fall season.  Enjoy.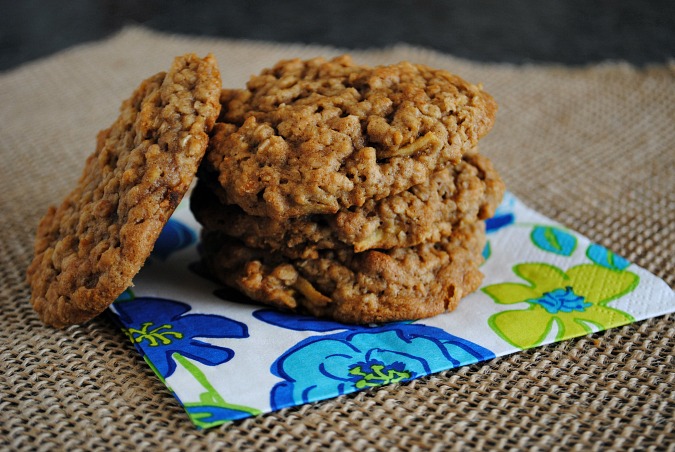 Apple Peanut Butter Oatmeal Cookies
Ingredients:
1/2 cup granulated sugar
3/4 cup brown sugar
1/2 cup butter softened
3 eggs
1 teaspoon vanilla
3/4 cup creamy peanut butter
1 1/4 cup shredded tart apple like granny smith
1 cup flour
2 teaspoon baking soda
1 teaspoon cinnamon
1 teaspoon salt
4 cups of quick oats
Directions:
Step 1: Pre-heat oven to 350 degrees F. Prepare cookie sheet pan with parchment paper or a silicon mat.
Step 2: In a large mixing bowl mix together the sugars and butter until fluffy. Then add the eggs, peanut butter, and vanilla mix together until incorporated. Now stir in the apples.
Step 3: In another bowl mix together the dry ingredients and slowly add them to the wet ingredients until mixed well.
Step 4: Drop large rounded tablespoons onto the cookie sheet and bake for about 11-13 minutes. They will begin to turn golden brown.
Step 5: Cool cookies on pan for about 3 minutes then remove to a wire rack until cooled completely. Store in an airtight container.
Makes: about 21-27 large cookies.