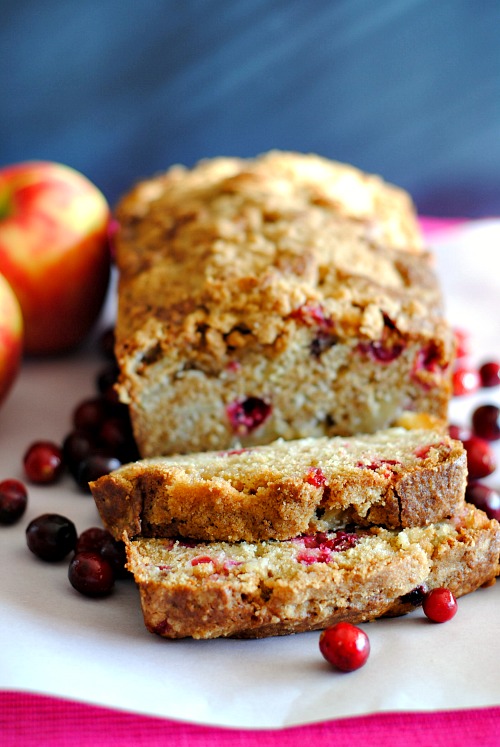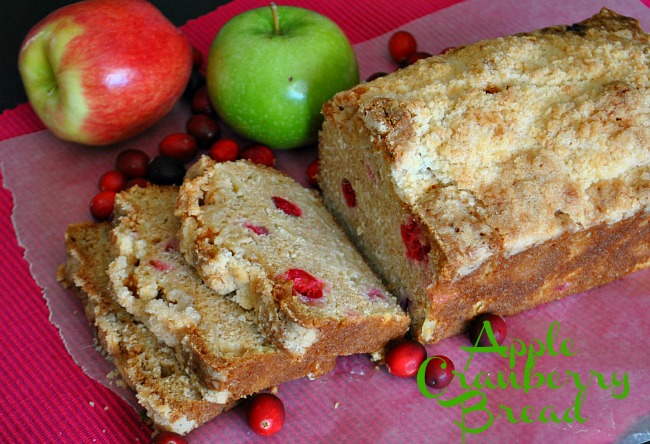 The smell of fresh bread from the oven is welcoming in any home, in fact it has been said if you want to sell your home then bake fresh bread in the oven when people come to view your home and your chances of selling are greater. It would probably work for me since I am a sucker for fresh bread. This apple cranberry bread is no exception to the rule of smelling fantastic while baking, it's a sweet and tart bread that will delight your senses both by smelling and tasting it. I derived this recipe from my apple bread recipe that I shared a few years ago.  If you haven't tried the apple bread you really must, it's a keeper and everyone who tastes it wants the recipe. For this moist apple cranberry bread I didn't use any cinnamon in the bread or in the streusel, but I think you could easily use cinnamon or nutmeg to add another level of flavor since  both warm spices goes so well with fruits like apples.
I highly recommend you give this recipe a try this holiday season, it would make a perfect hostesss gift for any party or get together. I hope you enjoy the season and this delicious bread as much as my family does.

Apple Cranberry Bread with Streusel Topping
Ingredients:
1/2 cup butter melted
1 cups sugar
2 eggs
1 T. vanilla
1 cup all purpose flour
1 cup cup wheat flour
1 tsp. baking soda
1/4 tsp. salt
1/2 tsp. all spice*
2 med. granny smith apples
1 orange (zest from orange optional)
2 T. orange juice
1 cup fresh or frozen cranberries
Streusel:
3 T. flour
1 1/2 T. butter
3 T. sugar or
brown sugar*
Directions:
Step 1: Peel, core apples and chop apples
Step 2: In a large bowl cream together melted butter, sugar, eggs, vanilla and orange juice and zest if using. Add dry ingredients to the wet ingredients and mix together.
Step 3: Add apples and cranberries to the batter and stir well.
Step 4: Make streusel by combining all ingredients and stirring well, streusel will clump together.
Step 5: Spray 1 bread pan with cooking spray and pour the batter into the pan and smooth out. Crumble with fingers the struesal topping on the top of the batter.
Step 6: Bake at 325 degrees for 70 minutes or until tooth pick inserted into the middle comes out clean. Let cool completely if you can, slice and enjoy.
* recent updates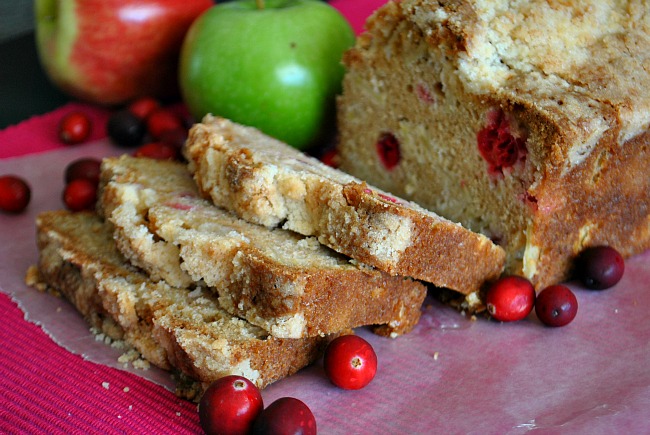 I'm sharing this recipe with the Love Blophop because it's cranberry love month. Please check out the other great bloggers recipe for cranberries below or add your own recipe to the hop :).