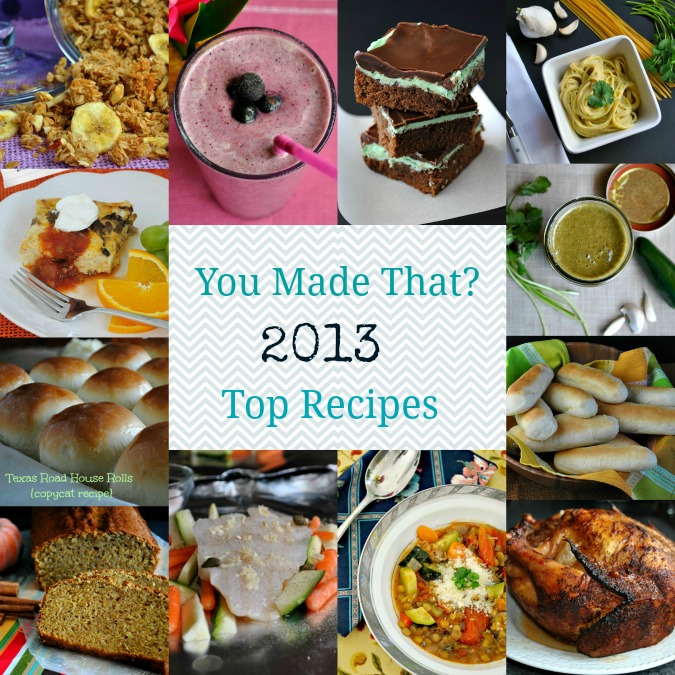 The year flew by too quickly for me and my family as I'm sure it did for you. I hope that 2013 was a good year for you but if not then make 2014 a better year. At the end of the year I like to share with you the top recipes that were viewed. The social sights Pinterest and StumbleUpon tend to be where most of my traffic comes from and these recipes were the top clicked. Some of the the recipes are not from 2013, some are from other years and one is from my first post on YMT. I've been trying to get rid of the old photos from when I started by re-photographing the recipes and it seems we are very visually driven, the better the photos the more people want to try it. The unfortunate thing about visual sense is we often skip over recipes because they may not have the best eye appeal. I often wonder when I started blogging how anyone tried anything I made since I knew nothing about photographing food or blogging

. Each year is a continued learning process and I hope that I learn from my mistakes and get better with each recipe.
I want to let my readers know that I appreciate the continuing support of YMT by reading, cooking and sharing the recipes, without you there would be less motivation. I love to get comments on how the recipe turned out for you, and you are welcome to share photos with me on You Made That? facebook page. Have a wonderful New Year in 2014 and if you are the resolution type person may you keep all your New Years resolutions.
Homemade Granola
Texas Roadhouse Rolls {Copy Cat}
Homemade Dry Rub for Chicken
Berry Protein Shake
Warm Creamy Bacon & Cheese Dip
Italian Lentil Soup
Brown Butter Pumpkin Bread
Sausage and Cheese Breakfast Casserole
Pasta Love: Mexican Green Spaghetii
Quick Baked Cod Foil Packets
Hershey's Mint Brownies
Cilantro Lime Honey Dressing
Homemade Soft Bread Sticks