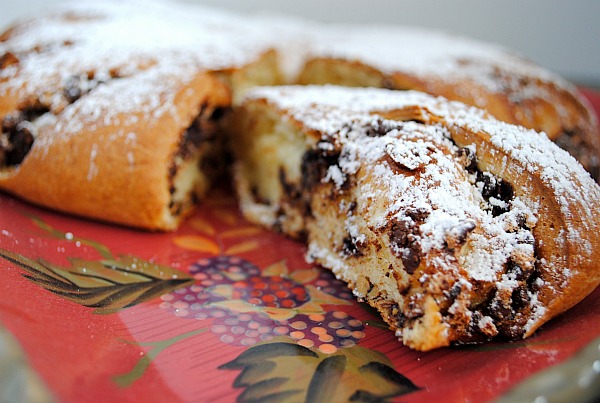 Yeasted meringue filled coffee cake is what the title says but don't let that scare you off, its really a bread much like a brioche and filled with chocolate, cinnamon and sugar, nuts or whatever you decide sounds good.  I was happy to try my hand at yeast bread coffee cake to gain more experience with bread making.  Thanks to our two hostesses Jamie of Life's a Feast and Ria of Ria's Collection who chose this nice bread/cake challenge and supplied the recipes.  If you are new to my blog and don't know what I am talking about let me explain; the Daring Bakers Challenge is a challenge that I joined with other food bloggers to help me become a better baker.  Each month we are given a new challenge to do, then post our results about our success or failures.  If you want to know more about how to join in the fun then visit the Daring Kitchen.
I wanted to make another batch of this coffee cake before I was to post this recipe but time ran out.  I think the dough would look great in a loaf pan, next time I'll try it that way.  One of the things I wasn't happy about was how dark my cake turned out.  I didn't sit by and watch the cake, I set the time for the lowest time setting and when the timer went off it was already dark 🙁 , that may not bother some people but it does me.  Because the cake baked longer in my oven and became darker, it was too dry for my personal taste, but not so dry that we couldn't enjoy it.  The flavor of the cake was great, of course eating chocolate for me is always a pleasure.  If you don't like cinnamon mixed with your chocolate then just leave the cinnamon out.  The meringue was an interesting element to this cake and I think it made the filling taste better.  I noticed the meringue was slightly salty against the sweet, I happen to love salty-sweet things.  I whipped my egg whites to much while making the meringue and they became too stiff.  Make sure to watch carefully that your whites don't tighten up too much.  Despite all of my errors in making this coffee cake,I hope you try this recipe out because it was good, we ate the whole thing.  Enjoy.
Ingredients:
4 cups (600 g / 1.5 lbs.) flour
¼ cup (55 g / 2 oz.) sugar
¾ teaspoon (5 g / ¼ oz.) salt
1 package (2 ¼ teaspoons) active dried yeast
¾ cup (180 ml / 6 fl. oz.) whole milk
¼ cup (60 ml / 2 fl. oz. water
½ cup (135 g / 4.75 oz.) unsalted butter at room temperature
2 large eggs at room temperature

Directions:
Preparing the dough:
Step 1: In small microwavable bowl heat water, milk, and butter about 90 seconds, stir and make sure butter is melted.  Set aside and let cool slightly.
Step 2: In a large mixing bowl, combine 1 ½ cups (230 g) of the flour, the sugar, salt and yeast and  mix together.
Step 3: With an electric mixer on low speed, gradually add the warm liquid (not hot or it can kill the yeast) to the flour mixture, beating until well blended. Increase mixer speed to medium and beat 2 minutes.
Step 4: Add the eggs and 1 cup (150 g) flour and beat for 2 more minutes.
Step 5: Using a wooden spoon stir in enough of the remaining flour to make a dough that holds together.  Turn out onto a floured surface (use any of the 1 ½ cups of flour remaining) and knead the dough for 8 to 10 minutes until the dough is soft, smooth, and elastic, keeping the work surface floured and adding extra flour as needed. If using a large mixer like a Kitchen Aid just add the remaining flour and turn to low speed for 2 minutes until the dough is kneaded and soft.
Step 6: Place the dough in a lightly greased bowl (I use cooking spray), turning to coat all sides. Cover the bowl with plastic wrap and let rise in warm place until double in size, 60-9o minutes. The rising time will depend on the type of yeast you use.  After dough has risen long enough begin making the meringue.
For the meringue:
3 large egg whites at room temperature
¼ teaspoon salt
½ teaspoon vanilla
½ cup (110 g / 4 oz.) sugar
Step 1: In a mixing bowl preferably not glass beat egg whites and salt together until frothy then add the vanilla and turn speed to high.
Step 2: Add the sugar a tablespoon at a time turning off when added so the sugar just doesn't get thrown to the sides.  Beat until stiff peaks form and whites look glossy.
For the filling:
1 cup (110 g / 4 oz.) chopped almonds
2 Tablespoons (30 g / 1 oz.) granulated sugar
¼ teaspoon ground cinnamon
1 cup (170 g / 6 oz.) semisweet chocolate chips mini chips or coarsely chopped chocolate
Step 1: Mix together the cinnamon and sugar.
Step 2: Chop nuts
Step 3: Divide dough in half and roll each out on a lightly floured surface to 10 X 18 in. rectangles.
Step 4: Spread the meringue on each of the rectangles, then sprinkle cinnamon sugar, chocolate chips and then the nuts on top.
Step 5: Roll up dough jelly roll style from the long side. Pinch the seam closed to seal. Carefully transfer the log to a lined cookie sheet, seam side down. Bring the ends of the log around and seal the ends together, forming a ring, tucking one end into the other and pinching to seal.

Step 6: Using kitchen scissors or  very sharp knife, make cuts along the outside edge at 1-inch (2 ½ cm) intervals. Make them as shallow or as deep as desired but don't be afraid to cut deep into the ring.
Step 7: Cover dough with plastic wrap and set in a warm place and let rise until double in size.
Step 8: Pre-heat oven to 350 degrees, while the oven is heating beat one egg and lightly brush a top of  each of the loaves.  Bake for 20-25 min. until evenly browned.
When cakes are done let cool and when ready to serve sprinkle with powdered sugar and cut into wedges.