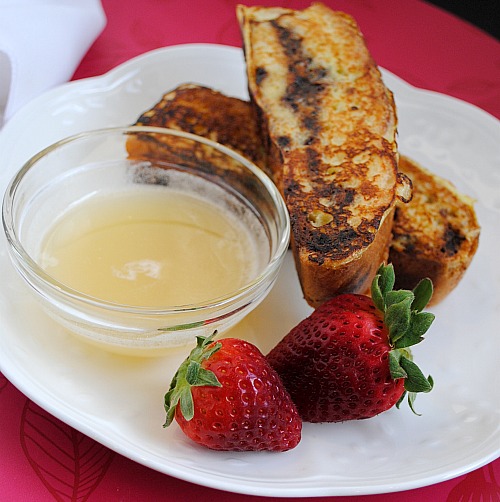 French toast and coffee cake what a treat!  This French toast is extra special because it was the meringue filled coffee cake that was actually a yeast bread that I made for the Daring Bakers challenge.  The bread ended up being a bit flat after it was baked so I cut it into strips and decided the bread was thick & dense enough to be french toast that could be dipped into the syrup.  What a good choice it was to make french toast out of it because it was so delicious.  The cinnamon and chocolate with almonds inside the bread made all the difference in turning ordinary french toast into extraordinary.  Another element to making this dish wonderful is the buttermilk syrup that my friend Maria posted on the Mother Huddle.  I just love the flavor of butter milk syrup, and I think I could drink it.  I highly recommend you make the coffee cake and then plan to make some of it into this french toast you will love it.
Yeasted Meringue Coffee Cake- French Toast Sticks with Buttermilk Syrup
Ingredients:
5 eggs
2 cups of milk
3/4 of a loaf of yeasted meringue coffee cake
Directions:
Step 1: In a rectangle pan or square pan whisk together the eggs and milk.
Step 2: Cut the bread into narrow strips.  Soak each piece in the egg mixture for 1 minute on each side.
Step 3: Cook the bread in a  large skillet on medium high for about  3-4 minutes turning once. The bread on the bottom should be nice and brown before  you turn it over.
Buttermilk Syrup
Ingredients:
1/2 cup buttter or 1 stick
1 T. Karo syrup
1/2 cup buttermilk
1/2 tsp. baking soda
3/4 cup sugar
1/2 tsp. vanilla
Directions:
Step 1: Combine all ingredients except vanilla in a sauce pan. Bring to a boil and boil for 1 minute.
Step 2: Remove from heat and add 1/2 tsp vanilla.
Serve: Warm with french toast or pancakes.
Notes: If you don't want to bake the bread just use a dense french bread