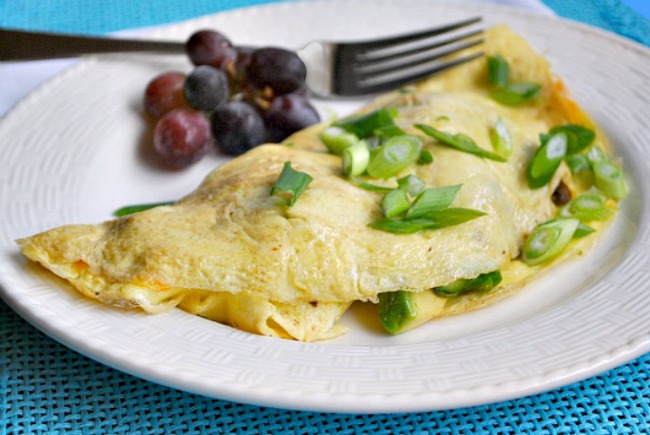 Omelettes seem easy enough emphasis on the word
"seem"
, I have been trying for the longest time to get my omelettes to look like the photo above and taste delicious too. I've struggled, felt frustrated and defeated by a simple egg dish and I felt like I've had the best books to learn from, you know the kind with good pictures and instructions. I have made dozens and dozens of them and I'm finally really proud of how it turned out. There are a few tricks to making an omelette without burning, drying out the eggs, getting it out of the pan. The most important secret I can share is
patience
and this is something I lack on a daily basis, although as I get older and wiser it isn't as elusive. Second secret is a
good pan
,a long with
oil and butter
for greasing it. The third secret is your
heat,
not too hot and not too cold, oh and did I mention lots of practice 🙂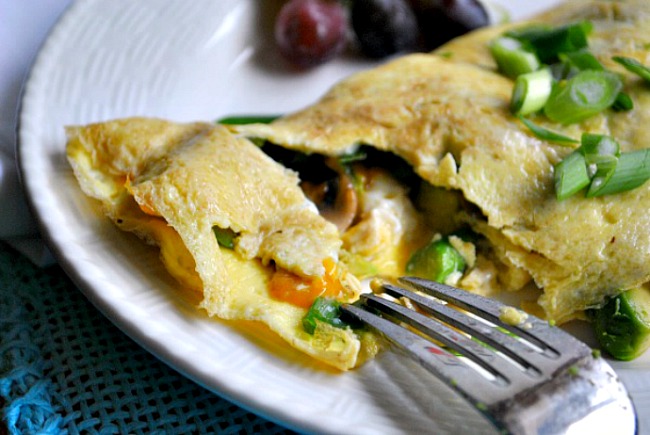 Veggie Omelette
Ingredients:
2 fresh asparagus sliced
2 fresh mushrooms sliced
1/2 avocado peeled and sliced
olive oil
butter
2 eggs
cheese optional
salt and pepper
Directions:
Step 1: In a 10 inch skillet put about a tablespoon of olive oil in the pan and saute the mushroom and asparagus together on medium high heat. Season with salt and pepper until the mushrooms are lightly browned and asparagus is crisp tender. When done take out of pan and set aside.
Step 2: Crack eggs and whisk well, add a splash of water or milk if you like and whisk.
Step 3: Using a ten inch skillet put 1 tablespoon of oil and a pat of butter in the skillet and let butter melt. The pan should be hot but not smoking or burn the butter. I use the medium setting on my cook top but I have a gas not electric you may need to cook on med-high.
Step 4:  Put the whisked eggs into the hot pan and with a whisk in one hand and the the other hand moving the pan back and forth swirl the eggs around so it covers the whole pan, then quickly break up the eggs so you have some holes and swirl pan so the holes get filled back in with the uncooked eggs. When the eggs look like they are getting dried stop making holes and let cook but still moving pan back and forth.
Step 5:  The eggs should still look a bit wet, put the all vegetables and cheese on one side of pan and gently and carefully get a spatula under the side you want to fold over and fold it over.
Step 6:  Get a plate and just let the omelette slide out onto the plate from the pan.