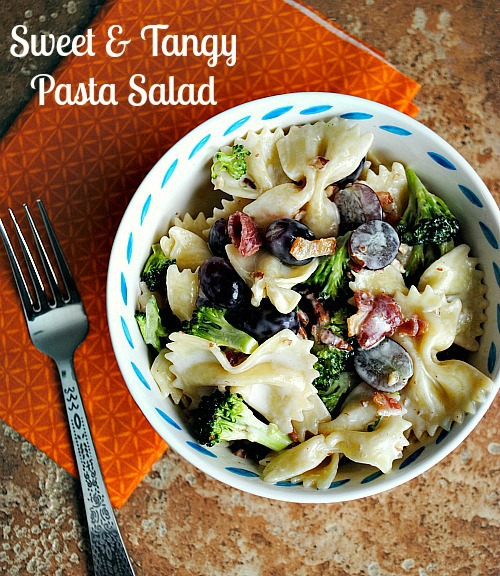 Pasta salad is a dish that seems easy but in my opinion it's tough to get the flavors just right. Sometimes the pasta soaks up all the sauce and the salad is dry and flavorless. Maybe you have had pasta salad that was dripping in sauce, not very appetizing to me. I found a recipe that was lightened up but I fattened it again, I couldn't help it I didn't have the low fat ingredients. I don't make pasta salad or pasta that often so I felt like I could splurge, plus I was taking it somewhere else. The salad was a hit and one of my friends told me the next day she was craving the pasta salad I made and wanted the recipe. You know you nailed a recipe when friends want the recipe, I felt so accomplished since pasta salad seems to be my achilles heal. I like that this pasta salad is sweet, tangy, and crunchy, it satisfies your palette for texture and flavor in one dish. BBQ season is coming and this pasta salad would be the perfect accompaniment for any grilling party. I hope you enjoy this recipe as much as we did, happy eating.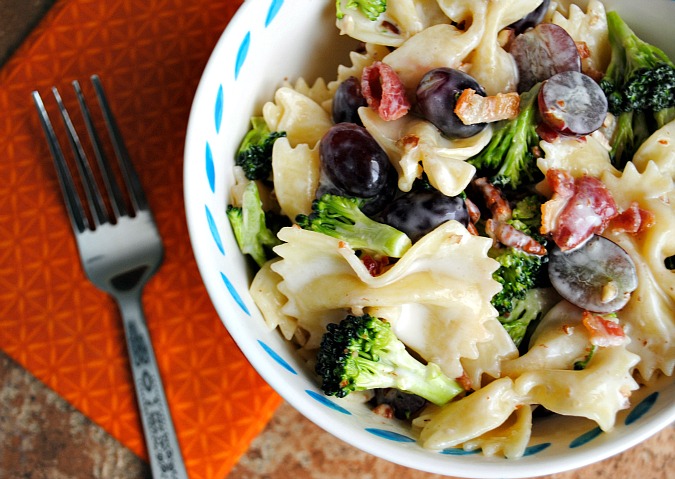 Sweet & Tangy Pasta Salad
Ingredients:
1  (12 oz) box farfalle (bow-tie) pasta
1 lb. fresh broccoli
1 cup mayonnaise
2/3 cup sugar
2/3 cup white balsamic vinegar (can use red wine vinegar)
2 tsp. salt
1 lb. cups seedless red grapes
12 oz. cooked bacon slices, crumbled
1 cup toasted chopped pecans
Directions:
Step 1: Preheat oven to 350 degrees F. Bake pecans in a single layer in a shallow pan for about 6 minutes until lightly toasted and fragrant, stirring halfway through.
Step 2: Cook pasta according to package directions. Rinse, then set aside to cool.
Step 3: Cut broccoli florets from stems and separate into small pieces using a paring knife.
Step 4: In a small bowl or in a blender, whisk together mayo, sugar, vinegar and salt.
Step 5: Toss together broccoli, pasta and grapes, then stir in sauce. Cover and chill for up to 3 hours.
Step 6: Stir in bacon and toasted pecans just before serving.
Note: I only used 2/3 of the sauce in my pasta salad.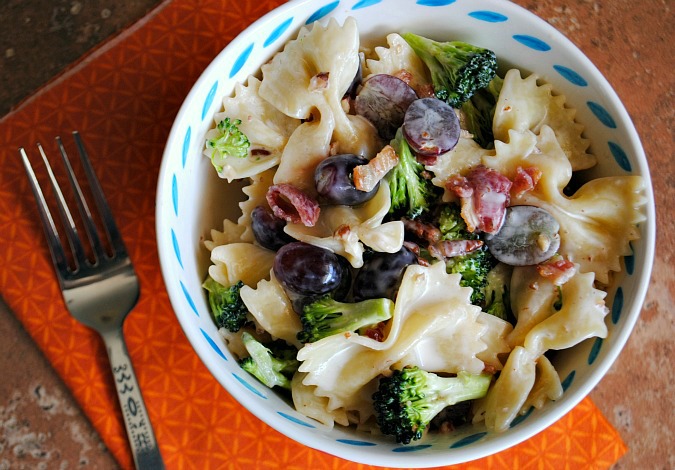 I thought I would share a few photos that I meant to share a while ago when I was at my parents with the kids. We are animal lovers in this family so I just thought these were too cute not to share.