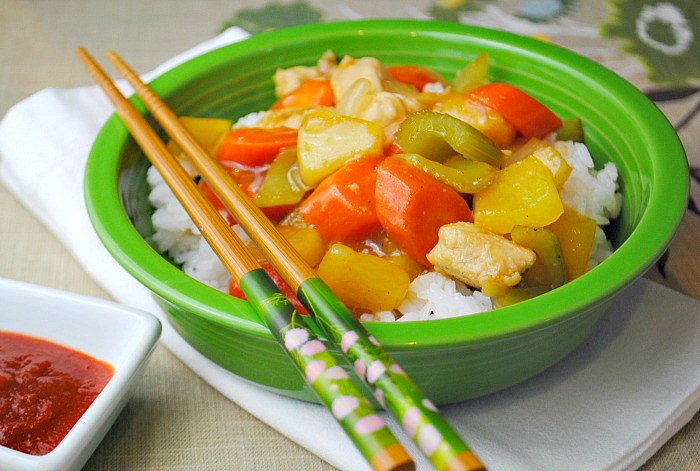 Asian food is a favorite of mine although I don't have many recipes for good Asian food mostly because I'm a little timid about making it. Another reason I don't have many recipes is that my kids don't really enjoy it like I do. Well, I have one more person living with us who really likes Asian food our foreign exchange student who is from Germany! She pretty much likes to cook and eat all different kinds of food so I've enjoyed cooking more Asian meals lately for her and I. This sweet and sour chicken stir fry recipe originally comes from Steve at the blog
Black Peppercorn
.   I add my own changes to it because I didn't think it had enough flavor so I added fresh ginger and fresh garlic which seemed to boost the flavor. I like things spicy at my house so I made sure I had some Sriracha hot sauce to go with my helping.  If you like sweet and sour dishes then try making this easy dinner for your family.
Sweet & Sour Chicken Stir Fry
Ingredients:
24 oz. or 4- 6 ounce chicken breast cut into 2 in cubes
3 carrots chopped
1 bell pepper chopped
1 onion chopped
2 stalks celery chopped
1 small can pineapple tidbits, drain and reserve juice
1/4 cup pineapple juice
2 T. garlic minced
1 T. chopped fresh ginger
4 T. brown sugar
2 T. ketchup
3 T. soy sauce
1/3 cup rice wine vinegar
3 tsp. corn starch
pepper to taste
Cooked Rice
Directions:
Step 1:Prepare vegetables by peeling and slicing the carrot, chop celery, cut pepper and onion into 1 inch pieces or chunks.
Step 2:Drain the pineapple from the can reserving 1/4 cup of the pineapple juice.
Step 3:In a separate bowl, whisk together the pineapple juice, minced garlic, chopped ginger, brown sugar, ketchup, soy sauce, rice wine vinegar, and corn starch, ensuring the corn starch is dissolved.
Step 4: Cube chicken and stir fry in large skillet on high heat or wok with 2 tablespoons of oil until no longer pink. When done put in another bowl and set aside.
Step 5: Add the remaining tablespoon of oil and put in the sliced carrots, celery, pepper and onion. Cover the wok or fry-pan with a lid. Check every couple minutes and stir to ensure the vegetables do not stick to the bottom of the pan. If needed, add the optional 2 tbsp of water which will help steam the veggies and keep them from burning.
Step 6: Once the carrots and celery start to soften, lower the heat and add the pineapple chunks and cooked chicken.
Step 7: Pour the sauce into the fry-pan and stir it gently through the chicken and veggies. Cook for about 5 minutes or until the sauce is thickened.
Serve on cooked rice.