When I think of stuffed peppers I think of Fall and Winter for some reason even though peppers are a hot weather plant. I can only guess that it's because they are baked in the oven and stuffed usually with something comforting.  Although making stuffed peppers can appear difficult for some but don't be fooled by the neat packaging. They are really simple to create and what is wonderful about stuffing peppers is they can be stuffed with leftovers of meat, grains & veggies then turned into something special. In this case I didn't use leftovers to stuff my peppers, I just used what I had on hand. The reviews I got from these peppers were "mmm…these are so good" and "Mom that was good, I liked it", the last comment was from the picky eater. Well okay, I cheated and just let him eat the filling but shockingly he liked that. The peppers were flavorful and filled with several vegetables that my kids normally don't want to eat separately (ie.spinach). The flavors of the peppers are mild enough for kids and for us adults who can handle a little heat I garnished with finely chopped jalapenos. This is a great meal for company as well since they look so pretty, so try your hand at stuffing peppers and enjoy.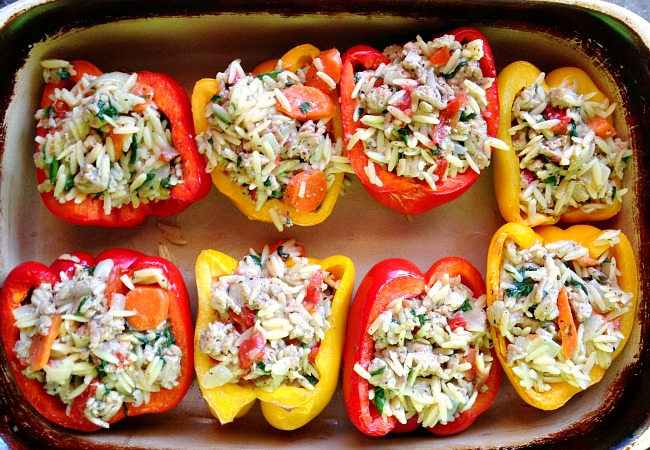 Stuffed peppers with orzo pasta, turkey and fresh veggies
Ingredients:
4 bell peppers any color
1 pound of ground turkey meat
1 onion chopped
olive oil
2 carrots chopped
1 cup orzo (pasta that looks like rice)
3 cups chicken broth
1 tsp. dried basil, can use fresh if you have it
1 tablespoon roasted garlic paste (found in deli section of grocery store or use fresh garlic to taste)
ground pepper
5 Campari tomatoes they are small
1 1/2 cup of chopped fresh spinach
Parmesan cheese
Directions:
Step 1: Prepare the veggies by slicing peppers in half and taking seeds out. Chop onion, carrots,tomatoes and spinach
Step 2: Sprinkle some oil on the peppers and lightly salt and pepper both sides, put in a 9X13 inch pan.
Step 3: In a large 12 inch skillet put about a tablespoon of olive oil in the pan and cook the turkey and onions together on medium high breaking apart the meat so there are no big lumps, drain excess fat when the turkey is no longer pink.
Step 4: Put the turkey and onions back on the heat add the orzo and cook a few minutes then add the chicken broth, carrots and basil. Cook on medium heat until the orzo is al dente.
Step 5: Heat the oven to broil and put the peppers in the oven and check them in 5 minutes, if they are getting browned then with tongs turn them over. Put the peppers back in the oven for another 5 minutes until they are browned.
Step 6: While the peppers pre-cook a bit put the garlic, tomatoes and spinach into the orzo mixture and stir well. Cook on low making sure the moisture is cooked out not dry, just not soupy. Taste for seasoning and add pepper and salt if needed.
Step 7: When the peppers come out of the oven turn the oven temperature to 400 degrees and fill the peppers with the orzo mixture. Bake for 10-15 minutes uncovered. When they are done sprinkle Parmesan cheese on top and serve.
Serves: 4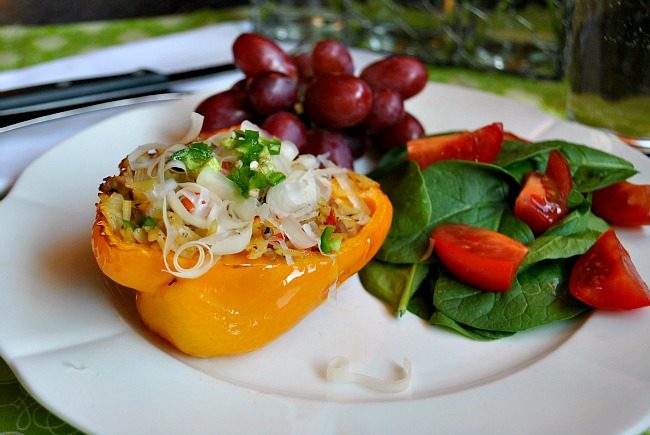 I was walking outside our house the other evening and snapped these two photos of the sun setting. I'm so blessed with such a beautiful place to live and great sunsets.