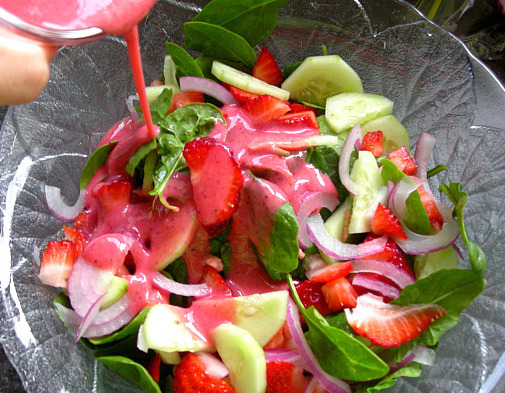 Strawberry Spinach salad is so refreshing it reminds me of spring and summer.  A few years back I sold Pampered Chef products and this salad recipe was in one of the cookbooks but my homemade vinegar and dressing is what makes this salad truly unique.  If you don't want to make the vinegar you can get away with it and just use red wine vinegar.  For the how to on making the strawberry vinegar go here for pictures and tutorial.
Strawberry Spinach Salad with homemade dressing
Ingredients:
1  16 oz. bag of baby spinach
1 baskets of strawberries
1 red onion
1 cucumber
1/4 to 1/2 cup of slice almonds
strawberry vinaigrette
Directions:
Step 1: In a medium large bowl empty spinach bag, then peel and slice cucumber.
Step 2: Wash 1 basket strawberries and hull then slice length wise and add to the salad.
Step 3: Peel onion and slice about 1/4 to half of the onion into thin rings. Cut rings in half and add to salad. Now add the almonds and lightly toss salad.
Strawberry Vinegarette:
1/2 cup strawberry vinegar
3/4 cup sugar
1/2 tsp. dried ground mustard
1 T. minced red onion
1 tsp. poppy seed 1 pint or basket of washed and hulled strawberries
1/3 to 1/2 cup canola oil
Directions:
Step 1: Put all ingredients into blender except oil.
Step 2:Blend on med-high with lid on and while still blending take out middle of lid and slowly add oil until all is emulsified. Refrigerate & serve with Strawberry Salad.