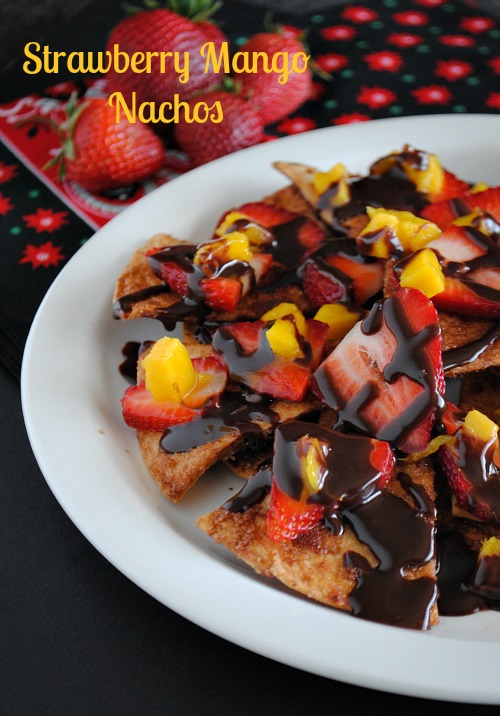 It's almost that time of year to celebrate Cinco de Mayo and I'm starting to have a craving for sweet nachos. Have you ever had cinnamon sugar chips with fruit on top drizzled with chocolate? Well, you are in for a treat then because these sweet nachos will knock your socks off. I love Spring and all the wonderful fruit that is starting to appear in our market. Strawberries are a family favorite, mangoes are just dang good and so are nachos so why not put the two together in these sweet  nachos with homemade baked cinnamon and sugar chips and topped off with homemade chocolate sauce.   I'm sure you could put any fruit you like on these sweet nachos and making the chocolate sauce isn't necessary just really good.  I was asked to try out some  sugar from Zulka and so I created this recipe to include the use of Zulka sugar. I was not compensated for my recipe and all opinions are my own. I know you are asking yourself what is Zulka sugar? In short it's a an all natural sugar without all the refined processing.
Zulka® Pure Cane Sugar is real, unrefined granulated "Morena" sugar made from freshly harvested sugar cane that is a better-tasting and less-processed cup-for-cup replacement
for refined white sugar. Morena sugar is a term used to describe granulated sugars that do
not undergo conventional refining processes, which remove the complexity and depth of
flavor present in raw sugar cane after it has been pressed. Zulka Pure Cane Sugar preserves
the natural properties of the sugar cane plant, while retaining a flavor profile that's as close to fresh sugar cane as possible, making it a better alternative to white sugar for baking, cooking and beverage recipes as well as all other everyday sugar uses. With a distinctively pure taste, and rich color and aroma, Zulka delivers a full-bodied and aromatic sweetness to all your favorite recipes.
The flavor of Zulka sugar is very good more natural flavor and less processed the the traditional granulated sugar. I don't know about you but I could use less processed food in my life and my families lives too. I'm happy to tell you that Walmart grocery stores throughout the U.S. are carrying Zulka sugar, just look for the clear bag and green and white logo.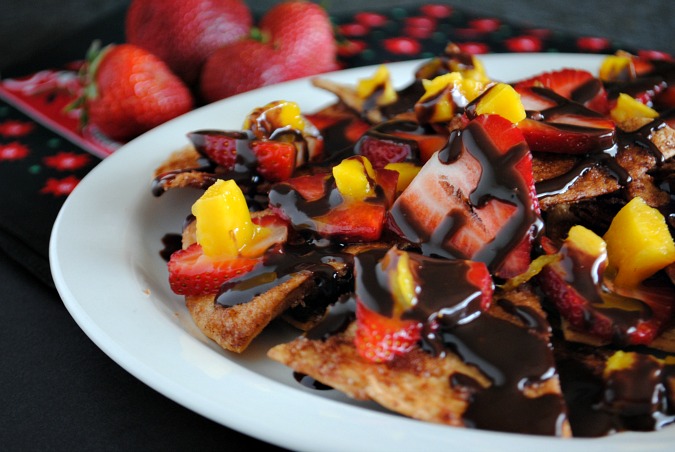 Strawberry Mango Nachos
Ingredients:
The ingredients may vary to how many you are making
strawberries
1 mango
1/4 cup melted butter
1/4 cup whipping cream
1/2 cup chocolate chips
4 T. of Zulka granulated sugar
1/2 T. ground cinnamon
flour tortillas (taco size, I used two)
Directions:
Step 1: Prepare fruit by washing the strawberries and drying, then slice them. Cut the skin from the mango and chop the mango in bit size pieces. If you have never cut a mango then watch this video it's really helpful.
Step 2: Melt butter in a small bowl in the microwave and then set aside.
Step 3: Heat the whipping cream in the microwave to hot but not boiling. Then add in the chocolate chips and stir well until combined and it makes a nice sauce.
Step 4: Preheat oven to 400 degrees fahrenheit. While the oven is heating mix the sugar and cinnamon together into a small bowl. On a cutting board brush the tortillas with butter on both sides and sprinkle cinnamon and sugar on both sides, then cut into triangles with a large butcher knife.
Step 5: Put a sheet of parchment paper down onto a large baking sheet. Put the tortilla triangles onto the baking sheet and bake for 12 minutes, turning the tortillas half way throught the time.
Step 6: When the chips are done, let them cool about 5 minutes. After they are cooled put them on a plate and arrange the fruit so there is a little bit of fruit on each chip, then drizzle the chocolate sauce on top and enjoy.
Serves: 2