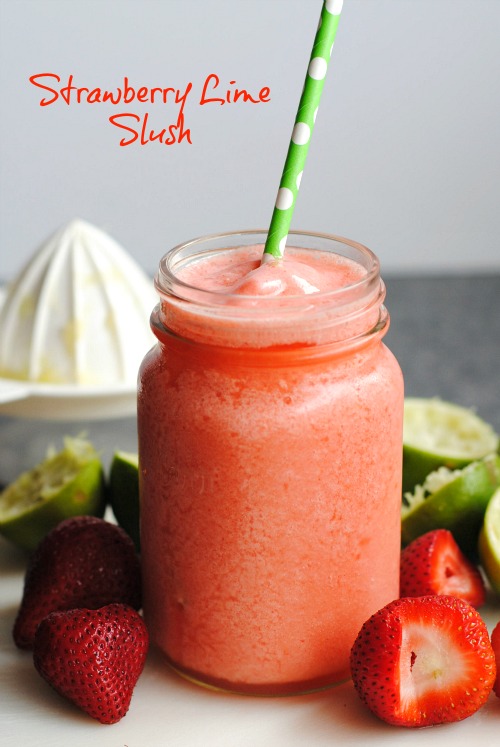 It's strawberry season in my neck of the woods, and what better way to cool off then by using strawberries in a slush with citrusy lime flavor. We love to drink smoothies and slushes in the hot months and it's getting pretty hot already. A slush is different than a smoothie because milk or yogurt isn't necessary.  Water and ice are the main components besides the fruit in a slush.  In this slush I used frozen sliced strawberries, but fresh can be used also, the reason I used the frozen strawberries is because I wanted my drink to come out thick and slushy.  If you have fresh strawberries that aren't the prettiest and need to be used then just slice and freeze and toss them into this slush.  I used another ingredient in the slush that I think makes it complete and it's lime essential oil from DoTerra.  The lime oil gives this slush the final lime flavor, if your looking to get some essential oils then check out the link above. Lime oil does give this slush it's intense lime flavor, but if you are not planning on buying an essential oil try zesting the lime and putting that into the slush. If oil or zest isn't used in the slush it will not taste like lime, it will be watered down because of the ratio of juice to water. I highly recommend using Doterra essential oils in cooking and baking because of the health benefits and intensity of flavor. Lime oil is one of my favorites because it smells heavenly, taste great in water, and has cleansing properties as well as a mood lifter.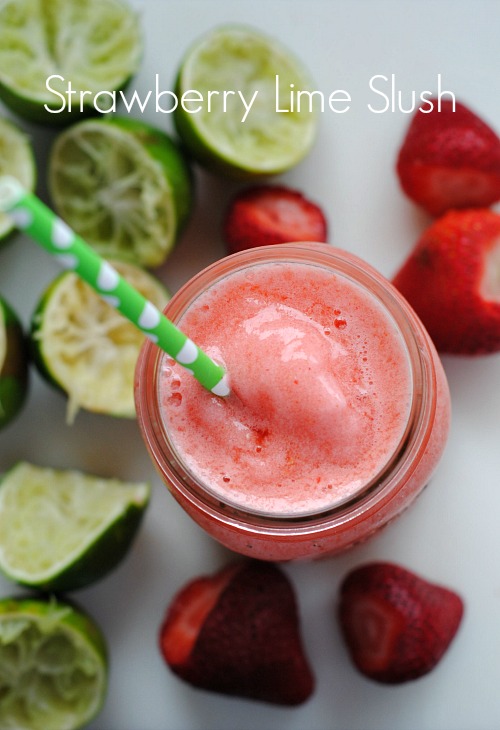 Strawberry Lime Slush
Ingredients:
1 cup water
1 cup frozen sliced strawberries
2 cups crushed ice
1/3 cup sugar
2 ounces of fresh squeezed lime juice
2-3 drops of essential
lime oil
Directions:
Put all ingredients into a blender and blend until smooth and very thick.