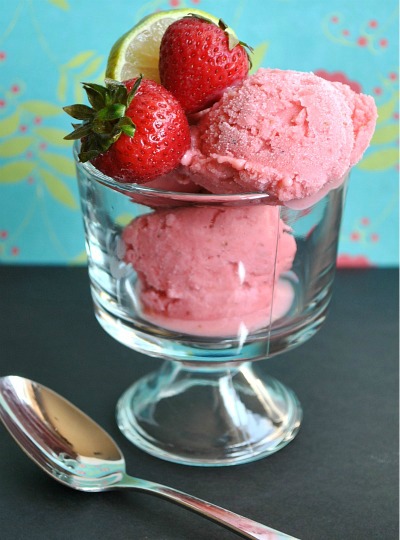 Today I'm sharing with you a recipe I made and shared at The Mother Huddle website. It's that time of year again to drag out the ice-cream maker and whip up some goodness with strawberries, kiwi's and limes. Strawberries are always a favorite at our house, my son loves them most.  I constantly am thinking of ways to use strawberries like these healthy strawberry yogurt pops  or these strawberry cupcakes since we almost always have them in the refrigerator or freezer.  I got the idea to make this yogurt from watching the foodnetwork .  I made the strawberry yogurt my own by adding kiwi and lime and it gave it a fresher more tangy taste.  The fruity yogurt was perfect after a heavy meal since it's light tasting.  If you do decide to make it this recipe make sure you taste the puree to adjust for sweetness.  I like things sour but when I first tasted the puree it was really sour, so in came the addition of honey to my recipe.  If I would have had fresh mint or basil I would have put that into the fruit as it was macerating to give it another layer of flavor and depth.

Strawberry Kiwi & Lime Frozen Yogurt and Blog Awards
Ingredients:
3 1/2 cups chopped strawberries
3 kiwi's peeled and chopped
1 lime zested and juiced
3/4 cup granulated sugar
1/4 cup honey
1 cup of Greek style plain yogurt
Serve: with fresh fruit like strawberries, bananas, kiwi or cantaloupe.
Makes 1 quart
For the rest of the recipe please visit the
The Mother Huddle
and say hello.
Here are some other yummy strawberry recipes from some super food blogger.
Fresh Strawberry Mini Pies from Jean at Lemons and Anchoives
Strawberry Balsamic Ice-Cream from Lisa at Authentic Suburban Gourmet
Strawberry Hand  Pies from Laura from Tutti Dolci
Vanilla Bean Cheesecake with Glazed Strawberries from Chris at The Cafe Sucre Farine
Strawberry and Rhubarb Hand Pies from Erin at Big Fat Baker
Every once and a while I'm lucky enough to be nominated by some fellow food bloggers for blog awards.  I'm not great at following up immediately since it's difficult to brag on oneself but  I do want to thank these ladies for thinking of me and giving me the awards. First my friend Amy over at Savory Moments gave me the "Versatile Blogger Award".  Later followed by Soni  from Soni's Food for Thought , she gave me several awards that she has been saving up 🙂 they are the "Happy Blogger Award", "Kreativ blogger Award", the "Sunshine blogger Award", and the "Liebster Award"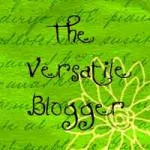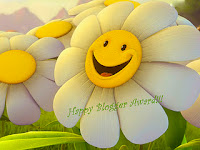 The Rules for the versatile blogger award are to tell 7 random things about yourself and share this award with 15 other bloggers whew…that's a lot of bloggers.  Another award had me answer a questionnaire and another wanted 10 facts so I've tried to combined a few things here.
I am not a morning person! only if staying up till the weee hours counts
I hate slimy or too soft food textures like raw seafood, handling meat
I used to be a vegetarian for 12 years
I was a gymnast in High School
I love to travel to new places but…I am a home body, I know oxymoron
I am actually shy although my friends will not agree- but many times I avoid talking to people I haven't seen in a long time in public due to being uncomfortable
I am sentimental but act tough
I love the beach
I used to be wild and crazy snow skier in college
I like to learn new things
Questionnaire
Favorite Color – Pink
Favorite Animal – Dogs
Favorite Number-7 and 17
Favorite non-alcoholic drink –smoothies
Facebook or Twitter – I'm using both right now, so both!
My passion-Cooking and eating
Prefer giving or receiving presents-Both!
Favorite Pattern-?
Favorite day of the week –Friday since its the start of the weekend!
Favorite flower – Roses, Hydrangea and Gardenia
Last but certainly not least here are a few bloggers in no particular order that deserve "Shout Out":
Food In Jars
Little Birdie Secrets
Simple Recipes
The Cafe Sucre Farine
What's Cooking Italian Style Cuisine
Thrifty Decor Chick
The Idea Room
Under the Table and Dreaming
My Baking Addiction
Oil and Butter
No Foodies in My Kitchen
Nutmeg Nanny
My Little Space
Sweet Something Designs
Aggies Kitchen