Pin It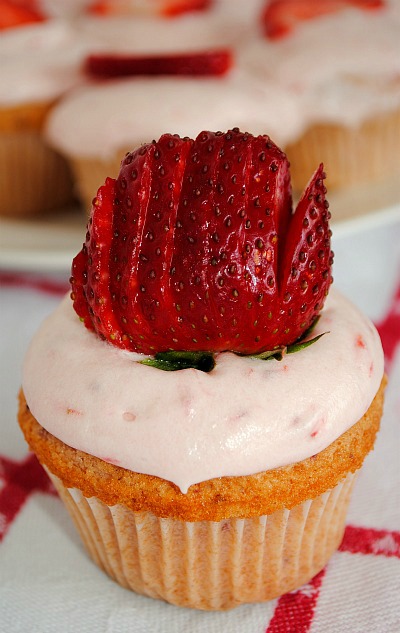 Strawberries are such a delicious fruit, how can anyone resist a juicy ripe one.  I love strawberry anything as long as it taste fresh and not the fake processed version of strawberry.  Many of us have a recipe for strawberry cake that calls for strawberry gelatin added to the cake mix, but this recipe is so much better because the strawberry flavor comes straight from the berry.  The cake is amazingly light and moist, but not super sweet.  The cream cheese frosting is also flavored with just the berries, nothing artificial and together with the cupcakes makes a perfect marriage.  Spring is right around the corner so strawberries will be big, ripe and juicy ready for you to make something tasty for your family and friends, so give this recipe a try.

Strawberry Cupcakes with Strawberry Cream Cheese Frosting
Ingredients:
1 white cake mix ( I used Ducan Hines)
1/2 cup powdered sugar
1 cup mashed strawberries
3 egg whites
1/3 cup vegetable oil
1/2 cup whipping cream
Frosting Ingredients:
8 oz. of cream cheese room temperature
1/2 cup butter at room temperature
3 1/2 cups powdered sugar
1/2 cup mashed strawberries drained well
(frosting adapted from the cake doctor)
Directions:
Step 1: Pre-heat oven to 350 degrees. Get your muffin pan ready by putting paper or foil cupcake papers inside.
Step 2: In a large bowl put all ingredients in and mix on low for 30 seconds, scrap down bowl and turn speed to high and mix for 2 minutes.
Step 3: With an ice cream scooper fill cupcake papers 2/3 full.
Step 4: Bake for 21-26 minutes.  When done cool on cooling rack.
Makes 24.
Making the frosting:
Step 1:
In a large bowl put room temperature cream cheese and butter together and mix until light and fluffy.
Step 2:
Add sugar 1 cup at a time and then add  mashed strawberries and mix well.
Step 3: Frost cupcakes after completely cool and store left overs in the refrigerator.
Notes & Tips:
Can make this recipe into a 9 X13 in. cake or two 9 in. rounds
Can use frozen strawberries, thaw berries first
Frosting is not a piping frosting, its soft not stiff, more glaze like if you don't have a stand-mixer
Another Frosting recipe you might try is my friend Chris's Fresh Strawberry Frosting.