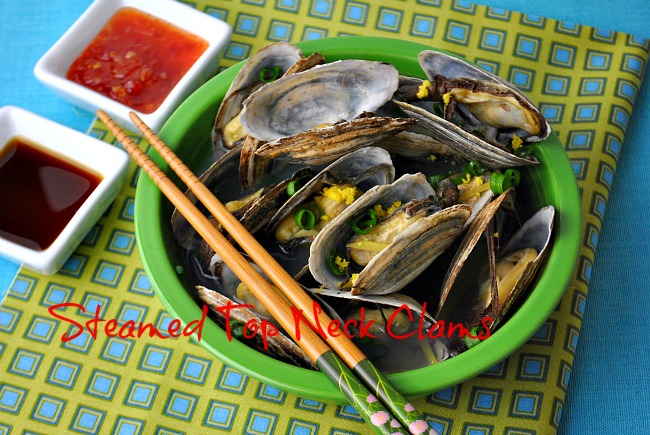 This is a first for me to cook my own clams, yay! My friend Nami over at Just One Cookbook inspired me to try cooking clams, I really fell in love with her grilled clams post and it kept in my mind ever since I saw it. Since I live in the land locked state of Arkansas, I usually do not trust seafood here, but we took an impromptu trip to Pensacola, Florida.
Isn't this absolutely beautiful? We found a little island called Santa Rosa that we loved because it was off the beaten path and we had the beach almost all to ourselves, there were never more than 10 people on the beach at a time.  We are definitely going back to this little piece of paradise.
While we were enjoying the sun and sand we met some great people who told us about a place we needed to stop by on our way out to buy fresh seafood. We did just what they recommended and it was a seafood dream mecha! I spent an hour at least looking, taking photos and being totally taken by this great place to shop.

I have to admit I got a little overwhelmed by the large variety of fresh seafood. I knew I wanted to buy shrimp, clams and possibly some crab legs, but there was so much there it was hard to choose from. I did get what I wanted and then some,  I ended up getting fresh cut tuna steaks and scallops along with the things on my list.  Guess what? That was the most seafood I've ever bought in one trip, ever! I like seafood but in small doses, and I don't like it to over power a dish if it isn't the star ingredient. As for the clams here they are the star, and it was hard to believe how easy it was to cook them, well, after you de-grit them of sand. To learn to de-grit clams go to Nami's site she has step by step instructions that lead you through it. I also followed her simple recipe to steam the clams with some changes to it and they turned out wonderful.

Steamed Top Neck Clams
Ingredients:
12 Top Neck Clams (these are bigger than little neck clams)
6 oz or 3/4 cup of chicken broth
1 T. of julienned fresh ginger
halve of the zest of a medium size lemon
1- 2 T. of green onion finely chopped
1 small Serrano pepper
sweet and hot chili pepper sauce (in the Asian sec. of grocery store)
Ponzu sauce or soy sauce (also in Asian sec.)
Directions:
Step 1: Make sure your clams have been de-gritted and de-salted before cooking. In a medium size skillet put the chicken broth, ginger, cut in half a Serrano chili pepper into pan and turn on to medium high.
Step 2: When the chicken broth begins to boil add the clams to the pan and cover with a lid. When all the clams are opened they are done. It only took a few minutes for all of my clams to open up.
Step 3: Sprinkle onions and lemon zest over the top and eat. We used the sweet and hot chili sauce to dip the clam meat in and the ponzu sauce too. They are good enough for no sauce at all.
Notes:
One important thing, don't drain off the juice from the clams it is to be eaten with the clams it tastes so good too.
Another something to remember too, these clams had a dark brown thing kind of reminded me of a tail, coming out of them as they de-gritted and de-salted,  If it doesn't go back inside when you are through de-salting them I wouldn't cook that one up. I had one that was like that the others were okay, but you don't eat the dark part of the clam and you'll see why if you haven't tried the top neck clams before, you can really tell it isn't' meant to be eaten.
You may not have top neck clams available so that is fine, use the little neck clams that are more popular.
Serves: 6 appetizers or 2 people for a side dish