Peaches and raspberries are a lovely match in these healthier scones. Yes, I used the word healthier with scones because these are made with oatmeal and not as much butter as the usual scones. I made a version of this recipe for The Mother Huddle about a year ago but they were with blueberries and lemon glaze another favorite of mine.  The recipe below is quite simple but there is a trick or two that I use. One thing I do is cut up the peach and measure then freeze it laid flat in a zip-loc bag, I also throw the raspberries in with the peach too.  If the fruit is used fresh it will mush up when you try to fold it into the batter. Also make sure your butter is very cold and cut into small pieces.  If you like the your scones a little sweeter you could add more sugar to this recipe, or just eat them with some raspberry or peach jam.
Spiced Peach and Raspberry Scones
Ingredients:

1 1/2 cup of all purpose flour

3/4 cup rolled oats

1 T. baking powder

1 tsp. sugar

1/4 tsp. all spice

1/4 tsp. cinnamon

1/4 tsp. salt

1/3 cup cold butter

1/2 cup cream

1 egg

1 1/2 cups frozen peaches and raspberries

Glaze:
1/2 cup powdered sugar
2 T. cream
1 tsp. water
1/4 tsp. cinnamon

Directions:
Step 1: Put all dry ingredients into a food processor fitted with the cutting blade. After snapping lid into place pulse a few times to get the dry ingredients mix well.
Step 2: Cut the butter into small cubes and add to the food processor, after securing lid pulse a few times to break the butter up into smaller pieces.
Step 3: While food processor is turned on add the egg and milk until the it begins to form a ball.
Step 4: Take off lid of the processor and dump all the contents onto a floured surface, carefully scrap the dough out of the bowl and off the blade.
Step 5: With floured hands add some frozen peaches and raspberries to the dough fold over and add more and continue until all the berries are incorporated. Shape dough into a round mound and pat down to about 2 in. thick. Cut the circle evenly into 8th's and put each scone on a greased cookie sheet.
Step 6: Bake scones for 28 to 30 minutes at 350 degrees Fahrenheit, until golden brown and when tapped in the middle it feels solid.
Step 7: When the scones have cooled for about 20 minutes make the glaze. Mix the glaze ingredients together and stir until all incorporated and no lumps. Drizzle over the top of each scone, let set and enjoy.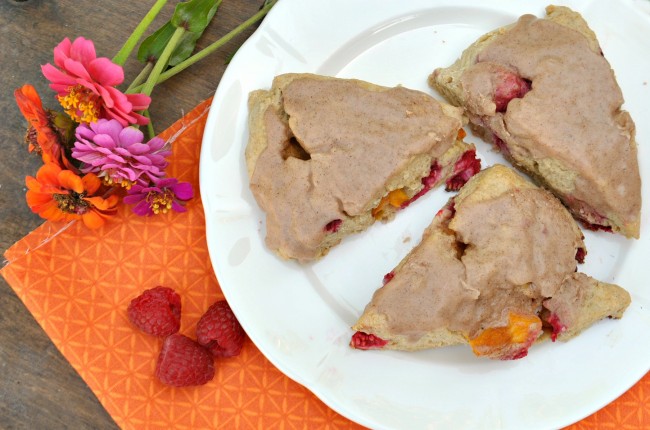 If you like these scones you might like another wonderful blogger friend of mine she made these brown butter peach scones.