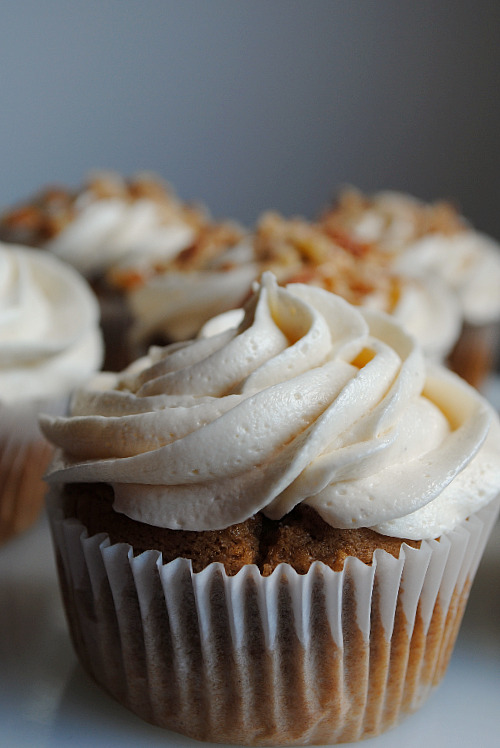 Craving Fall baking, then make these little cupcakes, they are a cinch and oh so good.  Everyone loves cupcakes because it's not like eating a great big piece of cake.  If you have kids in school these cupcakes would make a great bake sale item for those fundraisers.
Spiced Caramel Apple Cupcakes
Ingredients:
1 box of spice cake mix (I used Ducan Hines)
3/4 cup unsweetened applesauce
1/2 cup Caramel topping
1 granny smith apple peeled and grated
2 egg whites
1 egg yolk
Frosting:
1 1/2 sticks or 3/4 cup butter
2 1/2 cup confectioners sugar
1/8 cup maple syrup
1/2  tsp.vanilla paste or extract
2 T milk
Directions:
Step 1: Pre-heat oven to 350 F.
Step 2: Put all ingredients into a large bowl and either mix by hand or use a mixer until well blended.
Step 3: Pour the batter into the liners in a muffin pan and bake at 350 degrees for 22 min or until toothpick comes out clean.  Let cupcakes cool in pan for about 10 min. then turn out onto a wire rack, and let cool completely before frosting.
Making the frosting:
Step 1: Soften butter and add the rest of ingredients.
Step 2: Turn on mixer and beat until well combined.
Frosting Tips: After the frosting is made get it ready to pipe onto the cupcakes. One of the tricks I learned years ago was to put the frosting in plastic wrap first then into the pastry bag. I just fold the bottom up almost to the top then fold the sides over. You want to make sure there is an opening on one end of the frosting bag you just created. Then slip this into the pastry bag fitted with the tip of your preference. Now you're ready to pipe the circles on the cupcakes. I started from the outside and ended in the middle. It seems that half of the people I know don't like nuts and the other half do, so that's why I did both to make everyone happy.