One pot meals are my favorite, I'm not one to like to do a ton of dishes so the fewer thing to clean the better. The family could really careless how many dishes I have to do they are only concerned about it tasting good and this recipe is a pleaser. I got rave reviews on this simple flavored dish and the plates were so clean I thought about just putting them back into the cupboard 😉 .   The temperature has finally dipped lower here in the South and it's making me want dishes like this, cooked in a cast iron skillet, all rustic and cozy feeling. Isn't it funny that food evokes so many different feelings in us, not only does it nourish our bodies but it also does something for the soul. Food and smells bring back to my mind memories of the past some are wonderful and some are not, but it still fascinates me how taste and smells have a key to our memories and emotions.
The recipe below is only for 3 people because that's what I have to cook for these days since my daughter is off to college and our exchange student is gone, so increase the recipe to suit your needs. If your family is bigger than four people you probably will follow the directions up to the end then put the chicken into a 9 X 13 inch pan pouring the gravy on top then baking. Enjoy the Autumn season with family and friends by making memories with food and fun things to do and I hope this recipe finds it's way to your table.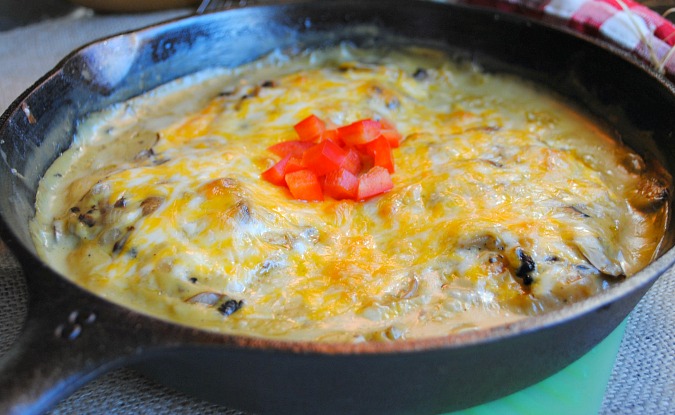 Smothered Chicken with Mushrooms
Ingredients:
3 boneless skinless chicken breast
1/2 cup flour
salt and pepper
1/3 cup oil
1 T. butter
1/2 yellow onion chopped fine
1 carton of white button mushrooms 8 oz. cleaned and sliced
1 can cream of chicken soup (I used 99% fat free)
3/4 cup of whole milk or half and half
1/2 – 3/4 cup grated cheese any type- Swiss would be perfect with mushrooms ( I used Colby-Jack)
Directions:
Step 1: Pre-heat oven to 350 F. Put the chicken breast in a ziploc bag or between 2 sheets of wax paper and pound with a flat meat  mallet making the meat more even so it cooks evenly, plus this does make the meat more tender. Prepare vegetables by chopping onion and slicing mushrooms.
Step 2: In a small bowl put the flour in and add salt and pepper about 1/2 tsp. each stir well. Heat a medium to large skillet on medium high heat, add the oil and butter. When the skillet it hot, not smoking that is too hot, dredge the chicken in the flour on both sides and put into the hot pan. Let them get light brown then turn over until all pieces are lightly browned on both sides. You are partially cooking the chicken the rest will happen in the oven. Then take out the chicken and put on plate with paper towels to drain any excess oil.
Step 3: Add the onions and mushrooms to the pan with the drippings ( if you feel the oil is too much then go ahead and drain it, you can always add back while the mushrooms are cooking if it isn't enough) from the chicken and cook until translucent and the mushrooms are lightly browned, add salt and pepper to taste. Add the cream of chicken soup and stir well, slowly add the milk in stirring well. Let the gravy come to a boil then turn heat off.
Step 4: Add a piece of chicken one at a time use a spoon and cover the chicken with the mushroom gravy until all are covered. Add the cheese on top and bake uncovered in the oven for 25 minutes.
Serve: Hot with salad and veggies or rice would go well too.