Pin It
You remember how fun and yummy it is to roast marshmallows on the campfire then squish the warm gooey marshmallow between gram crackers and chocolate, mmm…I can taste it now.  That memory helped me conjure up this dessert pizza without the campfire but using the next best thing the grill!  Yes, it's true this pizza was cooked on the grill 🙂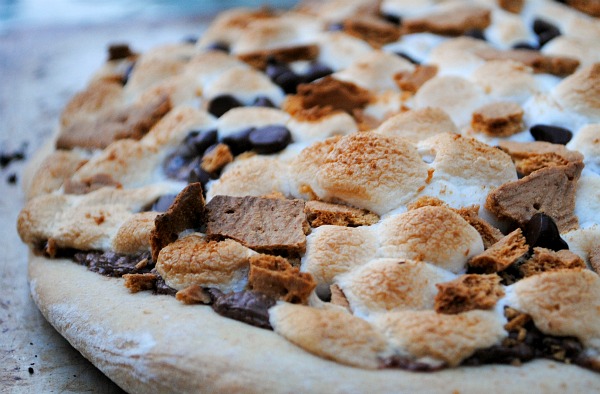 Like my BBQ chicken pizza that I cooked on the grill I used a pan to cook it on.  My pizza stone was currently occupied so I used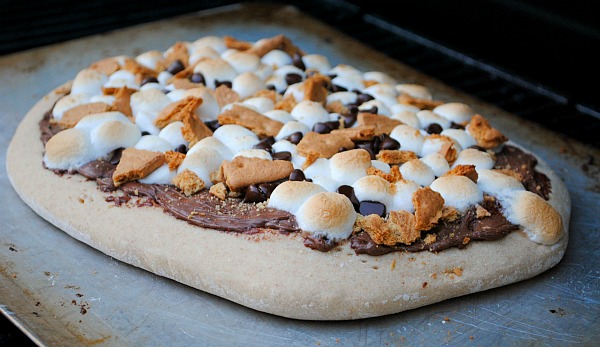 my air-bake cookie sheet and it turned out great. The pizza wasn't very big 🙁 just enough for a small family of four. I used about a third of the dough from making  my BBQ Chicken Pizza.
I don't know about you but my family loves to eat s'mores anytime, so why not on a pizza and at your next BBQ. The kids would even have more fun if they got to make their own personal s'mores pizza.  To do that make the pizza dough from my BBQ chicken pizza, for directions click here. Then divide the dough into small balls big enough for a personal pizza and let the kids begin (even adults might think it's fun too 😉 ).
After having a piece of this dessert pizza I wish I would have skipped dinner but I'm one of those dessert first kind of girls. When I made my dough I replaced one cup of white flour for one cup of wheat flour in it, which somehow makes me feel like I'm eating healthier.  But if I changed anything I would use an all white dough mostly for tenderness.  Even if you don't decide to make your own dough, you can still make this simple pizza with store-bought dough.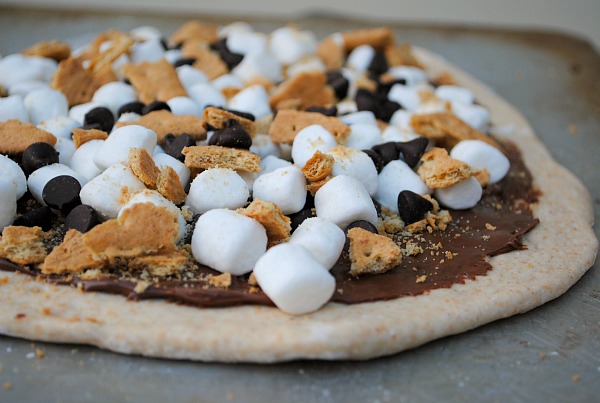 Well, enough talk about this yummy pizza onto the making of it, go grab your ingredients and let's get started 🙂
S'mores Dessert Pizza on the Grill
Ingredients:
pizza dough
Nutella
chocolate chips
mini marshmallows
gram-crackers
Directions:
Step 1:  Roll your dough into whatever shape you like, mine was oblong since I was using a cookie sheet to cook it on.
Step 2: Smear on a good layer of Nutella chocolate spread using a small spatula or spreader.  Sprinkle handfuls of chocolate chips and marshmallows all over.  Crush up gram crackers and sprinkle on top. Simple right.
Step 3: Bake on low heat on the grill until the marshmallows are browned about 10 minutes for a small pizza.  If using the oven baking at 350 degrees would work fine, until golden brown and crust is cooked through.
My husband is not a big fan of Nutella chocolate spread (crazy, I know) but he couldn't tell it was used,  just thought I'd share that if there are those who don't particularly love Nutella.   You could replace it with chocolate ganche or with just melted chocolate.