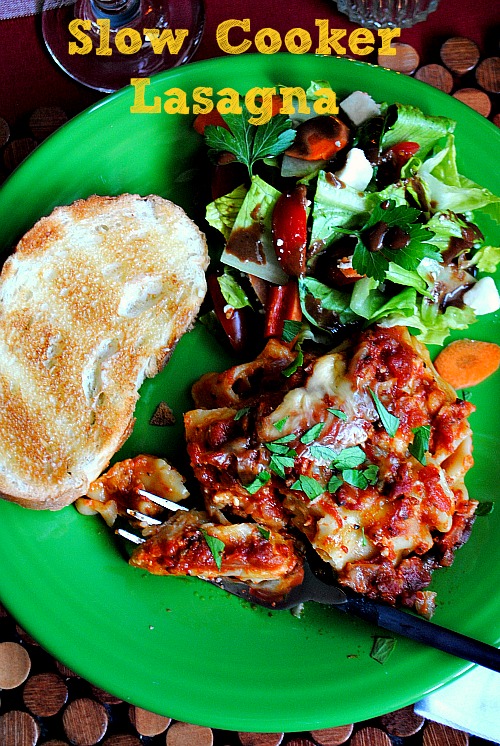 Slow cooker recipes are such life savers especially when you have a busy week ahead but you want to eat at home instead of eating out.   The slow cooker comes to the rescue in cold weather or hot,  because it won't heat up your house but you will have a hot meal waiting for you when you walk in the door.  If you have room in your life for another best friend  I highly recommend the slow cooker.  I know you are skeptical about pasta in the slow cooker, but don't be because you put uncooked noodles in the slow cooker so they don't become soggy.   I don't know about you but I really don't make lasagna that much because it takes time, although who doesn't like lasagna? Well, I'm sure there are a few haters of lasagna out there but for the most part it's a widely popular dish. When my family came home to this delicious smelling pot of lasagna they asked "What's for dinner?" My son who really doesn't get excited about many homemade dishes was a happy camper. The lasagna was really simple to make and it tasted just like I baked it in the oven. So ditch your casserole dish and boiling the noodles and grab your slow cooker, put your recipe together and forget about it.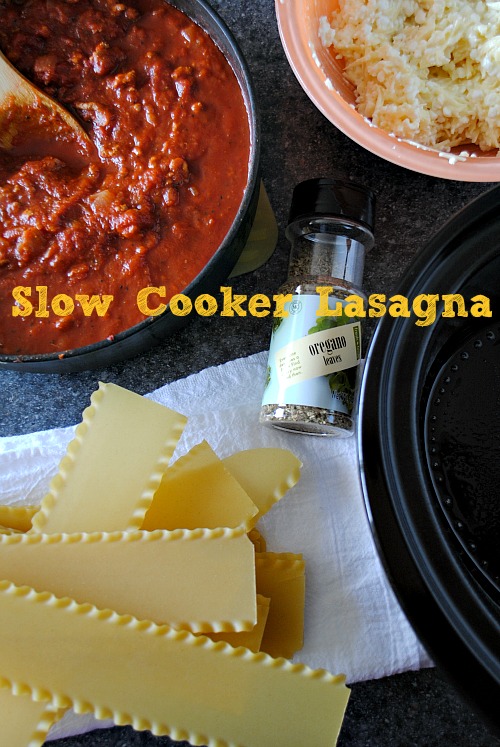 Slow Cooker Lasagna
Ingredients:
1 pound ground turkey or beef
1 yellow onion chopped
2 cloves of garlic pressed or minced
1 29 ounce can of crushed tomatoes
1 6 ounce can tomato paste
1 4 ounce can tomato sauce
1 1/2 tsp. salt
1 tsp. dried oregano
1 tsp. dried basil
12 ounces of dry uncooked lasagna noodles
12 ounces cottage cheese
1 egg
1/2 cup parmesan cheese
16 ounces shredded mozzarella cheese
olive oil optional
garnish with chopped fresh basil or parsely
Directions:
Step 1: In a large skillet cook ground turkey or beef with chopped onion on medium heat. Drain fat.
Step 2: Add the tomatoes, paste, sauce, salt, oregano, and basil stir well and cook until well heated.
Step 3: In medium size bowl mix together cottage cheese, parmesan cheese, egg and mozzarella cheese.
Step 4: Spray the inside of the slow cooker with cooking spray, then spoon a layer of meat mixture on the bottom of slow cooker.
Step 5: Add a double layer of lasagna noodles, breaking to fit the cooker.
Step 6: Spoon half the cheese mixture on to the noodles, then repeat with the meat mixture, noodles, then cheese and ending with the meat sauce. Sprinkle a little extra parmesan cheese and drizzle olive oil over the top.
Step 7: Cook on low for for 6- 8 hours. (6 hours was plenty of time for my slow cooker)
Notes: To save time on the day you plan to make your lasagna get your sauce cooked the night before and your cheese mixture, then the prep time the day of is a snap.