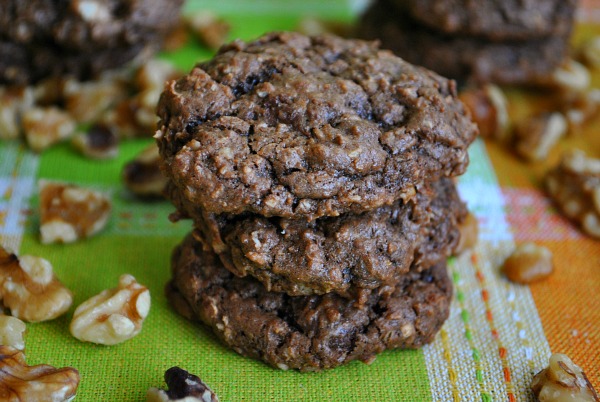 These  little cookies pack a powerful chocolate punch!  While waiting in the doctor's office I was looking through a BHG magazine and found this recipe that looked pretty good.  Of course I had no paper with me so I had to scribble it onto one of those annoying cards in the magazine that I normally ripe out and throw away.  You might ask how this cookie is healthy for you?  Chocolate isn't all bad when it is dark chocolate or in the baking powder form, it actually has some health benefits. This recipe uses less sugar, one egg, and flax meal which adds fiber while keeping the calories down.   Honestly, this is the first time I love a cookie that is on the healthy side and I think if you give them a try you will too.
Skinny German Chocolate Cookies
Ingredients:
1/4 cup of butter 56g.
3/4 cup of brown sugar 166g.
1 egg
1 tsp. vanilla
2/3 cup 90g. of all-purpose flour
2/3 cup 52g. oats
1/4 cup 28g.flax meal
1/8 tsp. salt
1/2 tsp. baking soda
1/4 cup 25g.cocoa powder(un-sweetened)
3 oz. dark chocolate chopped
1/3 cup 26g. coconut
1/3 cup of 30 g.chopped walnuts
Step 1:  In a medium size mixing bowl mix softened butter and brown sugar together then add egg and vanilla and  mix well.
Step 2: Next add the remaining ingredients and mix well the dough will be thick.
Step 3: Bake at 350 degrees on un-greased cookie sheet for 8- 10 min.
Yields:  About 30 small cookies ( approximately 85 calories each).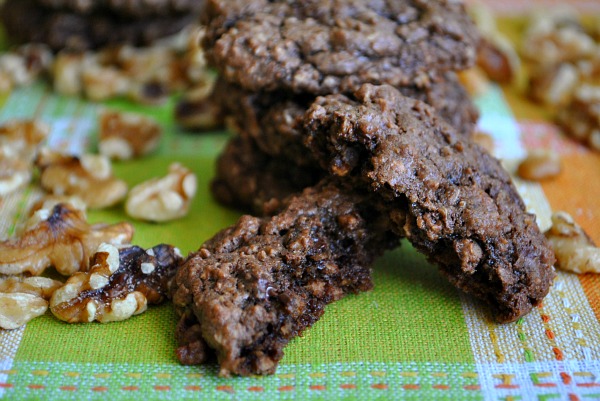 Warning: It doesn't matter how healthy the cookie is, if you eat 4 or 5 while baking you might as well call that a meal!