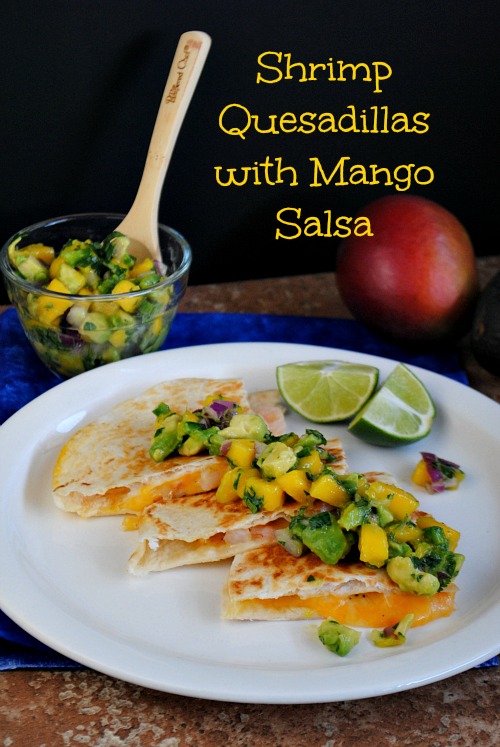 I'm always surprised when I enjoy seafood that isn't fried, I guess it's because FRIED was the only way I grew up eating seafood or fish. I really DO like fried shrimp with a great batter, perfectly golden then with a tasty dip alongside. Unfortunately, the healthier version without that yummy batter just hasn't been my cup of tea. I think it has something to do with texture for me more than anything, and if it tastes fishy forget it.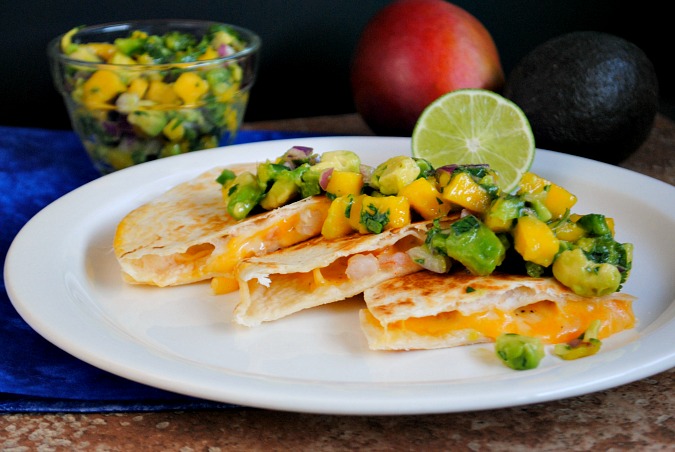 When I chose to make these shrimp quesadillas for the Pass the Cookbook Club I assumed I wouldn't care much for them and that I was trying it for my family who likes shrimp many ways, especially our exchange student who loves shrimp. So who knew I would really like these tasty quesadillas, I'm here to tell you I really liked them. I loved the mango salsa for the topping, it really made the dish for me. Originally the recipe was chosen from Jenny Flake's cookbook The Picky Palate and her recipe calls for the mango to be cooked inside the quesadilla with the shrimp. The two textures of mango and shrimp weren't going to work for me cooked together so I created the salsa instead with the mango and I think it works perfectly for me. I like the fruity tropical taste of mango mixed with some savory flavors of garlic, onion, and avocado then the fresh taste of cilantro and lime gives the salsa a bright taste.  If you are like me and some textures of foods have you a bit squeamish then maybe you should try them in different ways instead of thinking " I just don't like that type of food".  Hey, I'm not even a kid and it worked for me.  Just in case you missed the last couple of recipes we've made for the cookbook club or you haven't heard of this little cookbook club called Pass the Cookbook Club, go check out the link to our facebook page and join in on the fun. Don't forget to check out the other recipes at the end of this post because you might just want to run to the kitchen and start cooking.
Shrimp Quesadillas with Mango Salsa
Ingredients:
1 ripe mango chopped
1 avocado chopped
1/2 cup chopped red onion
1 jalapeno chopped seeds removed if you don't like it hot
1/4 cup chopped cilantro
1 clove garlic minced
2-3 limes
salt to taste
6 tortillas
12 oz. of small shrimp frozen pre-cooked, deveined without tails (about 3 cups)
butter
1 1/2 tsp. Montreal steak seasoning crushed small with mortar and pestle
3 cups Colby jack cheese shredded
Directions:
Step 1:Peel and chop mango, avocado, red onion, jalapeno and cilantro put into a medium bowl. Mince the garlic, juice 1 lime and add to the bowl then sprinkle with salt, mix gently and taste test to see if it needs more lime or salt and adjust seasoning.
Step 2:Cook shrimp in a medium fry pan with a tablespoon of butter and the steak seasoning until warmed thoroughly.
Step 3: Butter 2 tortillas on one side. In a 10 inch fry pan put one tortilla butter side down into the skillet sprinkle with cheese and put 1 cup of shrimp on top then the other tortilla on top with the butter side facing up. Cook on medium high heat and until lightly browned and with a wide spatula carefully but quickly turn over the quesadilla and cook until browned.
Step 4: When the quesadilla is done put on a plate then cut into quarters. Serve with the mango salsa. Repeat with the other tortillas.
Serves: 3-4 or makes 12 triangles.