I absolutely love Fall, the colors, favors and holidays in the Fall are just wonderful. The sky seems to be just a little more blue and the crispness of the air gets me in the mood for cozy sweaters, apple cider and other seasonal treats. One of the favorite fall activities around our area is the Four States Fair since we live on the border of four different states. The fair to me means rodeos, farm animals and yummy treats like candy apples. This year I thought I would try my hand at the ruby-red candy apple and it turned out great.
It is really a simple things to candy an apple, you do need that favorite tool your friend the "candy thermometer" sugar, corn syrup, water and food coloring. A welcome addition would be some flavoring too, I'm thinking cinnamon like the little red hots or cinnamon gummy bears candies. My recipe came from a great website called intructables, the only changes I made to the recipe was to cut it in half for four apples. Four apples seems like nothing but when you have two family members out of four that don't eat very many sweets, it's not a good idea to make tons of sweets, because I know I couldn't let them go to waste

.  If your interested in this yummy recipe, I shared it over at The Mother Huddle, so please go there for the complete recipe and instructions. Have a happy Fall y'all.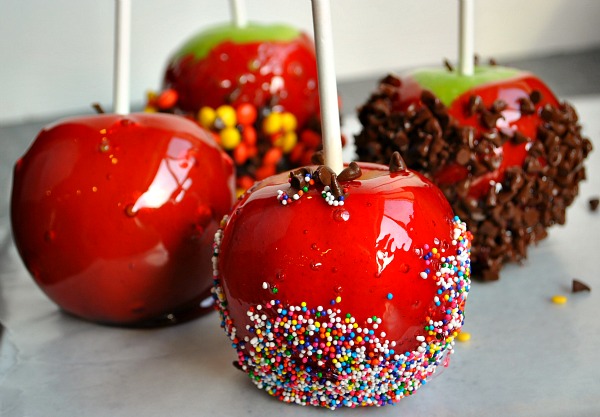 Yum I just had to take a bite

Check out the other blogs in a blog hop hash tag #applelove on twitter
Hosted by these wonderful bloggers:
Parsley Sage, Desserts and Line Drives
Mis Pensamientos
Baker Street
Bloc de recetas
Bon a croquer
CafeTerraBlog 
Cake Duchess
Elephant Eats 
Hobby And More
Knitstamatic 
Mike's Baking
My Twisted Recipes 
Queen's Notebook 
Skip to Malou
Teaspoon of Spice 
The Daily Palette 
The Spicy RD 
Vegan Miam
Versatile Vegetarian Kitchen
Simply Reem