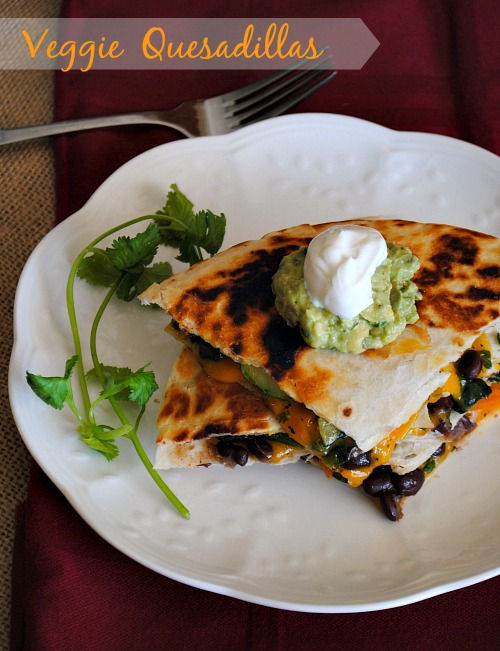 It's the day after Thanksgiving here in the US some people might be in a food coma still from over eating yesterday, and a lot of people are shopping on Black Friday, not me on the shopping. Crowds are not my cup of tea, amusement parks even get on my nerves because of all people. I prefer my Cyber Monday to black Friday anytime, I can still hang out in my pj's and shop all I want. If you over did it yesterday and want something fast and easy to eat today for lunch or even dinner then make these veggie quesadillas. Leftover veggies would work great and even throw in some turkey if you were the hostess and have some leftover.
One of my favorite things to eat is roasted vegetables and Mexican food. I decided that these roasted veggies needed to be in some delicious quesadillas. Quesadillas show up for lunch or dinner at our house quite often because they are so simple to make and taste great. We take leftover meat from pretty much any dinner and toss it in a quesadilla and now vegetables too. If you are trying to get your kids to eat vegetables this might be a good way to do that, roast some of their favorite vegetables. When my kids were small they almost ate anything in a tortilla, I'm sure it had everything to do with the cheese in them.  Hope you enjoy this recipe and make it your own by adding whatever it is you like.
Roasted Veggie Quesadillas
Ingredients:
2 small zucchini squash chopped
1 orange bell pepper chopped
2 teaspoons Montreal Steak seasoning that I ground fine with mortar & pestle
1 garlic clove pressed
2 tablespoons chopped fresh cilantro
1 can black beans drained and rinsed
2 cups shredded cheddar cheese
4-6 8 inch flour tortillas
butter
condiments: sour cream,
guacamole
and salsa
Directions:
Step 1:
Pre-heat oven to 400 degrees F. Cut the veggies into bite size pieces toss with olive oil, steak seasoning and put on a cookie sheet and roast in 400 degree oven for about 15 minutes, tossing halfway through.
Step 2:
After roasting vegetables add pressed garlic, chopped fresh cilantro and drained and rinsed black beans mix well.
Step 3:
Butter one tortilla and get a large skillet out and put the tortilla butter side down and then put some of the veggie mixture on one side add some cheese on top of the veggies fold over.
Step 4:
Turn on the heat to medium-high cook until bottom gets browned then carefully turn over and cook until browned. Slice and top with condiments, like sour cream, salsa or guacamole.
Serves: 
4-6 people