I just love the 4th of July, it's always a great excuse to make some great food to celebrate the birth of America  with family and friends. I wanted to share with you an idea for the holiday that is really fun and easy. Have you ever wondered how to get three different colors of frosting to come out in a beautiful swirl of color? It's as easy as taking the three different colors and placing them side by side then putting them in a pastry bag fitted with a tip, squeeze and viola!
When my son and I were craving some sweets the other day he suggested we make cupcakes and I said sure, since I love cupcakes. I was thinking cake box but then remembered how many wonderful cupcake recipes I've seen over at my friend Chris's blog The Cafe Sucre Farine. She makes some fabulous food over there and I don't know how she does it and stays so slender.   I really wish I was Chris's neighbor, oh what fun we could have together. I searched her blog and and decided to use her no fuss yellow cake recipe and she was right it was really simple to do just like opening up a cake mix box and making it.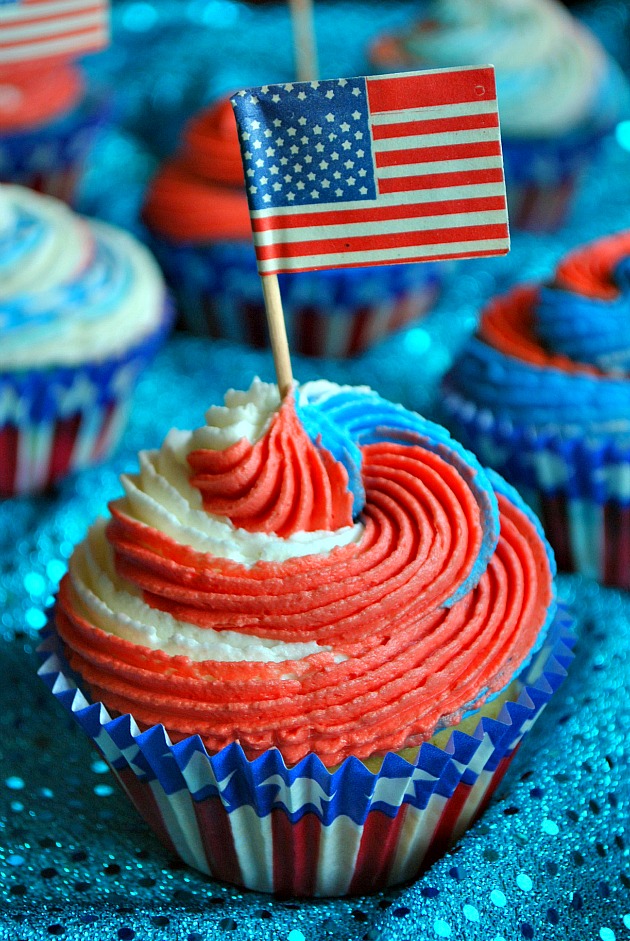 Red, White and Blue Cupcakes
Ingredients:
1 1/2 cup all-purpose flour
1 cup sugar
1/2 tsp. salt
1/2 T. baking powder
1/2 cup butter at room temperature or 4 oz.
1/2 cup buttermilk 4 oz.
1 whole egg room temperature
2 egg yolks  room temperature
1/2 T. vanilla extract
Frosting:
1 cup of butter or
1 pound or 4 cups powdered sugar
1 tsp. vanilla extract
1 -2 T. milk or more if your frosting looks dry
food coloring of your choice, red and blue for these
Directions:
Step 1: Prepare cupcake pan by putting the cupcake liners in. Pre-heat oven to 350 degrees F and make sure that the oven rack is set in the middle.
Step 2: Place all ingredients in the bowl of an electric stand mixer. Turn mixer on and off quickly a few times to prevent the flour from flying all over. Once flour is beginning to be incorporated, beat mixture at medium speed until smooth and satiny, about 30 seconds. Scrape down sides of bowl with rubber spatula and mix by hand until smooth and no flour pockets remain.
Step 3: Divide batter evenly into cupcake liner. Bake until cake tops are pale gold and toothpick or skewer inserted into center comes out clean, 20 minutes, or until golden brown. Remove from oven and let cool in pan for 10 minutes, then flip out onto a wire rack; cool to room temperature before frosting.
Makes:  about 15 cupcakes
Directions for Frosting:
Step 1: Put room temperature butter into a large mixing bowl and beat until light in color and creamy.

Step 2: Add the powdered sugar and mix on low, until the powdered is getting mixed in then add the vanilla and milk. Beat on high until nice and smooth.

Step 3: Divide the frosting evenly into separate bowls. Add red food coloring until you get desired color and same for the blue.

Step 4: Tear off a rectangle piece of plastic wrap and put the frostings side by side then wrap up but leave one end open. Put the open end of the plastic wrapped frosting into a decorator bag that has been fitted with a large star tip.

Step 5: Start pipping from the outside of the cupcake in, making sure that you squeeze the frosting from the top of the bag not the middle.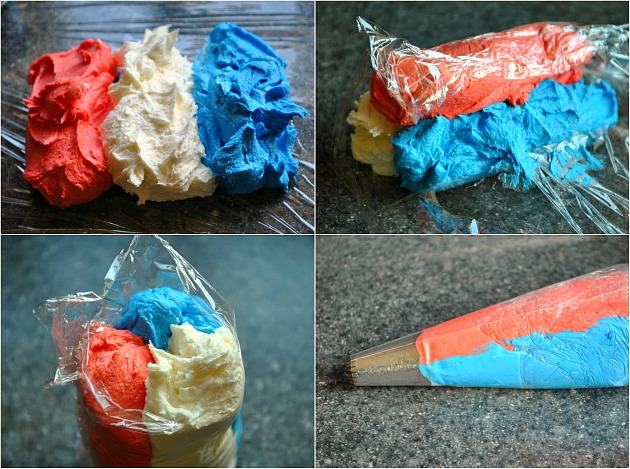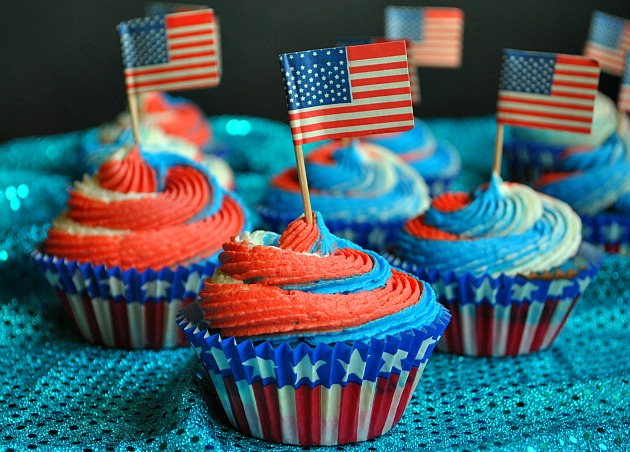 Not only do these cupcake have red, white and blue frosting but the inside is patriotic too.  Chris from Cafe Sucre Farine showed how to make these fun cupcakes using tinted cake batter. I tried to make them with the red, white and blue theme although mine didn't turn out quite like I had wanted them too, but they were still festive. For directions on how to make them please go check out her Tiger cupcakes they are really amazing. Despite mine not turning out as cute as hers, my son and I still had fun making them.
I sincerely hope that if you are from the United States that you enjoy your 4th of July celebration and remember how our country began.  Many sacrifices have been made in our behalf so we can enjoy the freedom that we often take for granted.  I truly appreciate our fore father's vision, perseverance and fortitude.