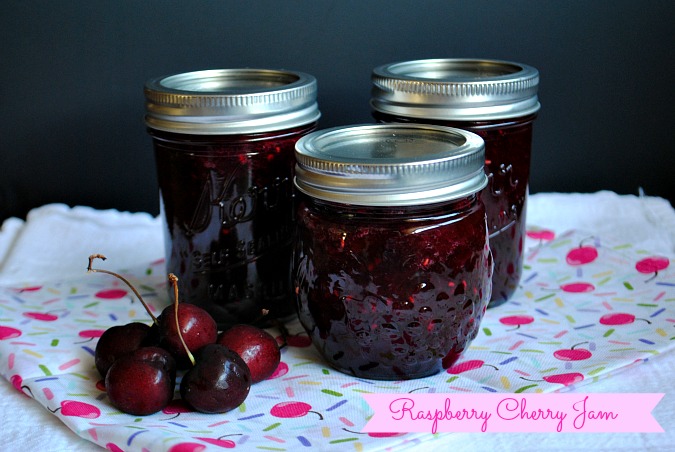 I adore homemade jam and jellies, so when Summer rolls around it's just natural for me to make some. I wondered how well raspberries would go with sweet cherries and when I told my husband what kind of jam I made he said "what made you think of that?" he was skeptical but guess what?…it was a marriage made in heaven. The tartness of the raspberries and the sweetness of the cherries mesh so well together and the finished jam comes out so pretty too, I think this recipe is going to be a regular. Some of you may like to make your jam or jelly without the powdered pectin or gel pectin from the store but I prefer it because the cooking time is short which makes the jam or jelly taste more like the fruit it's made from.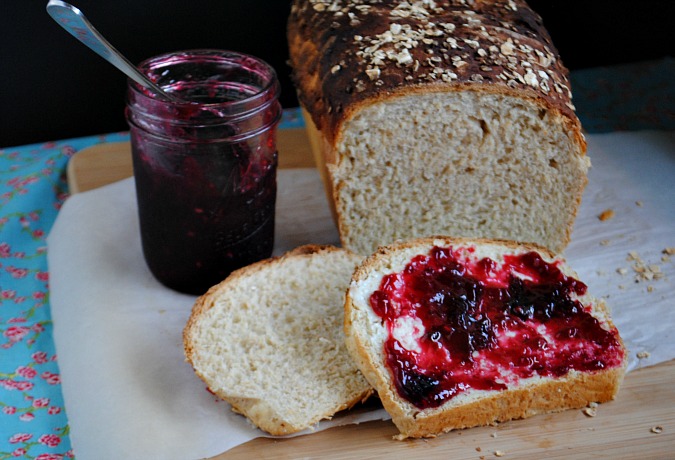 Homemade jam takes a bit of work but is well worth it and canning is quite satisfying when you can save the jars for later when Summer is a memory. I pitted the cherries and de-seeded the raspberries (mostly) since I am not really fond of all those seed raspberries have in them. I left the cherries whole so when your spread this jam you have chunks of fruit. I wish you could taste this jam on the the fresh homemade oat bread it taste wonderful together. The recipe below is for a small batch of jam it only makes about 7 half pint jars. I found the recipe from Foodle and I  made a few minor changes like de-seeding the raspberries and not letting the fruit macerate all night. Next time I make this jam I think I may add some whole cloves or cinnamon sticks to a cheese cloth to give it a little zing of taste.  If you want to try a plain cherry jam with a hint of lime then check out my recipe from a few years ago it's tasty too.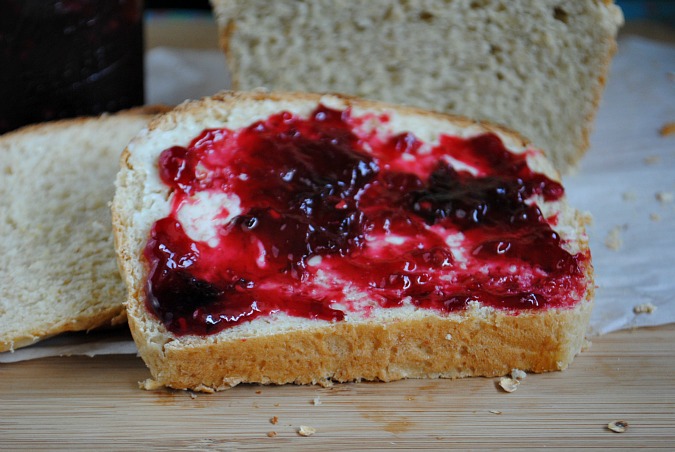 Raspberry Cherry Jam
Ingredients:
2.5 pounds of fruit, half cherry, half raspberry
1 lemon juiced
4 cups sugar
1 package of low sugar pectin
Directions:
Step 1:  Prepare canning jars by sterilizing and gathering water bath canner or steam canner.
Step 2: Wash cherries and pit, set cherries aside. Deseed raspberries by putting the raspberries through a food mill or process them in a food processor then pour through a sieve.  Put fruit into a pot with high sides so when it cooks it will not pop and splatter on you.
Step 3: Add the sugar and juice from the lemon to the fruit and stir, turn on the heat to medium high and cook stirring frequently until the fruit comes to a boil. Add the pectin and stir well then turn down the heat and let it comes to an even simmer cook for 1 min. then take off the heat.
Step 4: Ladle hot jam into the sterilized jars. Clean of the lip of the jars with a wet hot paper towel. Put the lids that have been soaked in hot water on the top and screw the lids on, not too tight.
Step 5: Process jars in a water bath canner or steam canner for 10 minutes.  After the time is up for processing carefully take out the jars with bottle tongs and set on a couple of dish towels free from drafts. Let sit 12 to 24 hours to set. If the jars are kept in a cool dry place they can last up to 1-2 years.  Refrigerate after opening a jar.