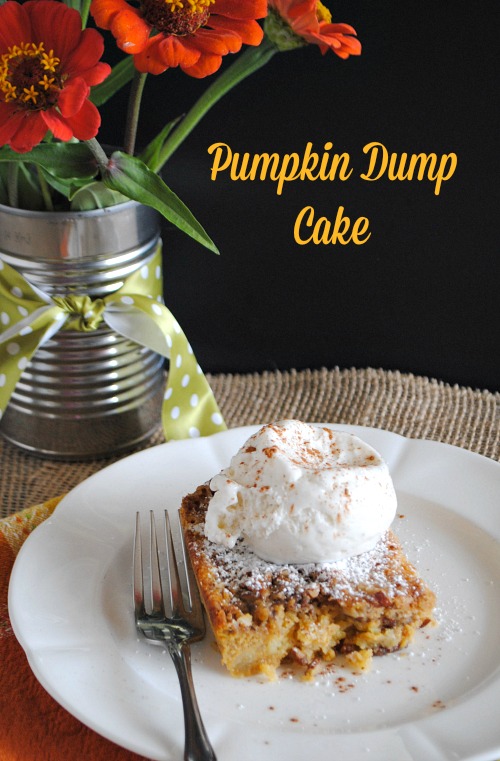 One of my good friends Deb shared this recipe with me several years ago and I loved it, in fact everyone who eats it loves it too. Deb got it from one of her friends at work, who probably got it from a friend and so on.   I love how recipes and food bring people together and connect us. I usually make this dessert during the holidays because it's easy to throw together when I'm short on time, plus that's when pumpkin is in season. Pumpkin dump cake tastes like a pumpkin cobbler or pumpkin crisp with a nice crunchy top.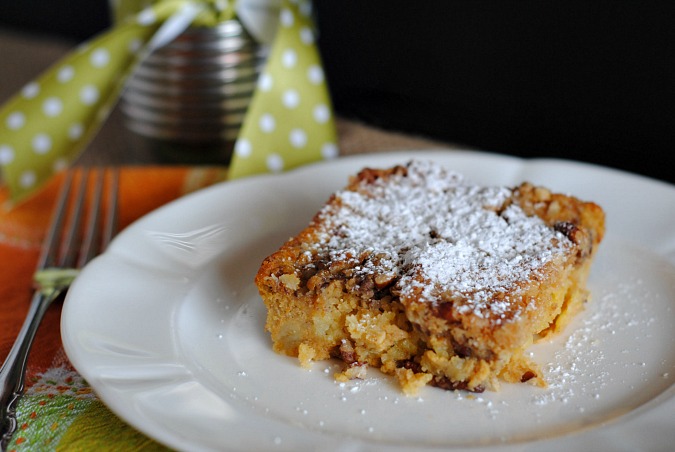 I made this recipe with Truvia sugar blend for baking, it taste just like sugar because it's from the stevia plant but it's better for you since it's doesn't spike the blood sugar like granulated sugar. I also made this recipe smaller than the original recipe by halfing the ingredients. The original recipe makes a 9X13 inch pan while this recipe is a 9X9 inch pan. Unless you are taking this to a potluck or feeding a large family I recommend this small recipe because it's so rich.
Pumpkin Dump Cake
Ingredients:
8 ounces of pumpkin puree
5 ounces of evaporated milk
1/4 cup plus 2 tablespoons
Truvia baking blend
(if using granulated sugar use 3/4 cup)
2 large eggs
1/2 teaspoon vanilla
1/4 teaspoon ground nutmeg
dash of salt
9 ounces yellow cake mix
3/4 cup cup butter melted
3/4 chopped pecans
Directions:
Step 1: Pre-heat oven to 325 F., prepare 9 X9 inch pan by spraying with cooking spray.
Step 2: In medium mixing bowl beat together the pumpkin, milk, eggs, Truvia, eggs, spices and vanilla.
Step 3: Pour into prepared pan and sprinkle cake mix on top then sprinkle chopped nuts. Pour melted butter evenly over the cake mix and nuts.
Step 4: Bake for 45-50 minutes. When cake is done, the top should be golden brown and the middle should be firm but not totally solid. Let cake cool completely then serve with whip cream or ice-cream.