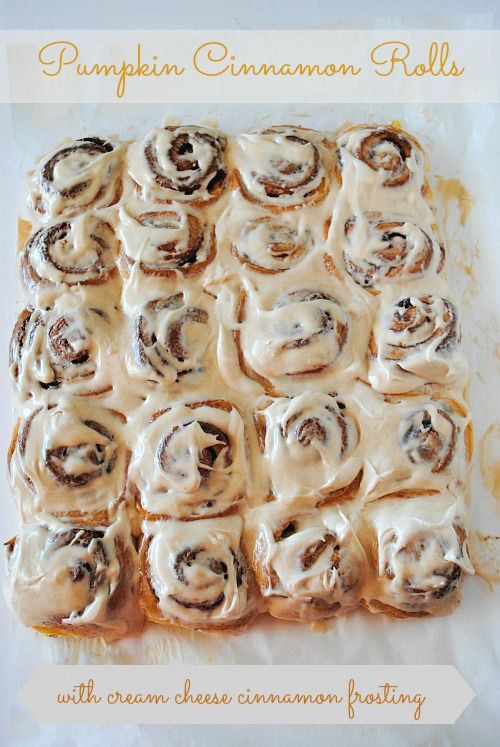 I have been wanting to try pumpkin cinnamon rolls for a few years now and I finally did it!  But guess what… I really couldn't taste the pumpkin 🙁 . Although, my husband said he could taste the pumpkin flavor in these rolls.  The rolls do look so pretty with a nice hue of orange while making them. I do think that the pumpkin gives a softer dough and some what more dense dough as well. I used homemade pumpkin puree from a sugar pumpkin I roasted, but you may use the canned variety. The recipe I used was from my fellow blogger friend Roxana's Home Baking, she is an amazing baker with picture perfect results with whatever she puts on her blog. I'm a little more rustic baker or artisanal, I like to say, and show my less than perfect baking results.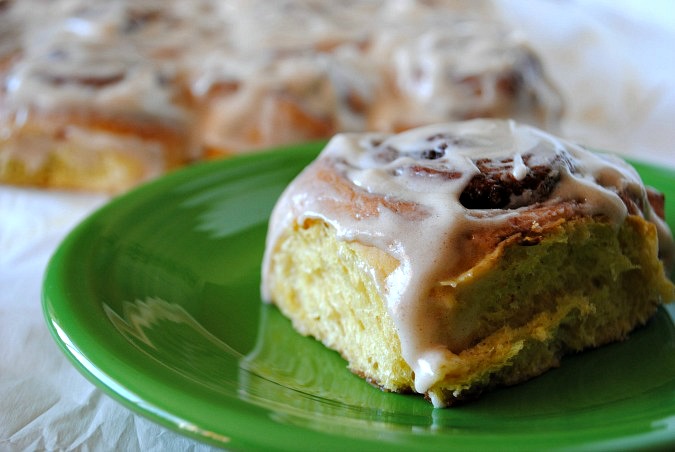 If you check out Roxana's rolls you will notice a big difference, I couldn't resist making cream cheese frosting instead of that equally luscious looking caramel sauce she put on her rolls. Maybe next time I make them I'll try the caramel sauce.  If you are not already tired of pumpkin this season,  you should give this recipe a try and see how you like the taste, texture and density of these cinnamon rolls.  We love cinnamon rolls here and I don't make them often because I end up eating most of them while they sit on the kitchen counter just calling my name to eat them for breakfast, lunch and even dinner sometimes.  I usually try to give some away and I did this time but not enough to make a dent.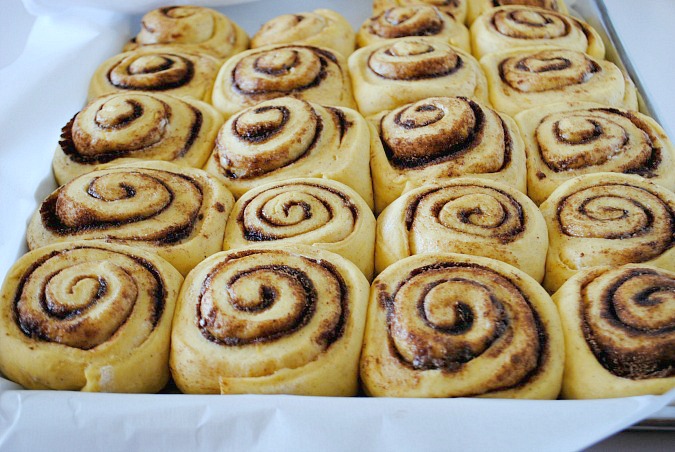 Pumpkin cinnamon rolls with cinnamon cream cheese frosting
Ingredients: 
(I doubled my recipe but this is the original here)
4 cups bread flour (I used all-purpose)
3/4 cup lukewarm milk
1 envelope or 2 1/4 teaspoon active dry yeast
1 tablespoon white granulated sugar
6 tablespoon butter, melted and cooled
1 cup or 8 oz. pumpkin puree
1/4 cup white granulated sugar
1 teaspoon pumpkin pie spices
1/2 teaspoon salt
1/4 to 1/2 cup bread flour (I used all-purpose)
Cinnamon filing:
1/2 cup white granulated sugar
1-2 tablespoons ground cinnamon
2-3 tablespoons soft butter
Frosting:
4 oz. softened cream cheese
1 stick of softened butter or 1/2 cup
1/2 teaspoon cinnamon
1 teaspoon vanilla extract
3 cups powdered sugar
1-2 Tablespoons milk
Directions:
Step 1:Pour the milk into a 2 cup measuring cup and microwave for a about 20 seconds to take the chill off then sprinkle the yeast and 1 tablespoon of sugar on top of the milk and let stand until the yeast is foaming.
Step 2:Using your stand mixer, put 4 cups of flour in mixing bowl then add the milk yeast mixture, the melted butter, pumpkin puree, 1/4 cup sugar, pumpkin pie spices and salt.
Step 3: With the dough hook attachment on, start mixing on low speed. Gently, fold in enough flour (1/4 cup to 1/2 cup) until the dough forms an elastic ball and cleans itself from the sides of the bowl. On low speed, knead the dough for an additional 3 minutes.
Step 4: Remove the dough from the mixing bowl and place it in a greased bowl, I like to use a little oil or cooking spray in the bowl. Cover with clean tea towel or plastic wrap and leave at room temperature until doubled in volume. When the dough has risen, place it in a floured working area and roll it out into a 12X25" rectangle.
Step 5: Spread the soft butter all over the dough. Sprinkle the sugar and cinnamon over the buttered dough and roll it starting from the wider side. Pinch the ends together to seal. Cut into 16 rolls by using dental floss under the dough and bring together crossing to cut the dough.
Step 6: Arrange the rolls into a 13X9" baking pan lined with parchment paper.
Cover the rolls with clean tea towel or plastic wrap and let rise for 20 more minutes. Meanwhile heat the oven to 375F. Bake the pumpkin rolls for 30 minutes or until nicely browned.
Remove from the oven and let cool completely on a wire rack.
Step 7: In a medium mixing bowl with high sides beat the softened cream cheese and butter until mixed well. Scraping down the sides add the powdered sugar, cinnamon, vanilla and milk, mix on low speed until the mixture is smooth. Pour over the pumpkin rolls and spread out evenly. You may spread the icing on the hot rolls or wait until cooled.