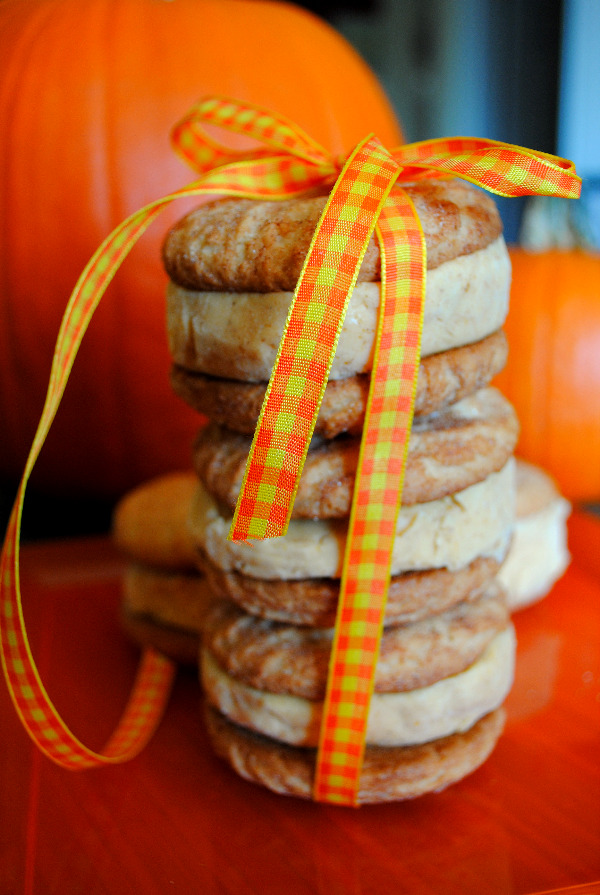 Love ice-cream so it's natural that I would make some pumpkin ice-cream in the Fall.  This recipe is similar to my blackberry cheesecake ice cream but this time I didn't  use cream cheese in the recipe, instead I used Greek non-fat vanilla yogurt.  If you haven't tried Greek yogurt yet your missing out, super creamy, tangy and twice the protein of regular yogurt.
I've been wanting to make ice-cream sandwiches for a  while and this ice cream seemed to go perfect with snicker doodle cookies which happens to be my husbands favorite.  Snickerdoodles have cream-of-tartar in them which gives them a zing, add to that the tangy flavor of  pumpkin cheesecake and double yum.  My husband said "I didn't think snickerdoodle cookies could get any better but I was wrong."  I just love it when I get that kind of response to a recipe!  Let me show you how easy this recipe is.
Pumpkin Cheesecake Ice-Cream Sandwiches
Ingredients:
3/4 cup of brown sugar
1/4 cup of granulated sugar
2 eggs
1 tsp. vanilla
1/2 cup of Greek yogurt vanilla flavor
1 cup of pumpkin puree
1/2 tsp. cinnamon
1/2 tsp. pumpkin pie spice
2 cups of heavy cream
Directions:
Step 1: Beat eggs, sugars and vanilla together until light and fluffy.
Step 2: Add pumpkin puree, spices and vanilla yogurt and beat, gradually add the heavy cream until all is blended.
Step 3: Pour ingredients into ice-cream maker, follow the directions on your machine.  When the ice cream is done put it into another container and freeze until solid.

In the meantime either bake some snickerdoodles or buy some.
Assembling the sandwiches: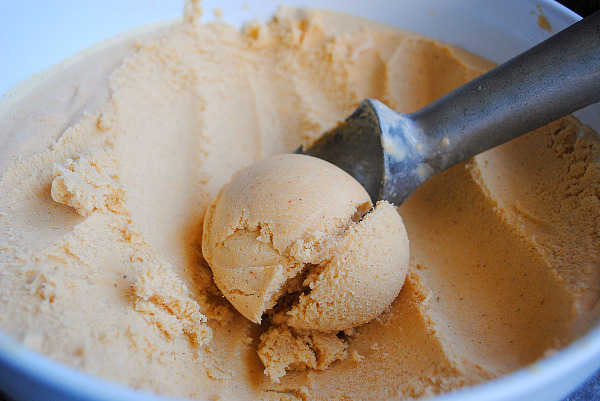 Step 1: Scoop out one nice size round scoop  of ice-cream and put on a sheet of wax paper.
Step 2: Fold over the paper and with the palm of your hand press the ice-cream down and then round out by pressing the side up evenly to round the ice cream.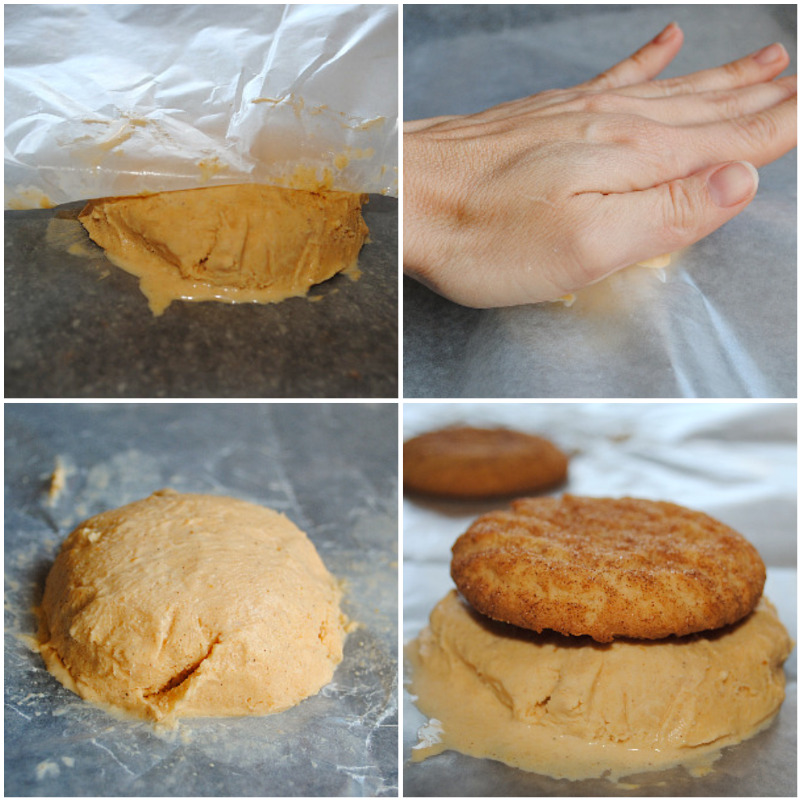 Step 3: Before  you put the ice-cream and cookies together put the ice cream that you flattened out back into the freezer until it is hard, about an hour or more.  After the ice-cream is hard then un-wrap ice-cream and put a cookie on top, then flip over peel off wax paper and put the other cookie on.  Wrap up again in wax paper and put in a gallon size zip lock bag and freeze until ready to eat.